First impressions: 2012 Press Pass Total Memorabilia racing cards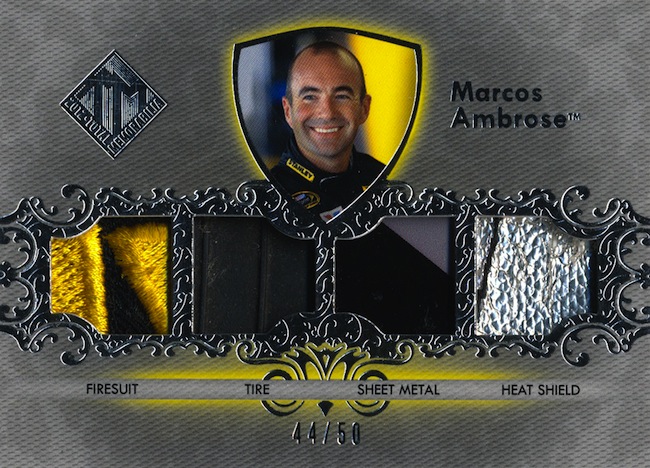 By Chris Olds | Beckett Sports Card Monthly Editor | Commentary
Every once in a while, I get a quiet moment to sit back and bust a box of cards the old-fashioned way — without a camera on.
On Wednesday evening, in advance of our Box Busters video to come, I did just that with a box of 2012 Press Pass Total Memorabilia and a single word sums up my experience.
Impressed.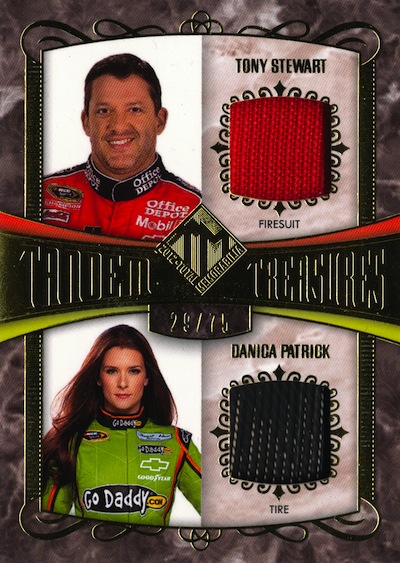 While Total Memorabilia won't arrive in hobby shops until next Wednesday, my sneak peek was one that felt like a really high-end collecting experience — and yet its price-point really isn't one. My five packs seemed like they would have cost a lot more than the roughly $25-a-pop reality, so I was even more impressed with what I found inside after I carefully cut open my packs and pried the packs from their boxes. (The cards are snugly tucked away inside team set bags in each box instead of the traditional packaging.)
You'll just see the hits here — my first being a quad Marcos Ambrose, a card featuring a patch piece from a firesuit, an outside ribbed tire piece, a two-color piece of sheet metal and something I had not previously seen before on a racing card, a piece of heat shield. These thick memorabilia cards are quite impressive with a nice mix of photography and foil stamping all in an effort to showcase what it's all about … the memorabilia.
That card alone, to me, made the box — not because I'm an Ambrose fan or anything. It's just an impressive card with the memorabilia pieces — something that Press Pass has done a bit more of in the last few years with higher-end products.
From there, each hit-per-pack pack also yielded multi-swatch mem cards in all but one. Again, impressive to me as you simply don't see this kind of volume and prime material — not to mention variety of material — in that many products from other lines. And, again, I was surprised to see the present market price at about $125 a box — I had expected it to be higher.
But then the other names that came out of the packs? Danica, Dale Jr., last year's Daytona 500 winner Trevor Bayne, Sprint Cup champion Tony Stewart, Kasey Kahne … it was, again, in a word … impressive.
And that's just the hits.
Each pack also includes eight other cards — a mix of base cards, inserts and parallels — but we'll leave that for another time.
You know, when it's time to rip open wax when a camera is on.
Chris Olds is the editor of Beckett Sports Card Monthly magazine. Have a comment, question or idea? Send an email to him at colds@beckett.com. Follow him on Twitter by clicking here.