First 2019-20 Panini Prizm Silver Prizms Zion Williamson Surfaces
He still might be injured, but the 2019-20 Panini Prizm Silver Prizms Zion Williamson is still one of the most anticipated cards of the year. And the first one has surfaced.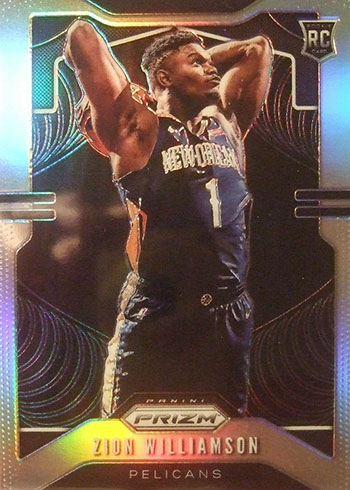 Despite an official release date of December 4, one has been listed on eBay. Rather than putting it up for auction, the seller has a $2,500 asking price on the card. They're also open to offers.
The Georgia-based seller has several other 2019-20 Panini Prizm Basketball listings as well. One of them is for the base Prizm Zion Williamson Rookie Card ($100 price tag).
The first overall pick in the 2019 draft is #248 in the set and is pictured with the ball behind his head, getting ready to dunk. It's an image collectors and basketball fans expect to get used to once Williamson makes his Pelicans debut. If things go according to plan, he should be back on the court right around the time Prizm goes wide.
Just before the NBA regular season got underway, Williamson had arthroscopic surgery on his knee, putting him out for an estimated six to eight weeks.
With a wide release at both the hobby and retail levels, 2019-20 Panini Prizm Basketball is expected to be one of the biggest sets of the year. As usual for the brand, there will be plenty of parallels for Williamson. In recent years, though, it has been the Silver Prizms that have become the brand's cornerstone. The cards find that delicate balance between accessibility, rarity and popularity. They might not be the rarest parallels, but Silver Prizms are usually the go-to with the line.
What do you think of the seller's asking price? Are you planning on collecting 2019-20 Panini Prizm Basketball this year? Let us know in the comments below or on Twitter.