First 2019-20 National Treasures Zion Williamson Rookie Card Surfaces, $500,000 Bounty on Logoman
It didn't take long for the first 2019-20 Panini National Treasures Zion Williamson Rookie Patch Autograph to surface. It has landed on eBay and, not surprisingly, has seen plenty of early action. By Friday morning, the price was over $75,000 with more than 120 bids. Whether those bids are legit and the actual sale goes through will take a few days to find out. The auction is scheduled to end on Sunday, June 14.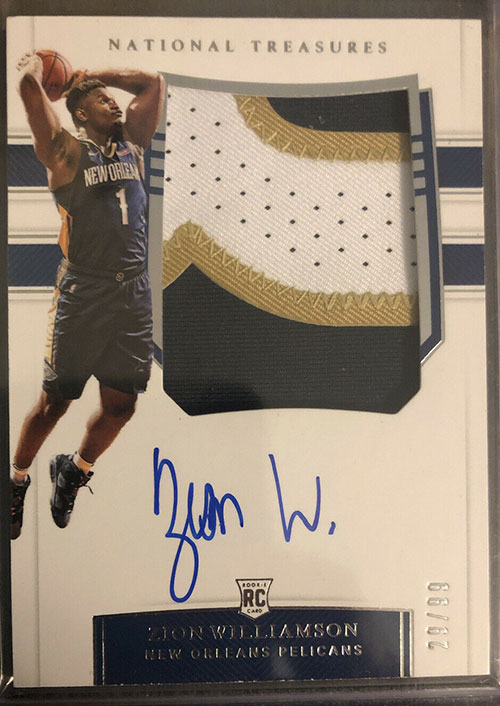 While Williamson has several cards on the 2019-20 Panini National Treasures Basketball checklist, this is the one that's his Rookie Card. Part of the main set, it comes with the autograph-jumbo patch combination that National Treasures is known for on its key RCs. It has 99 copies.
In addition to the base version, Williamson's card has a handful of parallels: Horizontal (/75), Horizontal Bronze (/49), Stars and Stripes (/30), Gold (/10), Emerald (/5), Stars and Stripes Blue FOTL (/3) and Logoman (1/1).
One of the Stars and Stripes versions, which are found in 1st Off the Line boxes, has also made its way to eBay. Instead of an auction, this one has a $199,999.99 asking price (offers are also being taken).
2019-20 Panini National Treasures Zion Williamson Logoman Bounties
While any copy of the Zion Williamson RPA are going to garner plenty of eyeballs and massive secondary market prices, the one-of-one Logoman parallel already has some massive public offers out there. Grand Slam Collectibles has a $350,000 offer for the card should it get a grade of 9/10 from BGS. They are also willing to fly the collector to their Tennessee store to complete the transaction in person.
But that's not the only one. Blowout Cards has a $500,000 price tag on the card.
These bounties are similar to offers for the 2018 Bowman Chrome Shohei Ohtani Superfractor Autograph when it came out. However, the Williamson is at a much larger scale. That Ohtani Superfractor had public offers for $60,000 and up. It ended up going to auction and selling for $184,000.