Finding Some Stratusfaction – Beckett Pricing Insider
Once in a while, you get to cross an item off of your bucket list.
That happened last weekend at Dallas Fan Days when I met Trish Stratus.
I was able to spend about ten minutes with Trish discussing her career in WWE as well as the collectibles industry. I also presented her with a couple copies of the 2019 Beckett Wrestling Collectibles Almanac. She was excited to get them and told me her husband collects everything of hers. Believe it or not, Trish and Beckett have a bit of history (the positive kind, of course).
It wasn't that long ago that Trish was on the cover of Beckett Sports Card Monthly (Issue #357), which was a milestone in more ways than one. It was the first time a female wrestler had been on the cover. For Trish, it was the 100th cover for her career.
Trish also secured another milestone with Beckett back in March of this year. In the inaugural Beckett Wrestling Collectibles Almanac, she topped the list of Top 10 All-Time Woman Wrestlers.
As for career accolades, Trish is right up there with the best. She has been the WWE Women's Champion seven times, was Diva of the Decade during the 2000s, and was inducted into the WWE Hall of Fame in 2013. Heck, she's even won the now-defunct WWE Hardcore Title once.
I guess you could say Trish is one-of-a-kind.
Since that's the case, I thought it would be fun to look at recent sales of Trish that are one-of-a-kind.
Here are three one-of-ones of Trish that recently sold on the secondary market:
2019 Topps WWE Undisputed Red 1/1 Trish Stratus #90 – $750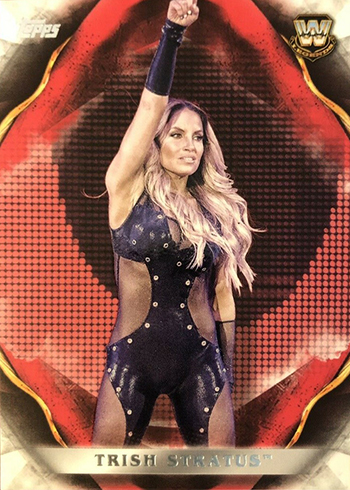 2019 Topps WWE Women's Division Mat Relics Red 1/1 Trish Stratus #MRSF – $350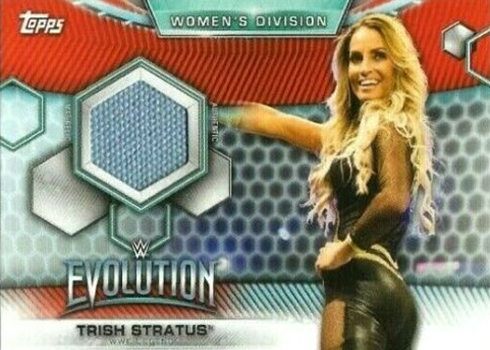 2016 Topps WWE Printing Plates Black 1/1 Trish Stratus #97 – $60