Finally, The Rock has come back to the WWE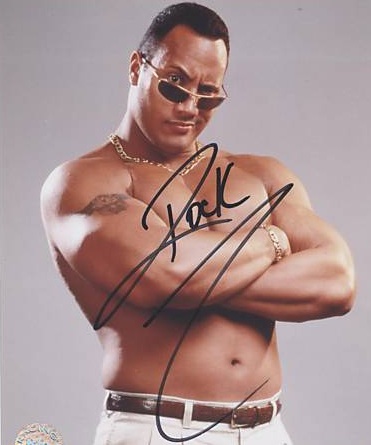 By Chris Olds | Editor
After seven years away from the world of professional wrestling, Dwayne "The Rock" Johnson returned to a World Wrestling Entertainment ring on Monday night in Anaheim, Calif., as he was unveiled as the guest host for WrestleMania XXVII in Atlanta.
His 20-minute in-ring promo capped Raw, with his attention particularly focused on John Cena, prompting a few to believe that he might be up for more than some host duties for the April pay-per-view. That got us thinking — there might be a few collectors out there looking for the star's trading cards and memorabilia.
The Rock presently appears on 254 cards in the Beckett.com database — just one of them a certified autograph as a wrestler. (He does appear on non-sport autographed cards for The Mummy Returns, The Scorpion King and Doom.)
Johnson's earliest trading card appearance comes as a member of the University of Miami football team. He was included in a school-produced set in 1994, and that card can sell for $50.
His 1998 DuoCards WWF Autographs card books for $60, though it can trend higher — and likely will with his return. Would Topps work him into the mix on upcoming products? It's likely, though that ultimately would depend on the length of his WWE return and his signing fees. In all, he has appeared on just 15 cards made by Topps, his last in 2007.
He appears on 22 (wrestling) memorabilia cards and just five cards that are serial-numbered — with a total value of all cards just $1,192.95, or $4.69 per card, for those that aren't too scarce to track.
Rock's memorabilia card offerings are much more varied, with the most-expensive card being a $75 2002 Fleer card that he shares with Trish Stratus that is limited to 25 copies.
Chris Olds is the editor of Beckett Baseball. Have a comment, question or idea? Send an e-mail to him at colds@beckett.com. Follow him on Twitter by clicking here.