Fenway Park celebrates its 100th anniversary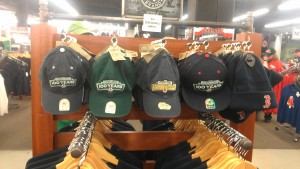 By Susan Lulgjuraj | Contributing Editor
BOSTON | The Boston Red Sox are celebrating the 100th anniversary of Fenway Park.
The small ballpark nestled inside the city limits could be hard to see if you're not looking for it, but the stadium has such a rich history with most of the greatest players in the game having once played there.
Along with today's ceremony, the Red Sox have made it easy for fans to celebrate as well. They have created a number of memorabilia pieces with "100 Years" adorning them.
Fans can get just about anything with that insignia on it. And, most likely, by the end of the year, there will be memorabilia – signed baseballs, special jerseys, branded bats – for fans to get as well.
Here's a peek at some of the few pieces fans can pick up while at Fenway.
Susan Lulgjuraj is a contributing editor for Beckett Media. You can email Susan here. Follow her on Twitter here.