Fat Packs Pull a Derek Jeter Rookie
They got what they came for.
Eric Norton, of Fat Packs Podcast fame, hosted Josh from MM7 Sports Cards in Moore, Oklahoma. Josh brought with him some 1993 SP Baseball box sets. Each still sealed.
Norton and Josh opened one box on Facebook Live. They did so with one goal in mind.
"First Jeter wins," Norton said, half-jokingly.
After carefully opening a few packs, Norton found the Holy Grail. A Derek Jeter rookie card.
"It's a beautiful card," Norton said. "I'm trying not to scream. It's the first time I have pulled one of these."
Jeter wasn't the only gem in the box. Norton and Josh also pulled Cliff Floyd, Chipper Jones, Manny Ramirez, Javy
Lopez and Rondell White rookie cards. They also grabbed a Jose Canseco card that showed him pitching and a Jim
Abbott card with him holding a bat.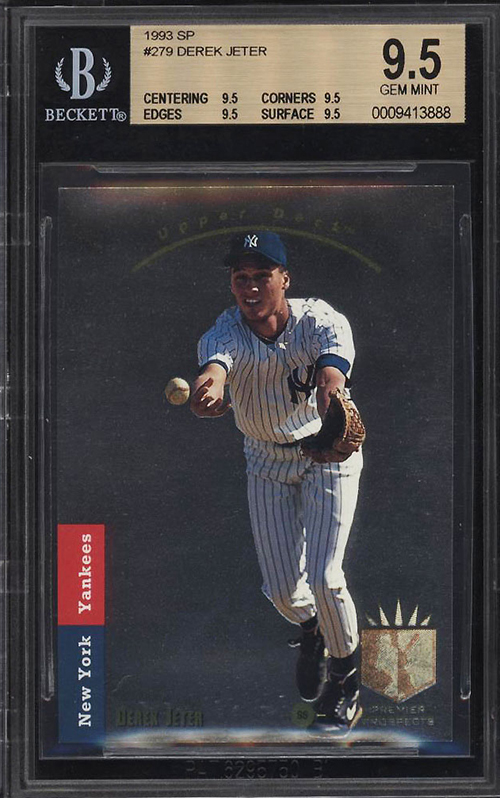 Note: Card shown similar but not exact card pulled. Same grade, however.
While they broke the case, Josh explained the origin of the MM7 name. It's in honor of Mickey Mantle, who was born and raised in Oklahoma. Mantle, of course, wore No. 7.
You can watch the full video below.
Don't forget to check out the Beckett Marketplace to take advantage of the Labor Day Sale. Get 15 percent off any order of $25 or more with code "LABORDAY15."