Fascinating 5: 2019 Topps Series 1 Baseball
It's been a while since I've done a Fascinating 5 and picking cards I'll be chasing in a particular product. Probably too long. A new baseball card season is less than a couple of weeks away. 2019 Topps Series 1 Baseball is right around the corner. And with a checklist to look through and pour over (minus the card numbers for the base set), I've got a pretty good idea of my what I'll be hunting beyond the tradition of a base set.
5 2019 Topps Series 1 Baseball Cards I'm Hunting For
1984 Topps Baseball Autographs Don Mattingly
I'm not the biggest Don Mattingly fan but there's something about the combination of his signature on a card with the 1984 Topps Baseball design. And if the final card stays true to the mock-up, it's a different image than his Rookie Card. I prefer it that way for this product. It's about touching on the 1984 set, not recreating verbatim. Outside of the ultra rarities, this is the card I'm looking for in the packs I open.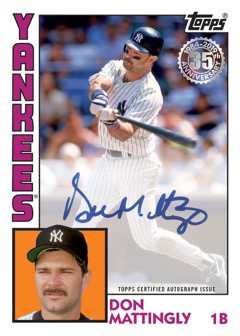 Historic Homes Relics Wrigley Field
Do I put a lot of value in memorabilia cards with pieces of stadiums? Not overly. Do I think they're cool? Absolutely. The Historic Homes Relics highlight a few of baseball's legendary cathedrals. To me, Wrigley ranks in the top 3 alongside Yankee Stadium and Fenway. Seeing as how Wrigley is the only one of those I've visited, that's my choice. Although, that changes if the Fenway card ends up having a slice of the Green Monster.
Safeco Field #???
Count me as a big fan of seeing stadium cards included in the base set. Although it's a few hours away (not to mention across the border), Safeco is the home field I try to make it to at least once a year. Last year, my family and I made the trip to Seattle to watch Mike Trout and Shohei Ohtani play. There also happened to be bobbleheads that weekend. And as luck would have it, I saw Albert Pujols get his 3,000th hit not long after eating some fried grasshoppers. So Safeco has lots of memories and baseball cards connect me to those memories.

It's probably going to be a while before there's another "Safeco Field" card as the sign out front is changing to something I'm probably going to have a hard time remembering.
150th Anniversary Commemorative Medallions Vladimir Guerrero
I know it's not an opinion held by all, but I like manufactured relics. I see them simply as fancy inserts, just not in the same light as autographs and game-used memorabilia. But if you look at them simply as cards, some of these are consistently attractive looking cards.
Thanks to Vladimir Guerrero, I have a few Montreal Expos cards to chase in 2019 Topps Series 1. All are inserts. This particular medallion card is a hobby-exclusive so I suspect I may end up trading for one somewhere down the line.
Legacy of Baseball Dual Autographs Mike Trout/Hank Aaron
Every product needs a unicorn, that card that's so rare you might not even see a picture of one, let alone finding one in a pack. My Wonka Golden Ticket in 2019 Topps Series 1 is the dual autograph with Mike Trout and Hank Aaron. But let's be honest, I wouldn't turn down any of the combinations. Give me a Nolan Ryan/Shohei Ohtani and I'm good. Same with Ohtani and Ichiro. Just go up and down the list. It's a good one. But with print runs maxing out at five copies for any given card in the 13-card insert set, I'm not holding my breath.
One can dream.
What cards are you looking forward to chasing from 2019 Topps Series 1 Baseball? Have your say in the comments or let us know on Twitter.