Fascinating 5: 2019 Topps Heritage Baseball
The 2019 Topps Heritage Baseball checklist has arrived and I've given it a few looks. While I don't normally go deep on Heritage, it's the kind of product I love to buy packs of here and there when I come across them.
As usual, the checklist is deep and has a little bit of everything. The fancy high-end stuff is tough, but should you land something, it's bound to be good. With Heritage, I like to look for some of the smaller things as well. There's usually plenty of cheaper options in the set that are fun for what they are. I spotted several of those on the checklist as well, although most are more set-wide versus specific cards.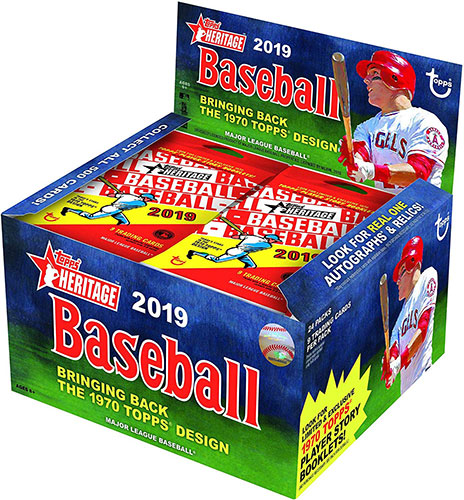 All that said, here are five of the 2019 Topps Heritage Baseball cards I'm most interested in when I stumble across those packs.
5 2019 Topps Heritage Baseball Cards I'm Hunting For
Rowdy Tellez RC/Reese McGuire RC "Rookie Stars" #109
Outside of a couple of failed attempts with guys like Josh Girdley and Brett Lawrie, I'm not a prospect-type of collector. I hold on to what I pull from packs of Bowman but I don't generally horde stacks. I've learned from my mistakes that I'm better off in the long run to pay more for a card after the player has been established — or skip something entirely if they become too expensive.
All that said, I've ended up with a couple of Rowdy Tellez cards over the past couple of years. They were cheap, he hits home runs and Rowdy Tellez is one of the best names in baseball today.
2019 Topps Heritage Baseball has the first in-pack Rowdy Tellez Rookie Card. And he just so happens to be paired up with another player I picked up a cheap autograph of a few years ago in Reese McGuire.
Really, I don't prospect.
The past few years, early sets have had some big-name rookies to chase. Thus far, 2019 seems a lot more quiet. There are some decent holdovers from late-2018 debuts, but the big Rookie Card excitement is there yet. It won't start unless someone steps up huge like Aaron Judge in 2017 or until a couple of top prospects make their way to the majors. And with Vladimir Guerrero Jr. and Fernando Tatis Jr. waiting in the wings, things are looking good.
So, for me, that leaves Tellez as the Rookie Card I'm hunting for in 2019 Topps Heritage, at least until High Number arrives. It'll be doubly so if the solo rookie Action Variations return.
News Flashbacks President Nixon Meets with Elvis Presley #NF-10
The Topps Heritage line has built itself on paying homage to the year they're focusing on. For the most part, it comes through in the designs and intricate recreations of the flagship set. But there are also inserts that delve into the year itself. News Flashbacks is an annual favorite for me as it offers up some interesting baseball cards for non-baseball moments.
And 2018 Topps Heritage Baseball might have one of the strangest yet — the time that President Richard Nixon hung out with Elvis Presley at the White House. While the meeting did indeed take place, it's taken on a mythical level over the years, even becoming the subject of a feature film in 2016 starring Michael Shannon as Presley and Kevin Spacey as Nixon.
I love odd moments on cards so I'm all in on this one.
This isn't the first time The King and the President have appeared on a trading card together. 2010 Press Pass Elvis Milestones has one of their 1970 meeting as well.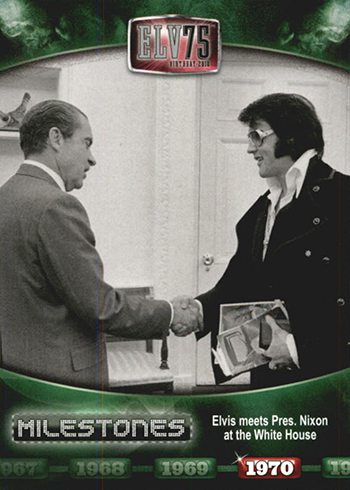 Real One Autographs Nolan Ryan #ROA-NR
Honestly, you can't go wrong with any of Heritage's Real One Autographs. They might be tough, but the checklists generally turn out strong and the signatures on-card. I'd be happy with any, but I'll hold out special hope for one of my all-time favorite players from the era the set is based on (I'll save the Mike Trout luck for something with a more modern flair).
There's a subtlety to the 1970 Topps Baseball design. If someone described it as "boring" to me, I wouldn't disagree, especially in contrast to many of the bold sets that followed in the ensuing years. But things don't always have to be flashy. "Clean" works a lot of time as well. And that's what we've got here.
It works as a nice backdrop for a good autograph card where the signature and overall look aren't competing against each other.
Real One Triple Autographs Hank Aaron/Chipper Jones/Ronald Acuña Jr. #ROTA-AJA
Does one need to explain why this card is awesome? Let's keep it simple: on-card autographs from an all-time legend, one of the top players of the generation that parallels my own and a young star with the makings of possible greatness. With only a handful of copies, it's beyond longshot territory. So while not an expectation, one can dream.
1970 Baseball Cut Signatures Thurman Munson #70BCS-TM 1/1
While I think cut signatures can be cool, I personally don't get overly excited by them. The amazing ones are in products I don't usually buy. And if they are in things I'm collecting, they're generally impossible to pull. Such is the case with the 1970 Baseball Cut Signatures in 2019 Topps Heritage Baseball. There are ten across the entire product run plus another ten similar 1970 Celebrity Cut Signatures.
Most of the baseball names have somewhat readily available autograph cards already that aren't cuts. That's the route I'd always choose first. But that's not an option for Thurman Munson who passed away tragically in 1979.
Munson doesn't have a ton of autographs out there to begin with. But there is a cut in Heritage. Topps has made it a little more special by singling it out as the product's lone over-sized cut signature. Whether that means it's a redemption or a special box topper remains to be seen. And with just one out there to be found, we may never know.
Still, this has the makings of a memorable card.