Fans, prospects and NHL commish get New Jersey welcome at 2013 NHL Draft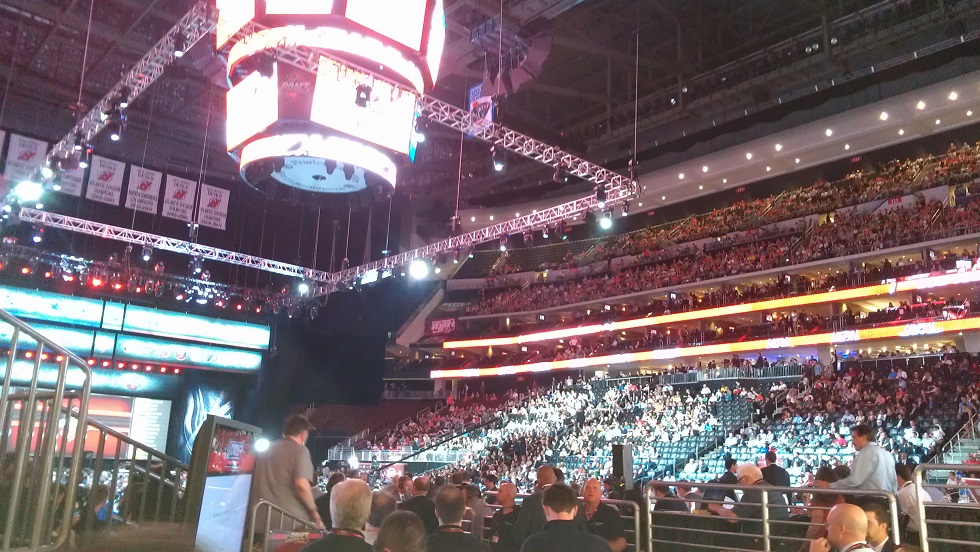 By Susan Lulgjuraj | Beckett Hockey Editor
NEWARK, N.J. | Hot, sticky and humid – a typical summer day in New Jersey. Kids play games on the boardwalk. Parents hold the prizes.
You don't normally think about hockey on a day like this, but on this particular Sunday, the sport took center ice in Newark. New Jersey Devils fans flocked to the Prudential Center for the 2013 NHL Entry Draft, bringing a taste of Jersey to the NHL.
"I'm so excited for this. I've been waiting for the draft for a while," said 17-year-old Matt Kass. "I've been coming to game since I was 3 months old. Now this … I couldn't wait for this day."
Kass's day at the Draft was like Christmas on steroids as he could barely keep still while waiting for the event to start.
The Prudential Center was nearly sold out for one of the deepest drafts in a decade. Hockey players such as Nathan MacKinnon, Jonathan Drouin and Seth Jones sat in the arena waiting for their names to be called.
The NHL Draft started with true New Jersey style – the fans booed NHL commissioner Gary Bettman as soon as he got on stage … and every time they saw him after that.
Many fan bases have had boos for Bettman, especially after the owners locked out the players to shorten the previous hockey season. While the NHL put on an exciting Stanley Cup Finals, the bitterness of the lockout lingers.
And Bettman heard all about it.
But he wasn't the only one drawing fans' attention. When the Colorado Avalanche took the stage to announce their first pick, the crowd started chanting. "Marty's better," razzing new Avs coach (and legendary goalie) Patrick Roy. Sorry Roy – here, Martin Brodeur is the favored netminder.
After the goalie debate was tabled, the first pick was announced.
Nathan MacKinnon, a 17-year-old center from Halifax, Nova Scotia.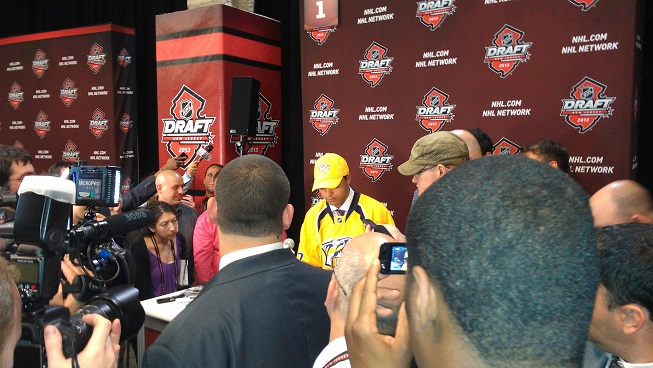 Running the Gauntlet
While Colorado's choice wasn't a surprise, the ensuing pick shocked the crowd.
Most people expected to hear Seth Jones' named called next. Jones is the son of former NBA player Ronald "Popeye" Jones.
But when the Florida Panthers selected Aleksander Barkov with the second pick, audible gasps filled the arena. Barkov was easily a top-10 pick but most did not consider him as one of the top three along with MacKinnon, Jones and Drouin.
Jones was selected fourth by the Nashville Predators. While Jones was relieved to hear his name, his selection triggered a chain of events that NHL folks call "The Gauntlet." All the first-round draft picks endure the same process – a flurry of interviews, photo ops and signatures. Laugh, smile, scribble, change clothes, repeat.
First, Jones answered a few questions for the TV audience. Then he went behind the curtain to get peppered with more questions from local and national media members. Television crews elbowed their way to the front of the media scrum – clanging their cameras off the sides of print reporters' heads.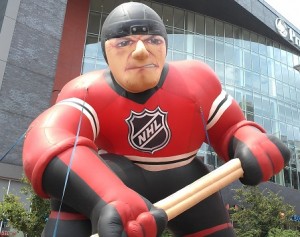 "This has been dragging along for quite some time now, and I got here Wednesday night and had to really occupy my time to not think about this," Jones said. "The nerves were pretty high this morning, but they kind of calmed down since I've been here."
Jones answered dozens of questions at the podium, some that sounded the same as the ones before. His answers didn't sound much different, either.
"I have a competitive nature and I get that from my parents," Jones said. "Yeah, you definitely want to prove (the teams that didn't pick me) wrong and you definitely want to show them why they should have picked you. That's not my only goal next year, but it's definitely on my list."
After about a half hour when all questions were exhausted, Jones was led to another part of the arena to take pictures in the Photo Tank, sign autographs and try on equipment.
The picks spends about four minutes with Upper Deck and Panini each. In that time, they rush to sign their signatures on cards and memorabilia. They also take photos that the companies will use for promotions or cards. They might even get asked a couple of more questions from members of the card companies.
The official NHL photos come next. Other stations follow before the players are finally – FINALLY! -reunited with their families. Some of the players run through the Gauntlet in about 40 minutes or so – others can take more than an hour.
"I remember when Malcolm Subban was drafted," NHL's Jen Kallas said, "It took him about two hours to get through. Everyone wanted to talk to him."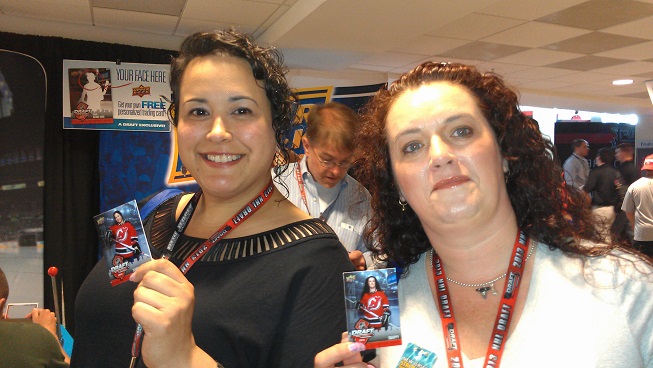 For the fans
The draft is a special moment for the players, the start of their NHL hockey careers. Years of preparation, months of waiting, days of anticipation – all for a few minutes on a stage with their new team.
But the draft isn't just for the players. Hockey fans get excited for the big day, hoping to get a glimpse of future stars. Some were even lucky enough to spot prospects on the concourse and got autographs of players such as sixth overall pick Sean Monahan.
The NHL ensures the fans get an all-out experience. Along with the Fan Fest that occurred on the streets of Newark before the game, the Prudential Center concourse was filled with activities to keep fans entertained.
They could take a picture with the Stanley Cup, scour tables filled with hockey cards and talk to reps from Upper Deck and Panini, both of which had booths set up at the draft. Both companies handed out wrapper redemption packs that heavily featured the New Jersey Devils.
One of the most popular activities was at the Upper Deck booth, where fans got a trading card of themselves made. The cards feature the NHL Draft logo and the person's name while they smile and pose with a hockey stick. Age doesn't matter to these card prospects, with small children to senior citizens showing off their cards to their friends.
Annmarie Mayer, a Devils fan, enjoyed the card so much, she plans on putting it with the rest of her Devils memorabilia in her office.
"I think it's great," said Mayer, a Devils season ticket holder for 25 years. "It looks like a real card. I'm going to love putting this with all my other stuff."
A typical New Jersey summer day – full of games and prizes, giving hockey fans a chance to leave the sand behind for a little while to think about the cold, wintry days when their new favorite players are on the ice.
Susan Lulgjuraj is an editor of Beckett Hockey. You can email her here with questions, comments or ideas. Follow her on Twitter here. Follow Beckett Media on Facebook and Twitter.