Fan Cave rip party features Billy Ripken and Topps' MiLB player for a day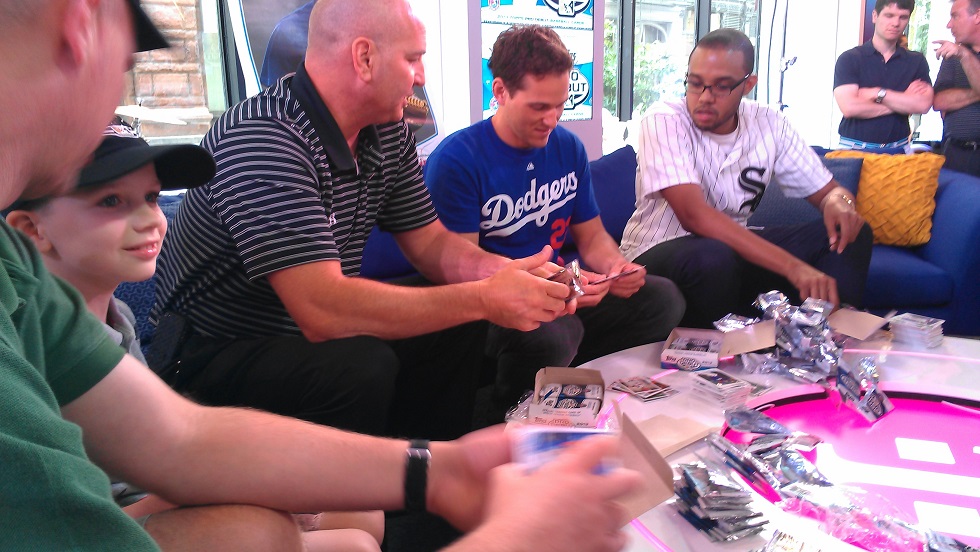 By Susan Lulgjuraj | Beckett Sports Card Monthly Editor
NEW YORK CITY | Tim Kane's baseball adventure didn't end when his one-day contract ran out with the Corpus Christi Hooks. He had one more stop to make at the MLB Fan Cave in New York City.
Kane attended a baseball card rip party at the Fan Cave last week. He and his son Peyton told their story about meeting Nolan Ryan and getting to feel like a minor league player with official jerseys, hanging out in the dugout and taking batting practice with the team. Kane won a contest after pulling a card from Topps Heritage Minor League last year.
"It's been a whirlwind ever since we found out we won," Kane, a Millersville, Md. resident, said. "Everything from when we found out we won to going to Corpus Christi and meeting Nolan Ryan – it's all been so crazy and great. The smile has never left my son's face. To me, that's what it's all about. It's for him."
Kane also got to hang out with Billy Ripken and open packs of 2013 Topps Pro Debut looking for his own minor league baseball card – one of the prizes he received for being a minor league player for a day.
"This is something I am going to hold on to for a long time," Kane said as he looked at a copy of the card. "It adds to the memory of the day."
Two Fan Cave dwellers, Ripken, Kane and his son, and a few reporters ripped packs of cards, showing off their Yasiel Puig base cards and mascot manufactured relic patches. Like any baseball fan, they got excited when they pulled hot, upcoming prospects and quickly passed over the cards with players they never heard of.
It felt like a room full of kids.
Either way, they created a big mess with the wrappers of a half case of cards.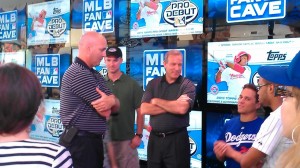 "Cards are like anything else these days," said Ripken, who has his own famous baseball card, "they're better than before. The card sets, the way they make them nowadays, makes for family time and brings people together."
Topps is bringing the promotion back. In this year's Topps Minor League Heritage, which comes out September, collectors can pull a special card and then submit an essay as to why they should be the Player for a Day. Kane's essay revolved around Peyton and his love for minor league baseball. They go to Bowie Baysox games often.
This time around, the winner will get to be a player for the Aberdeen Ironbirds, which is owned by Cal and Billy Ripken.
"The things we do are all about the family experience," Billy Ripken said. "You listen to Tim talk about the time he had with his son and that's what you want to hear. That is what baseball is all about."
Click here to read more about Kane's day with Corpus Christi. 
Susan Lulgjuraj is an editor of Beckett Sports Card Monthly. You can email her here with questions, comments or ideas. Follow her on Twitter here. Follow Beckett Media on Facebook and Twitter.