Family's love of collectibles turns into a family business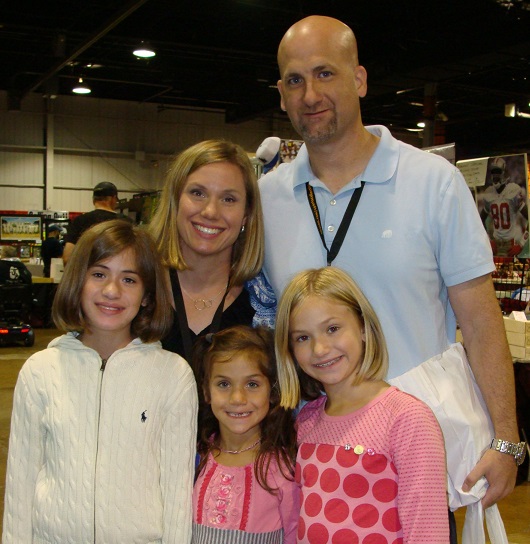 By Susan Lulgjuraj | Beckett Sports Card Monthly Editor
Chuck Whisman's home was filled with trading cards and memorabilia. Even his young daughters would comment on how their dining room table was completely hidden by the goods.
But everything has been moved into Whisman's new card shop in Lancaster, Pa. – VSM Sports Card Outlet, which opened in August.
"The thought of just doing the shop is a little scary these days," Whisman said. "You don't see shops alone anymore."
That's why Whisman has turned his love of collectibles into a family business with him running the shop, his wife as an auctioneer for their other new company Wheatland Auctions and his young daughters offering up their brand of advice along the way.
While at the National Sports Collectors Convention in August, his daughters gave suggestions to Topps during its question and answer session with collectors. His daughters Hannah, 9, Audrey, 8, and Lauren, 6, asked Topps to make more cards for girls and recently sent them a list of ideas that included fairy cards, Rookie Cards for celebrity actresses and singers, Princess cards (a mix of real-life and fiction princesses) and hits such as pressed flower cards or encased butterflies.
"Topps has been really receptive," Whisman said. "And we'd love to see where this goes."
His wife Stacey is the auctioneer for Wheatland Auctions, which specializes in sports auctions and other collectibles. Their latest auction concludes this weekend and features a dual-signed baseball from Babe Ruth and Lou Gehrig (authenticated by JSA), a complete set of 1962 Topps baseball cards, and a 1958 New York Yankees World Series Championship baseball (authenticated by JSA).
Click here to visit the auction.
One of the interesting things Whisman discovered when opening his store was just how much people needed guidance when it came to their collections.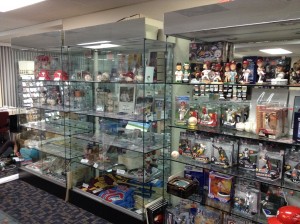 "A lot of people need help with an exit strategy to their collections," Whisman said. "They are downsizing, retiring or they want to raise money. I find a lot of what we do is helping guide people on how they can maximize return."
Whisman's advice has included auction houses, consignments in the shop or selling items on the internet. He's had customers come in with interesting stories as to why they need to sell their items.
"It's almost like I can write a book on the stories of the people who come into our store," Whisman said.
There was one man who is retiring, moving out of his home looking to sell his collection of autographs from 1938. Another family was looking to do something special with memorabilia their child, who was a hemophiliac, had collected over the years.
"A unique aspect that I didn't expect was a way to help people sell collections and collectibles," Whisman said. "There are a lot of online resources, blogs and websites out there. We are trying to be that medium across all the different collectors. We're bringing together different types of collectors."
Bill Fuhrman, a collector and former storeowner in the 1980s and 1990s, manages the store. Whisman is the Chief Technology Officer of an environmental engineering company, and appreciates having Fuhrman's expertise in his shop.
VSM also has special guest autograph signers such as former Phillies manager Larry Bowa who signed at the store last weekend.
Susan Lulgjuraj is an editor at Beckett Media. You can email her here with questions, comments or ideas. Follow her on Twitter here. Follow Beckett Media on Facebook and Twitter.