Famed Bronze Rocky Statue by A. Thomas Schomberg Expected to Top $1 Million at Auction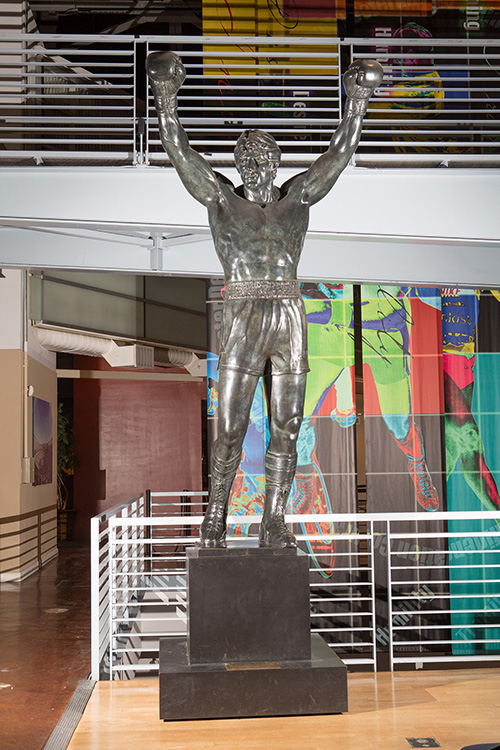 The Rocky statue is one of Philadelphia's most iconic sights. People line up everyday, often fresh off a run up the Philadelphia Art Museum steps to pose with the bronze behemoth.
A second Rocky statue, made by A. Thomas Schomberg at the same time as the original, is about to be sold by SCP Auctions as part of their 2017 Fall Premier Auction.
Schomberg was commissioned to make the statue of Rocky Balboa for a scene in Rocky III.
Schomberg actually had the rights to make three identical copies of the statue, the one used in the movie and two others. The one being sold is the second of them, which Schomberg sculpted concurrently with the original. The third wasn't made until many years later, in 2006.
This version of the statue had been on display for more than 20 years at the San Diego Hall of Champions, which closed in June, 2017. It is one of more than a hundred pieces from the museum being sold at SCP's Fall Premier Auction.
The bronze Rocky statue itself 8′ 6″. Once the base is factored in, it's more than 12-feet tall. It weighs approximately 1,800 lbs.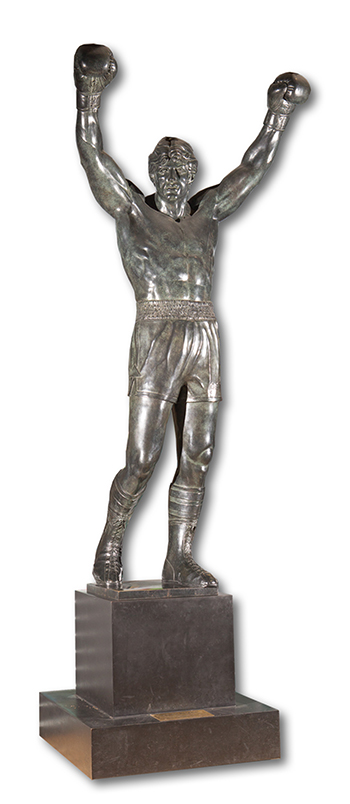 Rocky's posed with his arms up, an iconic shot that resonates still today after several decades and films.
On the base is a plaque detailing the statue's origins, "ROCKY BALBOA Created in 1980 for the Movie 'Rocky III' by A. Thomas Schomberg Edition #2/3 on Loan to the San Diego Hall of Champions from Robert Breitbard."
After Breitbard passed away in 2010, his family's foundation, the Robert & Lillie Breitbard Foundation, donated it to the Hall of Champions. It had been on loan to the museum in the years before.
As for sale estimates, it's tough to say. However, according to SCP Auctions, the third and final statue made many years later has been estimated at being potentially worth $1.2 million. That one looks the same but it doesn't have the same history as the first two.
Proceeds from the sale of the Rocky statue, as well as other items from the San Diego Hall of Champions, will go towards the Hall's awards and recognition programs that are continuing, community initiatives and the Breitbard Hall of Fame.
Bidding opens on Wednesday, October 18 and closes Saturday, November 4. Bidders can register through the SCP Auctions website.
Comments? Questions? Contact Ryan Cracknell on Twitter @tradercracks or by email.