Expert Opinion: Too Many Cooks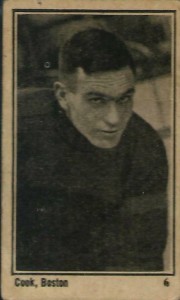 By Stephen Laroche | Beckett Hockey Editor
At the recent Sportcard & Memorabilia Expo in Toronto, I was walking by one of the many booths with showcases full of vintage hockey cards and noticed an anomaly that needed to be investigated once the show was over. Sitting among the dealer's cardboard treasures was a 1924-25 Maple Crispette card depicting an original member of the Boston Bruins, but something seemed off.
A few days later, I received a message from collector Hart Stoffman which confirmed my suspicions. For many years, the hobby had incorrectly assumed that the card of "Cook, Boston" was of Hockey Hall of Fame member Bill Cook. However, it instead depicted a man named Lloyd Cook who played four games for the first-year club that season after a lengthy career with Vancouver and Spokane in the old Pacific Coast Hockey League.
How did this confusion arise? Find out after the jump.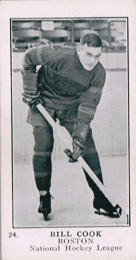 Lloyd Cook was also on another hockey card that season as well and it created a bit of a problem for modern collectors as he was labeled as "Bill Cook" on the front of his V145-2 card that was issued by the William Patterson Company and placed inside wrappers of the hockey-themed candy bar.
At the time, Bill Cook was in his third season of pro hockey in Saskatoon and was one of the brightest young stars in the game. In fact, his first card came out a year earlier as part of the V128-1 1923-24 Paulin's Candy collection. Beckett has now made adjustments and his official rookie cards (V304A O-Pee-Chee, V129 Anonymous and V357 Ice Kings) do not come for another decade after he had spent several seasons leading the New York Rangers to glory – including a pair of Stanley Cup title. Stoffman was kind enough to point out that Cook's O-Pee-Chee card from 1933-34 actually shows his brother, Bun, who was a longtime linemate.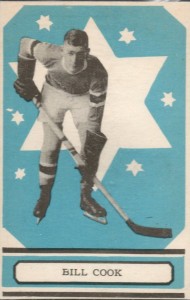 Today, Lloyd Cook's cards have been fixed in our database and he now has three that were issued during his playing days. In addition to the Maple Crispette and V145-2cards, he also has a super-scarce Anonymous issue from that era to track down as well. While it will take some time to see how the market reacts to these scarce cards, Beckett will be sure to keep an eye on sales and make adjustments if necessary.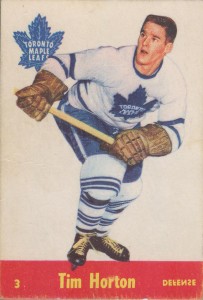 Another item Stoffman brought up is one which many hardcore vintage collectors are aware of, but we here at Beckett had yet to formally acknowledge, is an error that appears on some versions of the 1955-56 Parkhurst card of Tim Horton. It is believed that early printings of the set saw the middle part of the word "DEFENSE" printed upside-down on the front. These cards are incredibly scarce and while we can't report pricing on them yet, we hope to once some more sales are reported.
As editor of Beckett Hockey, part of my mission is to help find some clarity when it comes to some of hobby's great mysteries. I have always loved hearing tales about mysterious vintage cards and even did some sleuthing over a decade ago which helped make some significant changes in our price guide – at least for old school hockey card collectors. Those changes included clarifying which cards in the 1969-70 O-Pee-Chee set were double printed and proving that what the V356 World Wide Gum set was actually issued in 1937-38, shattering the long-held belief that it had been issued a year earlier.
Early in my time here at Beckett, I sought to remove a couple of cards from our guide that simply did not exist. For decades, people believed that there was a version of the 1968-69 O-Pee-Chee card of Keith McCreary without a number, but the reality is that one has yet to surface in all that time. The mysterious Randy Cunneyworth error card from 1989-90 Topps depicting him with Pittsburgh instead of Winnipeg was alse taken out because it appeared to be an urban legend more than anything else.
There is still a lot of work to be done, but I hope we are moving in a positive direction. Please free to directly send me a message about any errors in our hockey (and basketball) checklists. I am more than happy to pass them along to our pricing department and discuss making changes if they are indeed necessary. Over the next few months and years, I sincerely hope that Beckett can continue to be a strong resource for collectors and your assistance and input is always appreciated.
Stephen Laroche is the editor of Beckett Hockey and Beckett Basketball magazines. Have a comment, question or idea? Send an e-mail to him at SLaroche@beckett.com. Follow him on Twitter @Stephen_Laroche.