Panini Super Bowl Private Signings List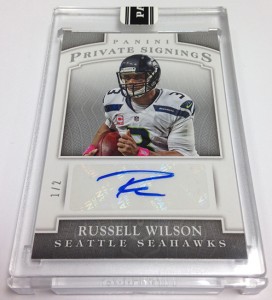 Super Bowl XLIX is gearing up with media days, the NFL Experience and tons of activities around Glendale, Ariz. As part of the celebration, Panini announced the return of the Super Bowl Private Signings Autograph program that debuted two years ago.
For a limited time only and while supplies last, customers will receive one Super Bowl Private Signings Autograph for every qualifying purchase made on Panini America NFL card products at iCollectPanini.com. Every one-card pack is guaranteed to include either a randomly selected Private Signings autograph card or an autograph memorabilia Rookie Card.
Panini has exclusively shared the incredible set checklists with Beckett Media. The entire checklist, as well as several images, is below.
Available football products for this promotion include 2014 Playbook, 2014 Absolute, 2014 Limited, 2014 Rookies & Stars, 2014 Certified, 2014 Elite, 2014 Prestige, 2014 Prizm and 2014 Crown Royale.
Private Signings Parallels:
Private Signings Foil (# to 1)
AB Antonio Brown Pittsburgh Steelers
AF Arian Foster Houston Texans
BR Ben Roethlisberger Pittsburgh Steelers
BF Brett Favre Green Bay Packers
CP Carson Palmer Arizona Cardinals
CC Cris Carter Minnesota Vikings
DM Dan Marino Miami Dolphins
DS Deion Sanders Dallas Cowboys
DM DeMarco Murray Dallas Cowboys
DT Demaryius Thomas Denver Broncos
DB Drew Brees New Orleans Saints
EL Eddie Lacy Green Bay Packers
EM Eli Manning New York Giants
ES Emmitt Smith Dallas Cowboys
ED Eric Dickerson Los Angeles Rams
FH Franco Harris Pittsburgh Steelers
FB Fred Biletnikoff Oakland Raiders
JJW J.J. Watt Houston Texans
JC Jamaal Charles Kansas City Chiefs
JW Jason Witten Dallas Cowboys
JR Jerry Rice San Francisco 49ers
JF Joe Flacco Baltimore Ravens
JN Joe Namath New York Jets
JE John Elway Denver Broncos
JR John Riggins Washington Redskins
JN Jordy Nelson Green Bay Packers
KW Kurt Warner St. Louis Rams
LT LaDainian Tomlinson San Diego Chargers
LD Len Dawson Kansas City Chiefs
LB Le'Veon Bell Pittsburgh Steelers
LK Luke Kuechly Carolina Panthers
MF Marshall Faulk St. Louis Rams
ML Marshawn Lynch Seattle Seahawks
MS Matthew Stafford Detroit Lions
MI Michael Irvin Dallas Cowboys
PM Peyton Manning Denver Broncos
RW Reggie Wayne Indianapolis Colts
RG Rob Gronkowski New England Patriots
RW Rod Woodson Baltimore Ravens
RS Roger Staubach Dallas Cowboys
RW Russell Wilson Seattle Seahawks
RT Ryan Tannehill Miami Dolphins
SL Steve Largent Seattle Seahawks
SS Steve Smith Sr. Carolina Panthers
SY Steve Young San Francisco 49ers
TD Terrell Davis Denver Broncos
TT Thurman Thomas Buffalo Bills
TD Tony Dorsett Dallas Cowboys
TR Tony Romo Dallas Cowboys
TH Torry Holt St. Louis Rams
TA Troy Aikman Dallas Cowboys
WM Warren Moon Houston Oilers
WW Wes Welker New England Patriots
Private Signings Rookie Parallels:
Private Signings Rookie Foil (# to 1)
ME Mike Evans Tampa Bay Buccaneers
AM Aaron Murray Kansas City Chiefs
KB Kelvin Benjamin Carolina Panthers
JA Jace Amaro New York Jets
JM Jerick McKinnon Minnesota Vikings
CB Chris Borland San Francisco 49ers
TB Teddy Bridgewater Minnesota Vikings
JG Jimmy Garoppolo New England Patriots
SW Sammy Watkins Buffalo Bills
BB Blake Bortles Jacksonville Jaguars
IC Isaiah Crowell Cleveland Browns
DC Derek Carr Oakland Raiders
AJM AJ McCarron Cincinnati Bengals
OB Odell Beckham Jr. New York Giants
JM Johnny Manziel Cleveland Browns
JM Jordan Matthews Philadelphia Eagles
JB John Brown Arizona Cardinals
BO Branden Oliver San Diego Chargers
AB Alfred Blue Houston Texans
Rookie Signatures Materials Parallels:
Private Signings Foil (# to 1)
TW Terrance West Cleveland Browns
AW Andre Williams New York Giants
ME Mike Evans Tampa Bay Buccaneers
KB Kelvin Benjamin Carolina Panthers
BS Bishop Sankey Tennessee Titans
TB Teddy Bridgewater Minnesota Vikings
AR Allen Robinson Jacksonville Jaguars
CS Charles Sims Tampa Bay Buccaneers
JG Jimmy Garoppolo New England Patriots
SW Sammy Watkins Buffalo Bills
ML Marqise Lee Jacksonville Jaguars
BB Blake Bortles Jacksonville Jaguars
OB Odell Beckham Jr. New York Giants
BC Brandin Cooks New Orleans Saints
JM Johnny Manziel Cleveland Browns
TM Tre Mason St. Louis Rams
JM Jordan Matthews Philadelphia Eagles
DA Davante Adams Green Bay Packers