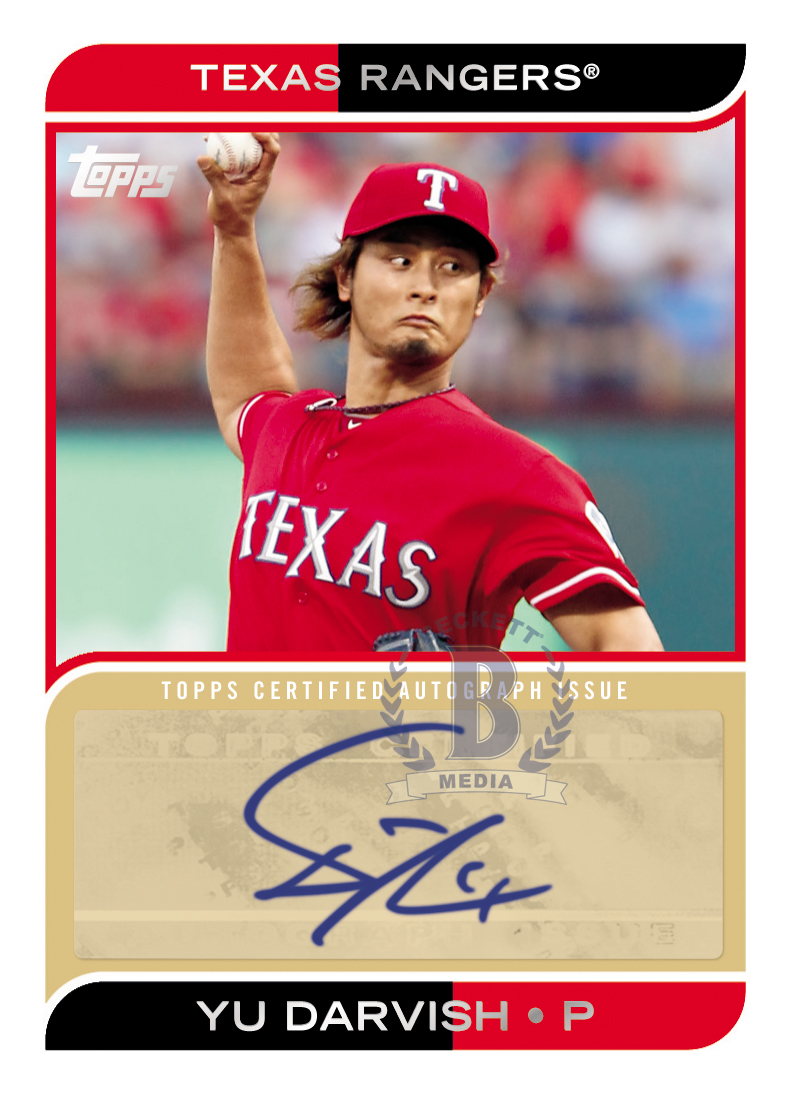 By Chris Olds | Beckett Baseball Editor
Topps' downsized version of its 2012  flagship set is closer to its public debut less than three weeks from now at the National Sports Collectors Convention.
And now it's time to see what the autographs and Relics will look like — and find out who's who on those respective checklists — as the company provided that info to Beckett Media for the product that arrives at the NSCC before it can only be bought at ShopTopps.com, the company's online store.
The product will be issued in pack form with mini versions of all 661 base cards found in Series 1 and Series 2 (as the case with this year's factory sets). It also will include autographs and memorabilia cards, too — all in the smaller size a la the 1975 Topps Mini set, which was a test issue only released in Michigan and California. Just like back then, these cards are 2 1/4 inches wide by 3 1/8 inches tall — about three-quarters of the size of a standard card.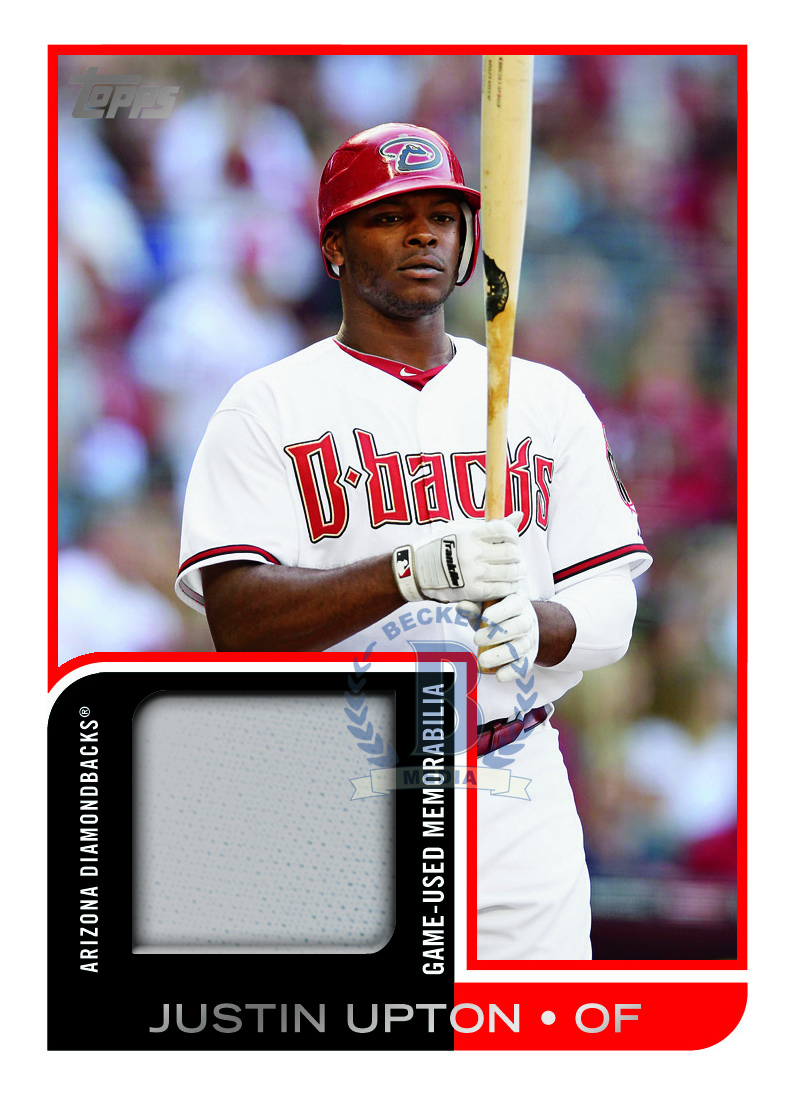 There will be 10 cards per pack and one autograph or Relic card in every 24-pack box. There will be 31 players with autographs found in the limited-run product. Some of the notable signers include Bryce Harper, David Ortiz, Don Mattingly, Al Kaline, Yu Darvish, Mike Trout, Tony Gwynn, Stan Musial and Frank Robinson to name a few.
The Relics side will feature a 50-card checklist that includes past and present stars. Some of the players found there will include Trout, Musial, Carl Yastrzemski, Gwynn, Harmon Killebrew, Don Mattingly, Josh Hamilton and Justin Verlander.
We'll have more on this one next week right here on Beckett.com.
Chris Olds is the editor of Beckett Baseball magazine. Have a comment, question or idea? Send an email to him at colds@beckett.com. Follow him on Twitter by clicking here.
AUTOGRAPHS  
MA-1 Bryce Harper Washington Nationals
MA-2 Neil Walker Pittsburgh Pirates
MA-3 Ricky Romero Toronto Blue Jays
MA-4 Brandon Beachy Atlanta Braves
MA-5 Jhonny Peralta Detroit Tigers
MA-6 David Ortiz Boston Red Sox
MA-7 Don Mattingly New York Yankees
MA-8 Adrian Gonzalez Boston Red Sox
MA-9 Al Kaline Detroit Tigers
MA-10 Yu Darvish Texas Rangers
MA-11 Mike Trout Angels
MA-12 Freddie Freeman Atlanta Braves
MA-13 Edgar Martinez Seattle Mariners
MA-14 Jesus Montero Seattle Mariners
MA-15 Tommy  Hanson Atlanta Braves
MA-16 Clayton Kershaw Los Angeles Dodgers
MA-17 Mark Trumbo Angels
MA-18 Josh Reddick Oakland Athletics
MA-19 Tony Gwynn San Diego Padres
MA-20 Stan Musial St. Louis Cardinals
MA-21 Gio Gonzalez Washington Nationals
MA-22 Dee Gordon Los Angeles Dodgers
MA-23 Chad Billingsley Los Angeles Dodgers
MA-24 Drew Stubbs Cincinnati Reds
MA-25 Edinson Volquez San Diego Padres
MA-26 Alcides Escobar Kansas City Royals
MA-27 Kyle Drabek Toronto Blue Jays
MA-28 Angel Pagan San Francisco Giants
MA-29 Carlos Santana Cleveland Indians
MA-30 Frank Robinson Cincinnati Reds
MA-31 Rickie Weeks Milwaukee Brewers
RELICS   
MR-1 Stan Musial St. Louis Cardinals
MR-2 Mike Trout Angels
MR-3 Mat Latos Cincinnati Reds
MR-4 Dave Winfield San Diego Padres
MR-5 Curtis Granderson New York Yankees
MR-6 Ian Kennedy Arizona Diamondbacks
MR-7 Dan Haren Angels
MR-8 Jordan Zimmermann Washington Nationals
MR-9 Nelson Cruz Texas Rangers
MR-10 Carl Yastrzemski Boston Red Sox
MR-11 Johan Santana New York Mets
MR-12 J.P. Arencibia Toronto Blue Jays
MR-13 Chris Young Arizona Diamondbacks
MR-14 Cole Hamels Philadelphia Phillies
MR-15 Tommy Hanson Atlanta Braves
MR-16 Kevin Youkilis Boston Red Sox
MR-17 Drew Stubbs Cincinnati Reds
MR-18 Adam  Dunn Chicago White Sox
MR-19 Tony Gwynn San Diego Padres
MR-20 Harmon Killebrew Minnesota Twins
MR-21 Carlos Santana Cleveland Indians
MR-22 Troy Tulowitzki Colorado Rockies
MR-23 Mark Trumbo Angels
MR-24 Neftali Feliz Texas Rangers
MR-25 Billy Butler Kansas City Royals
MR-26 Jaime Garcia St. Louis Cardinals
MR-27 Jose Reyes Miami Marlins
MR-28 John Axford Milwaukee Brewers
MR-29 C.J. Wilson Angels
MR-30 Don  Mattingly New York Yankees
MR-31 Justin Upton Arizona Diamondbacks
MR-32 Andy Pettitte New York Yankees
MR-33 Kerry Wood Chicago Cubs
MR-34 Cliff  Lee Philadelphia Phillies
MR-35 Yovani Gallardo Milwaukee Brewers
MR-36 Matt Cain San Francisco Giants
MR-37 Jered Weaver Angels
MR-38 Brandon League Seattle Mariners
MR-39 Rafael Furcal St. Louis Cardinals
MR-40 Ryan Braun Milwaukee Brewers
MR-41 Evan Longoria Tampa Bay Rays
MR-42 Elvis Andrus Texas Rangers
MR-43 Brandon Beachy Atlanta Braves
MR-44 Andrew McCutchen Pittsburgh Pirates
MR-45 Josh Hamilton Texas Rangers
MR-46 Miguel Cabrera Detroit Tigers
MR-47 Clayton Kershaw Los Angeles Dodgers
MR-48 Ricky Romero Toronto Blue Jays
MR-49 Ryan Zimmerman Washington Nationals
MR-50 Justin Verlander Detroit Tigers