Exclusive Cards to Be Had at 2016 Star Wars Celebration Europe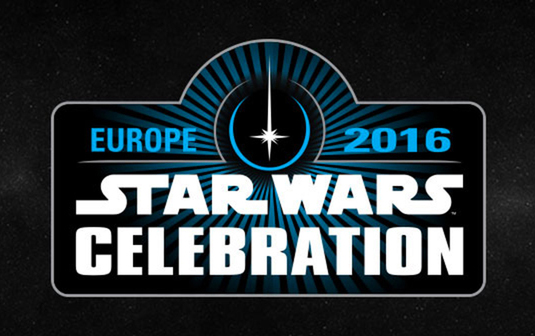 By Ryan Cracknell | Hobby Editor
Star Wars Celebration has become the ultimate convention for that far, far away galaxy. And for good reason. It brings together not only fans, but a major creative and corporate presence. And with that comes exclusives. For 2016 Star Wars Celebration Europe, that means cards.
Here's a look at what Topps' UK operations have planned for the event in the way of trading cards made specifically for the event.
2016 Topps Star Wars Celebration Exclusives
Card Sets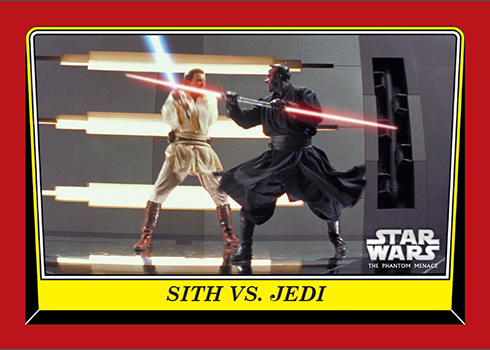 All seven of the Star Wars films gets their own set of ten over-sized cards. Each mini set uses the 1983 Return of the Jedi design. Because this is a European event, that design might not be quite as familiar, particularly for casual fans, as Topps centered their Star Wars efforts back then more to North America. Images cover some of the most important moments from A New Hope through Revenge of the Sith and The Force Awakens.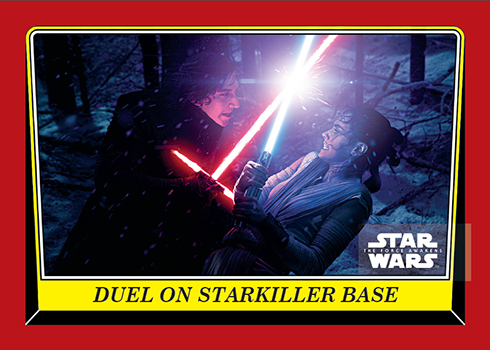 Each set of ten cards is £15 at the show (approximately $20 US).
Force Attax Extra Jumbo Cards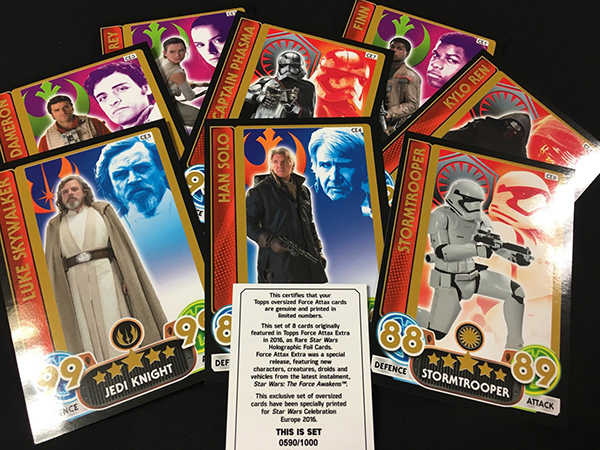 Topps also has an eight-card set of jumbo Force Attax Extra cards slated for 2016 Star Wars Celebration Europe. These reprint cards from a previous release but with an over-sized format. Also, the original, regular-sized cards were printed on holofoil. These are not. Each set comes with a certificate noting what they are and numbered to 1,000 copies.
Checklist
CE1 Finn
CE2 Rey
CE3 Poe Dameron
CE4 Han Solo
CE5 Luke Skywalker
CE6 Kylo Ren
CE7 Captain Phasma
CE8 Stormtrooper
These exclusives are available at booth #N403. Topps also has a presence in the family section of the event.
2016 Star Wars Celebration Europe runs from July 15-17 in London, England.
Comments? Questions? Contact Ryan Cracknell on Twitter @tradercracks.