Exclusive: St. Louis Cardinals' Rally Squirrel gets a 2012 Topps baseball card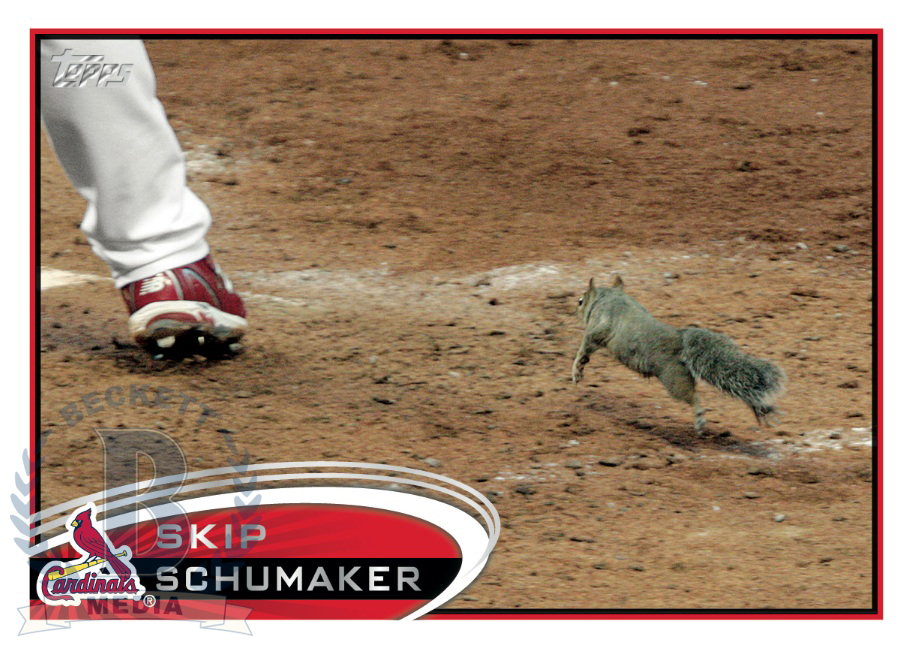 By Chris Olds | Beckett Baseball Editor
The Rally Squirrel has a rookie card.
As seen in the pages of the latest issue of Beckett Baseball arriving on Wednesday — the same day as 2012 Topps baseball — the beloved rabble-rousing rodent who became an icon for the St. Louis Cardinals' run to a World Series title now can be found in packs of cards.
It's one of a few surprise short-printed variation cards to be found in the product — so it's not really a Rookie Card — but it should be one that commands attention from collectors.  (It's also an idea that we floated about last October — click here to read that story — when some members of the baseball world were going nutty. Maybe we weren't alone.)
[youtube]http://www.youtube.com/watch?v=EsQYS5zS5u4[/youtube]
So, who is this Rally Squirrel guy? Well, during the bottom of the fifth of the Cardinals' win over the Philadelphia Phillies in Game 4 of the NLDS, he darted across the Busch Stadium field just as Phillies pitcher Roy Oswalt delivered a ball to Skip Schumaker — not the rodent's first appearance in the postseason, but one that got plenty of attention.
It became, for whatever reason, a rallying moment for the eventual champs with t-shirts, Twitter accounts and more on the Internet noting the trivial moment in history — something forever linked to the Cards' title.
Now, it's forever immortalized on cardboard.
Chris Olds is the editor of Beckett Baseball magazine. Have a comment, question or idea? Send an email to him at colds@beckett.com. Follow him on Twitter by clicking here.