Ever Wanted to Own the Millennium Falcon? Topps Trading Cards to Offer Pieces of Star Wars Ship
Memorabilia cards have been sparse in Star Wars trading cards over the years. Ewok fur, Wookie hair and Stormtrooper armor have all made their way into cards, but not much from some of the truly iconic set pieces and wardrobe. 2019 Topps Star Wars: Rise of Skywalker is adding to the list of memorabilia cards with pieces of, arguably, the most famous spaceship in movie history, the Millennium Falcon.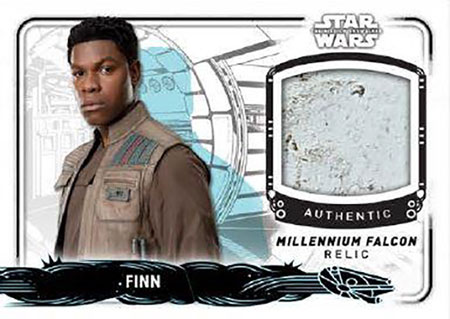 The cards have small pieces of the ship embedded in them alongside a character.
Besides regular versions, there are also Gold (/4) and Black (1/1) parallels.
Topps also announced that additional Millennium Falcon Relic cards will be in Rise of Skywalker Series 2, which will be out in the spring.
2019 Topps Star Wars: Rise of Skywalker trading cards come out on December 20, the same day the movie arrives.