Eight-time Pro Bowl safety Troy Polamalu retires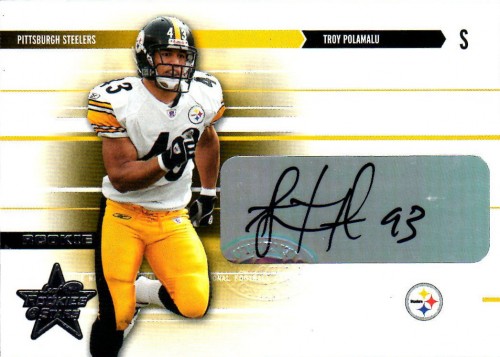 By Denis Dougherty | Beckett Media

He was one of the game's great defensive playmakers, a clutch performer and leader on one of football's most successful teams.
But eight-time Pro Bowl safety Troy Polamalu has made his last big play in the NFL. The Uniontown (Pa.) Herald-Standard reported Thursday night that he will retire after 12 seasons.

Collectors have been actively pursuing Polamalu's cards for well over a decade and his rookie issues first appeared during the 2003 season. At present, he has 2,093 cards in the Beckett.com database and they have a combined book value of $22,058.69, excluding rarities. 
Polamalu, 33, had two years left on his contract. He was a four-time All-Pro and won the 2010 NFL Defensive Player of the Year award, but was slowed by injuries in recent years.
In his prime, Polamalu was one of the NFL's biggest defensive stars. He helped Pittsburgh to three Super Bowls, including two victories.

The former USC star was picked 16th in the 2003 NFL Draft. He had outstanding instincts and showed great versatility, blitzing and showing the ability to stuff the run.

He was a great fit in Pittsburgh's 3-4 defense, with 32 career interceptions and returned three for touchdowns. He had 12 sacks and recovered seven fumbles.