The Lonely Edgar Martinez Rookie Card
You'd think the Edgar Martinez Rookie Card list would have a little bit of meat to it. After playing a few games in 1987, you'd think that between Donruss, Fleer, Topps and the new kid on the block, Score, would have found some space for him in their large 1988 sets.
Nope.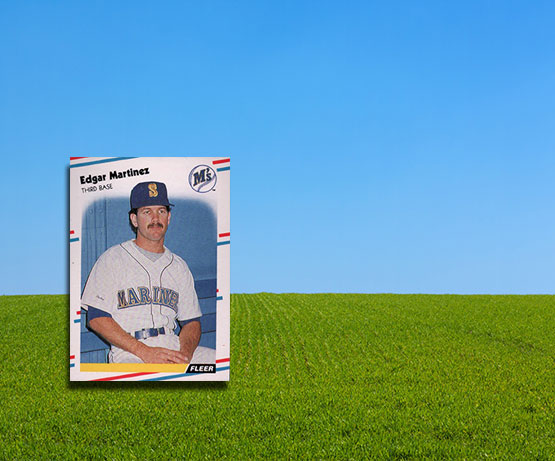 1988 Fleer Baseball is the only set with an Edgar Martinez Rookie Card. Donruss made amends somewhat by including him (or at least his name) in their update box set, but the number of early Edgar Martinez cards is quite small. That's even when you factor in his minor league cards.
With that in mind, here's a breakdown of what's out there in regards to the earliest Edgar Martinez cards.
Edgar Martinez Rookie Card Guide and Other Early Cards of Note
1986 Chattanooga Lookouts ProCards Edgar Martinez
The 1986 Chattanooga Lookouts ProCards Edgar Martinez isn't much to look at. The design is drab, the photo is plain and the cropping is a little off. Still, it's the first Edgar Martinez card, ever. That makes it significant. Like a lot of minor league issues, tracking one down isn't the easiest. It's not impossible, but it might take some work.
Buy on: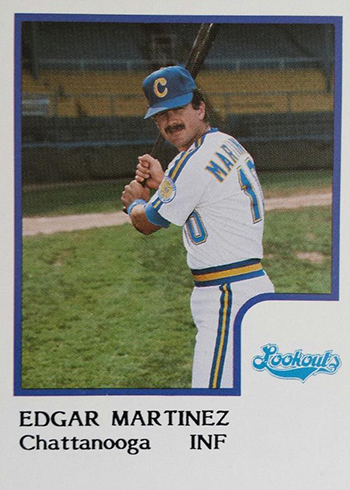 ---
1987 Calgary Cannons ProCards Edgar Martinez #2309
Martinez's second minor league card headlines the 24-card team set. Like ProCards' 1986 release, the look is bland at best. But that's not at the forefront at a lot of collectors' minds as there aren't really any other options. For Edgar, this is it. As far as rarity goes, there isn't a flood of these on the market but they're not rare, either.
Buy on: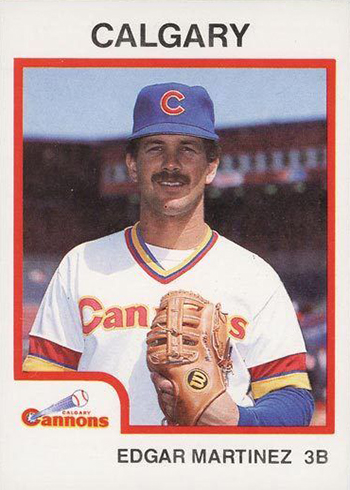 ---
1988 Calgary Cannons CMC Edgar Martinez #16
CMC made a couple of different Edgar Martinez minor league cards in 1988. The first is part of the Calgary Cannons team set. And it's a big departure from ProCards' minor league offerings. It has some attractive design elements. The black borders make condition an issue for those looking for gem mint cards. Given the relative rarity of the card, some compromise may have to be made by those not looking to spend a significant premium on one with a top grade.
Buy on: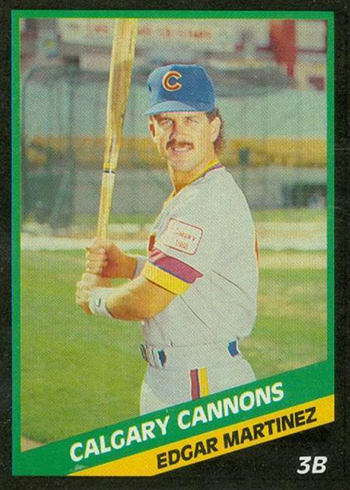 ---
1988 Calgary Cannons ProCards Edgar Martinez #782
The brown border might be different from the plain white of the previous two ProCards issues, but there's still something elementary about this Edgar Martinez card's appearance. The photo shows more personality than many of his other minor league cards, but that's about it. With other older options out there, this card doesn't get much attention today.
Buy on: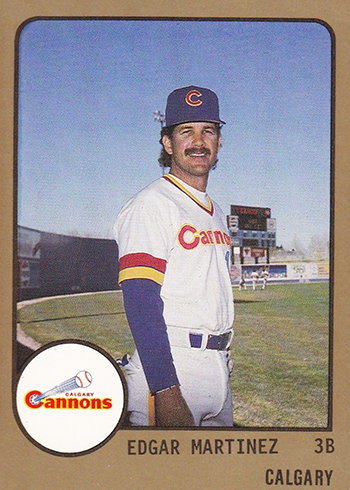 ---
1988 Donruss Rookies Edgar Martinez #36 XRC
That's not Edgar! Martinez's first Donruss card actually shows Edwin Nunez. Never corrected, it's on a list of notable cards with the wrong player on the front. Despite the added bit of notoriety, it doesn't make much of a difference given the fact that "Donruss" and "88" are on the front. The pile might not reach quite as high as cards from the main set, but there are a ton of them out there.
As for distribution, it came in Donruss' version of the traded factory set, dubbed The Rookies. Like other factory update sets of the era, it gets the XRC tag in the Beckett database as opposed to the RC.
Buy on: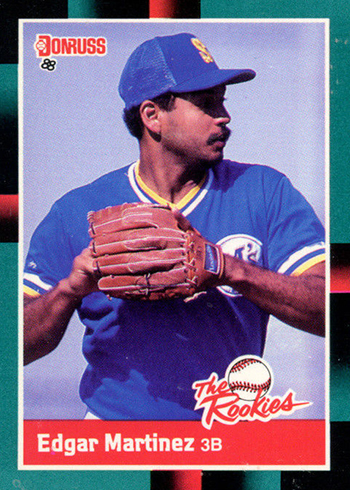 ---
1988 Fleer Edgar Martinez #378 RC
And here it is, the only Edgar Martinez Rookie Card. What could have been cause for excitement isn't much more than a two-foot stare where Martinez could be pondering anything from a game, sleep, the meaning of life or what kind of mischief Balki and Larry were going to get into on the next episode of Perfect Strangers.
Even with the distinction of being the only Edgar Martinez Rookie Card, don't expect to ever see much value come from it. A lot of 1988 Fleer Baseball is out there and it's never going to disappear. It's a product of the era. But that doesn't mean it can't still be enjoyed for what it is. Collectors can also appreciate how Fleer was the only company to include Martinez in their main set that year.
Buy on: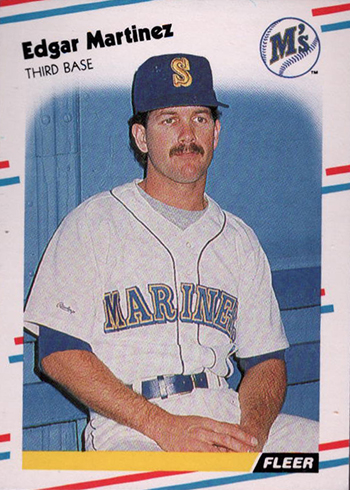 ---
1988 Fleer Glossy Edgar Martinez #378
At first glance, you're not likely to notice much of a difference between the 1988 Fleer and 1988 Fleer Glossy Edgar Martinez cards. Like Topps and Topps Tiffany, the biggest change is in the touch. The Glossy card has more of a slick surface compared to the regular card and its traditional dull stock.
Also like Topps Tiffany, 1988 Fleer Glossy cards came as part of a special factory set. Although exact production numbers aren't known, it's believed that anywhere from 40,000 to 60,000 of the 1988 Fleer Glossy sets were produced. And that's actually down from 1987.
Buy on: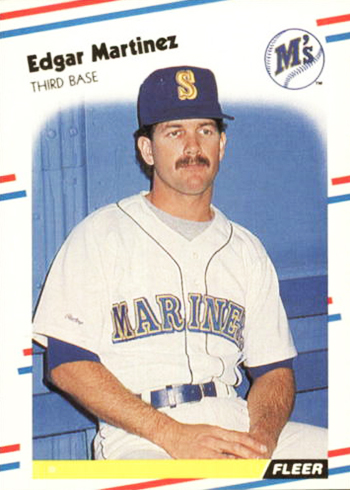 ---
1988 Triple A All-Stars CMC Edgar Martinez #34
CMC's 1988 Triple A All-Stars set has Martinez plus 44 of the year's other top minor leaguers. Yes, there's legit stars on the checklist like John Smoltz and Gary Sheffield but most of it consists of players who weren't big stars at the next level of play. But there is Edgar plus a look that would fit right in with a MLB subset of the era.
Buy on: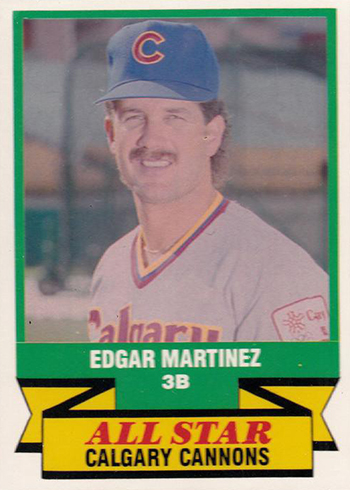 ---
Comments? Questions? Contact Ryan Cracknell on Twitter @tradercracks or by email.