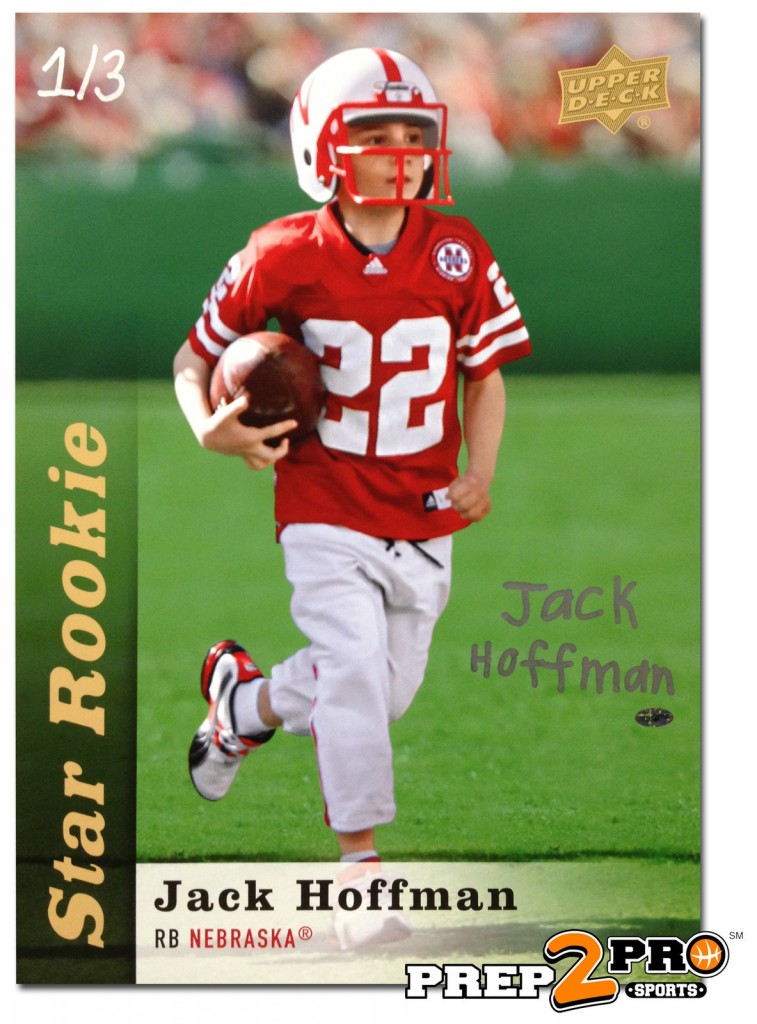 By Susan Lulgjuraj | Beckett Football Editor | Commentary & Opinion
Jack Hoffman's story naturally went national. The 7-year-old fighting cancer scored a touchdown in the University of Nebraska's spring game.
Anyone who watched the video from the game realized just how dusty it was in their room that day.
Upper Deck then created blow-up cards of Jack and one of the silver autographed cards (three are signed in silver and one in gold) was auctioned on eBay earlier this month for The Team Jack Foundation. The final bid came in at $6,100 – shattering anyone's expectations and adding more excitement to a special story.
But unfortunately, there is no happy ending when it comes to this auction.
Too often there are stories of high-end ticket items that go unpaid – and that is true in this case as well.
Prep 2 Pro Sports owner Mike Schnoor, who is selling the cards on behalf of the Team Jack Foundation, has not received any money for the Hoffman card despite contacting the final bidder and the next couple of bidders on the list.
"It's a pretty sore subject around here," Schnoor told Beckett Media. "The guy who ended up winning said a guy logged into his account and bid on it as a joke. It goes from a great story to kind of sobering."
There are many stories we hear about bidders whose children bid on cards or practical jokes, but when does eBay stop laughing? This money was to help a child fighting pediatric brain cancer. Instead, Schnoor still has the card and is thinking of a different approach because he doesn't want to go through the same issues again.
Some other options include re-listing the card, putting it up as a "Buy It Now," or selling it locally.
But how many times does this have to happen before eBay decides it's finally time to punish the buyers who do not fulfill their "contract" when bidding on an item? It's too easy to say a child did it or it was a practical joke once someone changes their mind.
The story of how the Jack Hoffman cards came to be is a great one – it starts with a person just wanting to help.
Prep 2 Pro Sports owner in Norfolk, Neb., got involved after watching that game from the stands in April. Schnoor was driving home that day and thought of a way to help the family. He was already working with Upper Deck to create an in-store promo for Nebraska fan-favorite Rex Burkhead. He thought maybe Upper Deck could do the same for Jack.
Schnoor reached out to Chris Carlin from Upper Deck and UD was immediately on board with the idea. Schnoor received five blow-up cards of Jack and gave one to the family. The other four will be sold in efforts to raise money for The Team Jack Foundation.
"That simple little play that happened in the spring is going to be part of 'Husker history forever," Schnoor said.
Susan Lulgjuraj is an editor of Beckett Football. You can email her here with questions, comments or ideas. Follow her on Twitter here. Follow Beckett Media on Facebook and Twitter.