Early Mickey Mantle-Signed Baseballs Coming to Auction
Mile High Card Company's "The Event" auction features balls signed in 1949 by 17-year-old Mantle
Two baseballs signed in 1949 by then 17-year-old minor league shortstop Mickey Mantle will appear in Mile High Card Company's "The Event" auction that runs from September 23-October 10.
These early-signed baseballs are new to the market and come directly from the family of Bob Mallon, a former teammate of Mantle's on the 1949 Independence Yankees of the Class D Kansas-Oklahoma-Missouri League (K.O.M League).
Mallon, then an 18-year-old pitcher, and Mantle were roommates during the '49 season.
One of the baseballs is dual-signed by both Mantle and Mallon, although the Mantle autograph is printed. According to Mile High, the two minor leaguers were discussing how they would spend their money once they were rich and famous in New York, and Mantle grabbed a K.O.M. league ball and wrote his name on it, saying "This is how I'm gonna sign it, Bob, how about you?"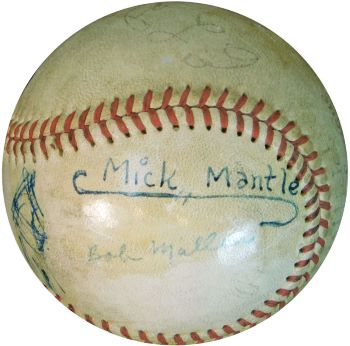 Mallon placed a more traditional autograph on the ball, but this is the first known ball Mantle signed as a professional.
Another historic ball in The Event auction is the first known single-signed and dated Mantle ball, a game ball from Mallon's first career victory. According to Mallon, after the win Mantle said, "Toss me the ball, Bob, I'm gonna sign it for you." Mallon, perhaps a little amused, said, "Why would I want you to sign my game ball?" To which The Mick replied, "Because one day I'm going to be a famous player and you'll be happy that I signed it."
Mallon tossed the ball to Mantle who printed "My First Pro Win July 19, 1949, 6-3 on 7 hits" across the panel, then signed it "Mickey Mantle."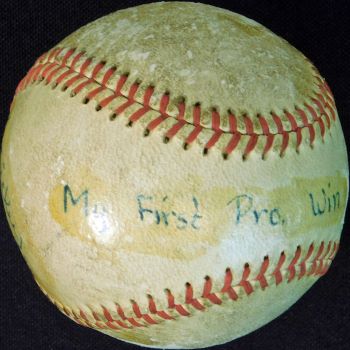 Both balls feature signatures that don't resemble how Mantle signed his name later in his career, but both carry authentication by PSA/DNA and Jimmy Spence (JSA). Mantle's signature became far more elaborate later in his career and post-career.
Mile High president Brian Drent called the early Mantle signed balls "extremely unique" in that Mantle had just recently graduated high school and almost certainly did not sign any baseballs alone while playing for The Whiz Kids travel team out of Baxter Springs. "He was literally just a few weeks from his high school graduation," Drent told Beckett.com.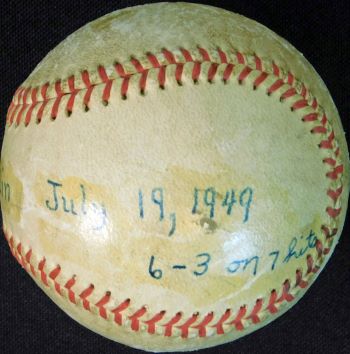 Other items consigned by the Mallon family include a 1949 Independence Yankees team-signed ball in which Mantle signed as "Mick" Mantle," an 8 x 10 original type I 1949 Independence Yankees team photo and a rare 1949
Independence Yankees KOM League Souvenir Booklet that was autographed by Mantle in his more familiar signature style, likely decades after the two teens first shared a room, also double-authenticated.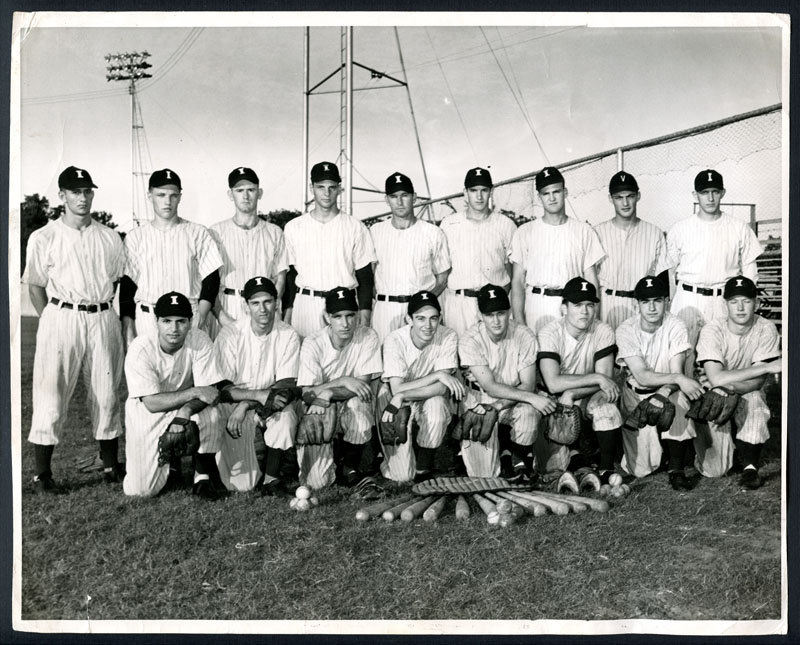 "If there are two people in the hobby that make the world go round, it's Babe Ruth and Mickey Mantle," Drent told Beckett.com. "Mantle is a backbone to the industry."