Early-Surfacing Big Guns of 2019 Topps Series 1 – Beckett Pricing Insider
It's back. With Spring Training just a few weeks away, 2019 Topps Series 1 is finally here.
This year, the flagship product is largely centered on the celebration of the 150th anniversary of professional baseball. There's also a section dedicated to the 35th anniversary of 1984 Topps.
As always, there is a lot going on with Series 1 and Beckett is your resource if you need a checklist or a guide to all of the variations.
While it hasn't even been out a week yet, there have still been some big sales. Here are a few of sales that caught my eye.
Coming from set with a strong checklist that includes other combos like Shohei Ohtani with Ichiro, these dual autographs are limited to just 5 copies or less. This Hank Aaron/Mike Trout card sold for $875. The biggest thing to me is that this is actually a live card and not a redemption, as both Trout and Aaron are normally known to have their autographs packed as redemptions. Looking into some of the other insert sets, it appears that all of Trout's autographs are live in 2019 Topps Series 1. The fact that most are  on stickers probably explains a lot of it.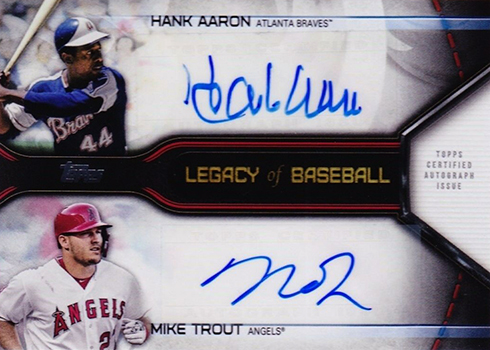 While this one didn't technically come out of a Series 1 pack, these exclusives reserved for hobby buyers can clearly still demand some value. Numbered to 5, this Ohtani Red Refractor went for $650. These cards are a part of the 2019 Topps Baseball Silver Pack program. They come in special bonus packs that are available only from participating dealers. People who buy a hobby box get one pack while hobby jumbo boxes receive two.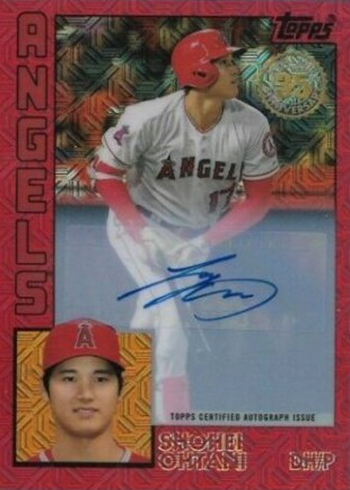 These redemptions are new this year, at least under this theme, so it will be interesting to see how these play out. The Greatest Cards Redemptions is a set where originals of some of the greatest cards in Topps history are sent out. The first 50 are in Series 1 and collectors can expect the remaining 100 to be spread across Series 2. While it's unknown how many of each redemption are out there, the odds are pretty tough at 1:68,768 hobby packs or 1:179,991 blaster packs, so there's likely not more than a few copies of each. This redemption sold for $500.