Early analysis: 2013 Topps Heritage checklist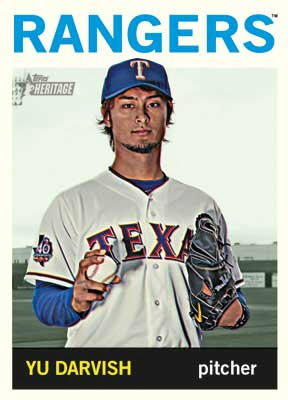 By Chris Olds | Beckett Baseball Editor | Commentary
The arrival of of 2013 Topps Heritage is 15 days away but collectors got a sneak peek at what else is forthcoming in the product on Tuesday as Topps released a final checklist for the throwback product.
Here's a rundown of some basics from the checklist. Want to download the checklist? Click here.
Not a ton of rookies
While Rookie Cards aren't typically all that abundant in early season releases, Heritage includes 24 players appearing on Rookie Cards — and it's just 12 RCs this time around as the 1964 design pairs two players together. Two cards of note? No. 201, which will feature Orioles newcomers Manny Machado and Dylan Bundy and card No. 243, which will feature Phillies rooks Darin Ruf and Tyler Cloud. Most, but not all, rookie pairings are for the same club. There are also no Rookie Cards among the short-prints (Nos. 426-500).
Tougher errors & variations …
Six cards will have variations based on errors — a league leader card (No. 4), Yu Darvish (No. 125), Rafael Betancourt (No. 325), Jonny Venters (No. 335), Chris Tillman (No. 355) and Bryce Harper (No. 440). None of these coincide with variations on those card numbers in the 1964 set.  There will be four variations on Washington Senators cards to chase as well — Ian Desmond, Ross Detwiler, Ryan Zimmerman and Harper. The Senators variations have replaced previously announced Colt .45s variations on Astros cards — a decision made by MLB during the approvals process.
Veteran combo cards
Like the 1964 Topps set, this year's release begins with a dozen league leader cards and a few player combo cards after that. Card No. 81? Matt Kemp and Clayton Kershaw. Card No. 155: Will Middlebrooks and David Ortiz. Card No. 162: Harper and Chipper Jones. No. 219: Stephen Strasburg and Gio Gonzalez. No. 306: Pablo Sandoval and Hunter Pence (what should be a Giant Gunners card based on 1964). No. 331: Alex Rodriguez and Robinson Cano.  The combos, for the most part don't echo the 1964 cards, but they do coincide with similar cards in the original set.
Mini cards — but not for all
Just 100 of the 500 cards in the set are found as minis. Does this insert leave the door open for the rest to be created at a later time as a standalone mini product — perhaps online via the Topps store? We're not sure, but it sure seems like it could be a possibility. The choices for the minis are skip-numbered, so there could be headaches building that one.
Retail-only variations …
Just like last year, there will be retail-only variations with colored borders on cards only found via certain chain stores at retail. For Target, there are 25 red-border parallels — a skip-numbered selection of cards that includes Harper, Yoenis Cespedes, Albert Pujols and Derek Jeter. For Walmart, there are 25 blue-bordered variations with notables there including Darvish, Josh Hamilton, Mike Trout, Matt Kemp and Justin Verlander.
Other variations …
Unlike in past years, Topps is giving collectors a head's up as to which cards have variations this year. There will be 25 action image variations — a crop that includes Jeter, Hamilton, Harper, Trout and Pujols — and 25 color variations where letters or striping will be different on those cards.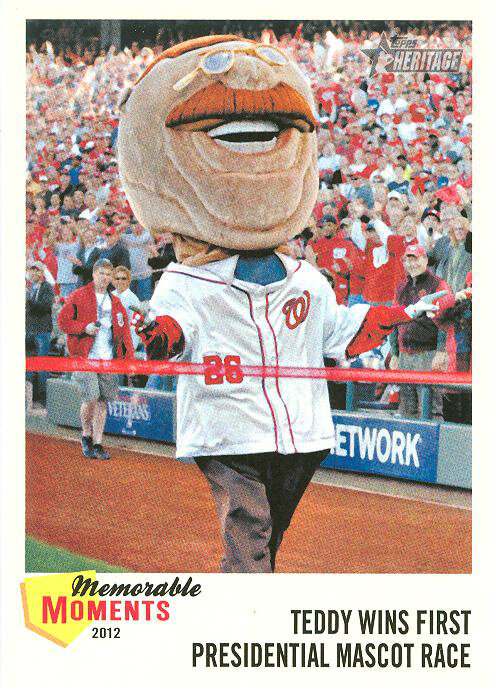 Talking Teddy
One of the Memorable Moments inert cards in the set will showcase Teddy Roosevelt. Since that's a baseball insert, this writer expects it to be a mascot race highlight card from October when he finally got the job done at a Nationals game.
News flashbacks
These news headlines cards have appeared in Heritage the last few years. Those making the cut this year from 1964 include the Ford Mustang, the Civil Rights Act, Mary Poppins, The Beatles, The Rolling Stones and Sidney Poitier.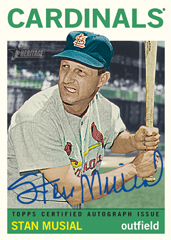 Examining the autographs
Topps previously announced that there will be more autographs to be found in this one odds-wise. There are 63 signers for this one, a mix of old and new. Among the biggest names? Hank Aaron, Bob Gibson, Ernie Banks, Frank Robinson, Willie Mays and the late Stan Musial. Among the current names? Anibal Sanchez, David Freese, Jose Bautista, James Shields, Mark Trumbo, Paul Goldschimidt, Todd Frazier, Will Middlebrooks and Yasmani Grandal. Among the obscure ones? Frank Funk, Gene Conley, Glen Hobbie, Pumpsie Green and Ted Bowsfield.
Tough pulls, big names
The multi-player autograph cards are where some of the products biggest guns come out. The duals showcase pairs from the same teams, making combos such as Al Kaline and Miguel Cabrera, Juan Marichal and Matt Cain, Musial and Freese and Billy Williams with Andre Dawson a reality. Triples up the ante more with an Aaron-Musial-Carl Yastrzemski card, a Robinson-Johnny Bench-Jay Bruce card and a Williams-Musial-Kaline among them. across the remainder of the autographs, many of these same names are found — both young and old. Add Willie Mays into the mix in some spots on the checklist, too.
Stamps of approval
The 1964 U.S. Postal Stamp Relics include some oddities — "amateur radio", C.M. Russell, John F. Kennedy, New Jersey Tricentenary, Shakespeare, Sam Houston and more.
Making the cut
A total of 19 former stars made the cut as cut autographs. Notables include Don Drysdale, Gil Hodges, Harmon Killebrew, Robin Roberts, Eddie Mathews and Walt Alston.
Chris Olds is the editor of Beckett Baseball magazine. Have a comment, question or idea? Send an email to him at colds@beckett.com. Follow him on Twitter by clicking here.