Early 2018 Upper Deck Avengers: Infinity War Autographs Trends – Beckett Pricing Insider
One of the biggest movies of the year has given birth to one of the biggest trading card products of the year.
Upper Deck's 2018 Avengers: Infinity War went live on October 3rd, creating a huge buzz with its autograph signers. While many of the Upper Deck MCU products have been hit-or-miss in terms of autographs, Infinity War is an arc reactor full of awesome.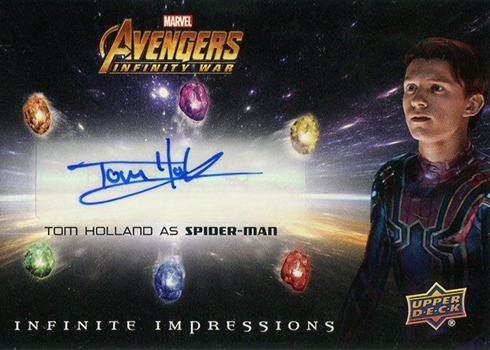 There are four different autograph sets to chase: Infinite Impressions Autographs, Infinite Impressions Inscriptions, Infinite Impressions Dual Autographs, and Film Cel Autographs.
The lineup is just what you would expect for such a star-studded product:
Josh Brolin (redemption only)
Tom Holland
Chris Evans
Elizabeth Olsen
Chris Hemsworth (redemption only – exclusive to Film Cel Autographs)
Karen Gillian
Dave Bautista
Pom Klementieff
Benedict Wong
Tom Vaughan-Lawlor
The trio of Brolin, Holland, and Olsen are the prominent first-time signers while Evans, Hemsworth, Gillian, Bautista, and Klementieff are the returning veterans. Wong and Vaughan-Lawlor round out the rest and they, too, are first-time signers.
Through Friday, October 12, there were 71 confirmed sales on eBay. Elizabeth Olsen leads the way with 22 autographs sold. Her regular autographs are selling in the $300-$750 range, while her inscriptions are going for a bit higher at $500-$1,100. Her lone Film Cel autograph sold for $600.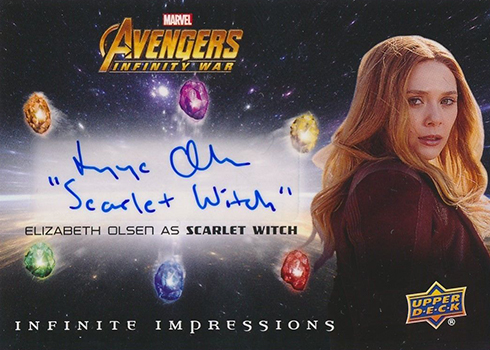 Overall ranges for the rest of the field look like this. Keep in mind, these are loose ranges of the earliest sales and they will most likely change significantly with more sales:
Josh Brolin: $725 (1 sale)
Tom Holland: $1,800-$800 (3 sales)
Chris Evans: $475-$900 (4 sales)
Chris Hemsworth: $275 (1 sale)
Karen Gillian: $75-$200 (3 sales)
Dave Bautista: $50-$75 (10 sales)
Pom Klementieff: $40-$60 (3 sales)
Benedict Wong: $25-$75 (13 sales)
Tom Vaughan-Lawlor: $20-$50 (11 sales)