Durant Makes His Return To NBA Action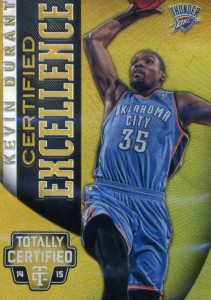 By Stephen Laroche | Beckett Basketball Editor
After missing the first 17 games of the year, Kevin Durant made his triumphant return to the hardcourt, but the Oklahoma City Thunder fell 112-104 to the New Orleans Pelicans and their record plummeted to a disappointing 5-13.
For the NBA's reigning MVP, though, the game itself proved to be a fairly productive one as he was eased back into the lineup and racked up 27 points in just under 30:00 of play. Coming back from a fracture in his right foot that delayed the start to his 2014-15 season, he went 9-for-18 and nailed three of his eight three-point attempts as well.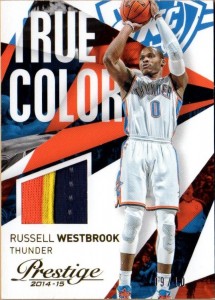 Also returning to action for the Thunder recently was Russell Westbrook, who had missed 14 games due to a broken hand sustained during a matchup with the Los Angeles Clippers on October 30. While he appeared in less than 24:00 of his comeback appearance against the New York Knicks last week, he registered 32 points in the Oklahoma City victory. Last night, he saw more time on the floor (33:03), but only managed 21 points in the loss due to some outstanding defensive efforts from the Pelicans.
With two of their biggest stars back in the lineup, the Thunder will be making every attempt to once again be one of the league's most competitive outfits. Last year, the club finished first in the Northwest Division and made it all the way to the Western Conference Finals before falling to the San Antonio Spurs in six games.
Stephen Laroche is the editor of Beckett Basketball and Beckett Hockey magazines. Have a comment, question or idea? Send an e-mail to him at slaroche@beckett.com. Follow him on Twitter @Stephen_Laroche.