Draft picks sets helped shape hobby we know today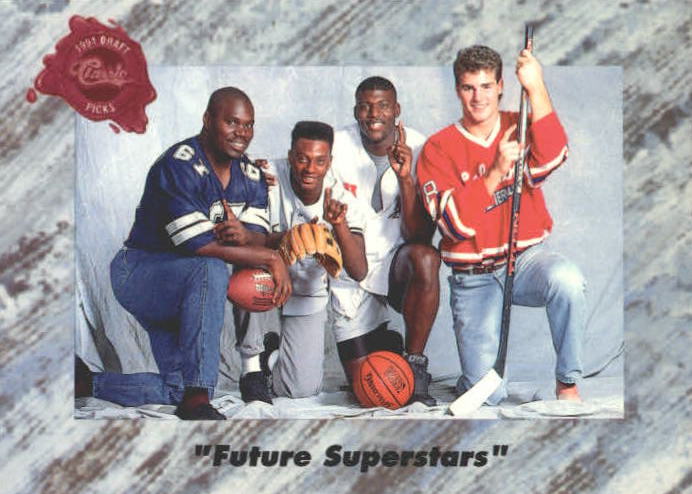 By Chris Olds | Beckett Sports Card Monthly Editor | Commentary
Russell Maryland, Brien Taylor, Larry Johnson, Eric Lindros.
Back in 1991, this first card from Classic Four Sport was a talking point for an emerging niche of sports card collecting — draft picks sets. Back then, we often had to wait a year — or at least later in the year — to see our newest teams' newest stars on cards, so a card like this was something dramatically different.
The fact that this card had the No. 1 picks from the four major drafts all in one place, all on one card? That might still be considered magical — and Classic pulled it off. A year later, with the company backing the arrival of Shaquille O'Neal, the game was changed and draft picks were truly a force and an option for collectors to seriously consider.
Our next issue of Beckett Sports Card Monthly will explore draft picks sets in a bit of an abbreviated form — a look back at 20 big-name notables and busts from the past, a look at a few stars heading into this year's drafts, and a look back at a handful of sets that helped define the changing times. This card didn't make the cut for the items in the issue, but it should have. It's perhaps a symbol of the changing times and how things were simpler — and yet still big business — even just a couple decades ago. It also shows us how different things are today.
Could this card happen in 2015? Panini America would be the company closest to pulling something like this off with the Collegiate Licensing Company schools and a presence for three of the four sports seen here. Then again, though, there's not much reason this card would need to happen again — other than it would be something different that hasn't been done in a long time.
Maryland went on to a respectable 10-year NFL career, while Taylor was injured in a bar fight and never made it to The Show. Johnson played a respectable decade in the NBA and Lindros battled injuries to last 13 seasons that included an MVP award but never became the game-changer we might have thought — though he probably has the best Hall of Fame potential of the players seen here.
Overall, these four "future superstars" did pretty well.
Sports cards have come a long way since 1991, but flipping through a box of cards and finding this unique gem brought back some memories. It was a trip back to the days when cards were cheaper and odds for finding autographs weren't such a gimme.
Heading back in time — no matter how far back — is something that doesn't go out of style when it comes to collecting.
Chris Olds is the editor of Beckett Baseball and Beckett Sports Card Monthly magazines. Have a comment, question or idea? Send an email to him at colds@beckett.com. Follow him on Twitter by clicking here.