Dr. Jim Beckett and Dallas' Important Place in Sports Card History
Hobby legend and Beckett founder, Dr. Jim Beckett helped kick off the 2018 Industry Summit in Dallas with a keynote address highlighting the city and its place in the evolution of the hobby.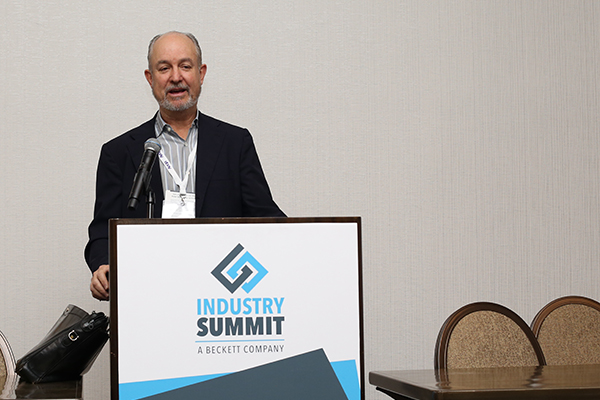 "Dallas wasn't a hobby hub back when I finished school," he said. "I'm not sure if there was one. New York probably would have been the closest thing."
But in the years and decades since, the hobby has evolved. And Dallas has been a big part in a lot of that.
Dr. Beckett broke things down into several categories and ranking how he sees Dallas' place in those alongside other major cities.
Dallas has been a major hub for manufacturers and manufacturing for decades. That continues today.
"Dallas has had numerous major card  companies headquartered here. The list includes Jerry Meyer and Pinnacle, Ann Blake's Playoff, Lud Denny's Pro Set," Dr. Beckett noted. "We definitely get the gold medal for defunct card companies."
He continued, "But now Brian Gray's Leaf, who does a lot of innovative stuff here. And, of course, Panini."
Dr. Beckett also referred to Graphic Converting where most modern cards are produced and cut.
Given that Dallas was where the monthly Beckett magazines were born, it shouldn't be surprising that the city took top spot for publications, reference materials and hobby knowledge.
"I'm biased but I'm giving Dallas gold. Even with the local talent that's here, the secret of the success for our company, I think, was we created a Dream Team back in the '90s," Dr. Beckett said. "I looked all over the country for the best and the brightest to work on our price guides. Even Canada. Many of them are with Panini now. "
Grading and authentication were other areas that Dallas received high praise for from Dr. Beckett.
"It's about time the Beckett graders, many of whom were there when I was there, get the credit that's due to them," he said. "The average experience may not be 20 years but it's at least ten years. These graders have graded at least hundreds of thousands of cards. They're good guys, too."
Major sports auctions is another area Dallas has a strong foothold in. It's home to Heritage Auctions headquarters.
"It's the leading volume sports auction company," Dr. Beckett said. "Chris Ivy said they did $100 million in sales last year. That's pretty awesome."
On the topic of star power and players in pro sports, Dr. Beckett acknowledged that Dallas couldn't surpass New York. But he did put it second.
"Dallas silver for having America's Team, the Cowboys, that everybody loves or hates," Dr. Beckett started with. He also noted how many announcers on TV once played important roles on the team.
"Dallas even claims Mickey Mantle. I know he played for the Yankees but he lived two, three miles over that way," Dr. Beckett said, motioning to the outside of the hotel ballroom where the keynote was taking place. "His funeral was two blocks from my house. He played golf regularly at my golf club and told tall tales until he passed away in 1996."
Dr. Beckett also noted championships by the Mavericks and Stars as important parts of the city's sports legacy.
When it comes to dealers and the local collecting base, Dr. Beckett didn't feel that he could rank Dallas above New York, Chicago and Los Angeles. However, he did note there are many great collectors and dealers in the area.
"Talking to my stepson a number of years ago, he said that his friend's dad collects. So I meet with the dad…and ask him if he has a collection," Dr. Beckett recalled. "Turns out he's got a Wagner."
"And then another guy that I met through my kid's school. Turns out he had the finest PSA collection in the country."
Dr. Beckett had high praise for a local show, "I think Plano has the most collector-friendly show in the history of the hobby. If you go…to Rich Klein's Adat Synagogue show, I promise you you'll walk out with more than you came in with. For a dollar, you're going to have to back up your truck. I guess I can say that's the other show I go to besides the National."
Following his keynote, Dr. Beckett was recognized with a special Lifetime Achievement Award by Ultra PRO. It was presented by Dallas Cowboys Ring of Honor member, Drew Pearson.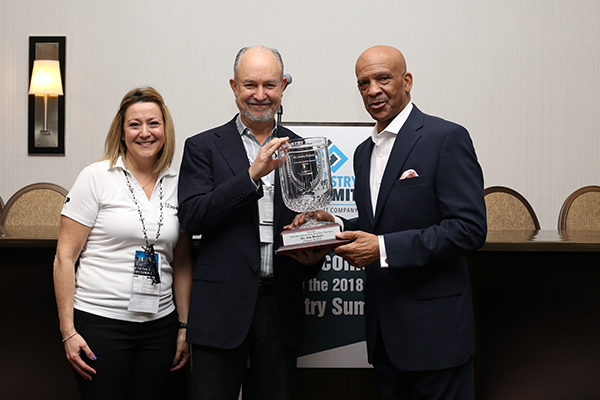 Comments? Questions? Contact Ryan Cracknell on Twitter @tradercracks or by email.