Don't Gloss Over Topps Tiffany Baseball Cards
Tiffany and the '80s is more than "I Think We're Alone Now" or any other tune from the chart-topping pop star. For collectors, it's where mainstream baseball cards, limited print runs and premium quality converge.
Between 1984 and 1991, Topps made special Collectors' Edition or "Tiffany" factory sets for their flagship baseball line. Bowman Baseball got in on the action in 1989 and 1990 as well. They're a little more fancy and they're not available in the sheer quantities that other most other '80s cards.

And for an aging generation of collectors looking for some nostalgia from an era of massive over production, Topps Tiffany cards are something that brings an added layer of challenge and collectability.
Premium Pickings
Topps Tiffany sets were part of a growing market. Sold originally only to hobby dealers, they were never intended for the massive audiences picking up packs at corner stores and anywhere else with a little extra counter space. Topps Tiffany sets, which came from the company's Ireland branch, were for the refined collector looking for something a little more upscale in an era where premium cards weren't a thing, at least until Upper Deck came along in 1989.
The upscale nature of the Tiffany cards come through in a couple of ways. The biggest one, which isn't always readily visible to the eye, is on the front. While regular Topps cards from the era have a dull cardboard finish, Tiffany cards have a gloss to them. They're printed on a premium stock called Kromekote.
While you can see a bit of an added shine to them when you hold both versions side by side and shine them in the light, it's a subtle difference. It comes through a little more by touch where the gloss adds more of a smoothness.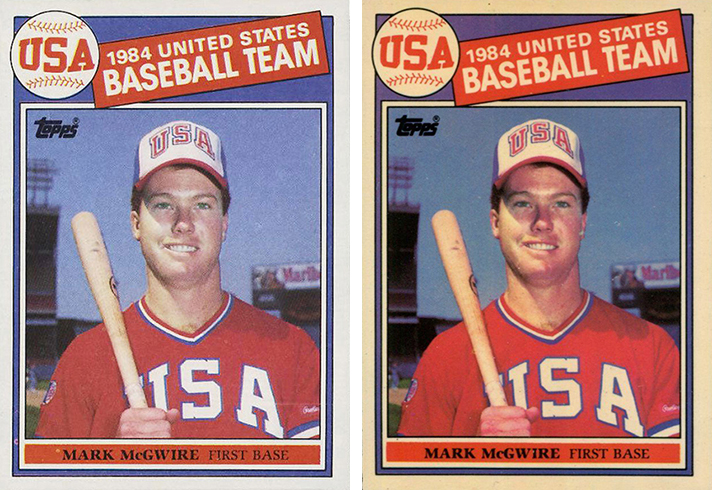 Flip the cards over and the difference is easier to spot. At the time, regular Topps sets had dark, grayish backs. Tiffany, on the other hand, used bright white stock. This brought out a vivid sharpness as well as pop to the color elements. This doesn't apply to Topps Traded cards, though. Backs for both the main Traded and Tiffany Traded sets have similar bright backs.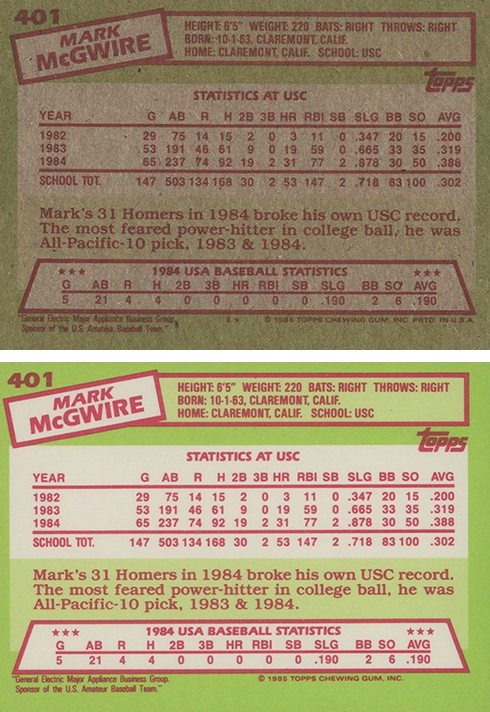 See also:
How to Identify Topps Tiffany Baseball Cards Using the Star Method
Simply put, Topps Tiffany cards look and feel nicer than their more common counterparts.
Exclusivity
Let's face it, if you collect mainstream Topps baseball sets from the 1980s, you're not doing it for rarity. It's hard to say exactly how many were produced but it's safe to say it was a big number. Really big. And as the decade went on and the popularity of sports cards continued to explode,
those print runs were likely even bigger.
Tiffany sets, on the other hand, have much smaller runs. While this was a key selling point in their exclusivity back when they were originally released, it might be even more important today where tiny print runs are a driving force for a lot of products.
Over the eight years of Tiffany sets, production runs fluctuated heavily. Some are downright tough while others are much easier to find today. But even at their peak, the number of Tiffany sets is a fraction of the regular versions.
When Topps first launched their Collectors' Edition sets in 1984, approximately 10,000 factory sets were made. That number actually dropped in 1985 and 1986 to just 5,000 sets. The next year, 1987 Topps Tiffany saw a massive jump up to 30,000 sets, making it the most common year. The following year dropped, but not by much, going to 25,000 sets.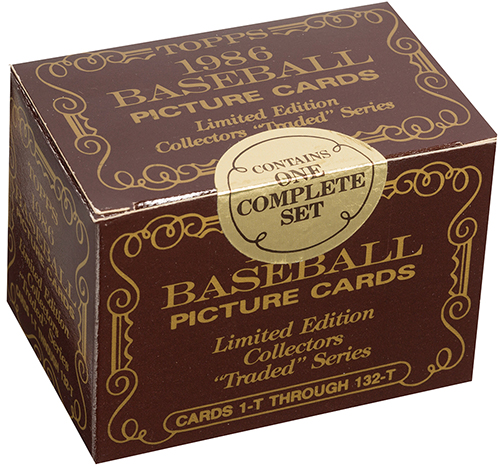 In 1989 and 1990, that number slumped further, this time down to 15,000. The final year for Topps Tiffany, 1991, is the one where firm numbers aren't known. However, they're among the toughest to find today despite the fact the hobby as a whole was still roaring. That would put 1991 Topps Tiffany Baseball numbers at 5,000 sets maximum, possibly less.
What this means is that while all Tiffany cards carry a premium, it's more noticeable in some years than others. Today, 1985 and 1986 have some of the most coveted cards as they combine the small print runs with some important cards.
A Case for Topps Tiffany Baseball Cards
As those who got their start in collecting cards in the '80s get a little older, many are coming back to the hobby. And like the generation before them, there's that nostalgia for the players and designs they're used to.
But those cards, for the most part, don't present much of a challenge to chase. This goes for both finding the cards and affordability.
There are exceptions and different approaches to take, but not much.
Topps Tiffany combines both of those worlds. You get the nostalgia because they're essentially the same cards, at least in the memories they evoke.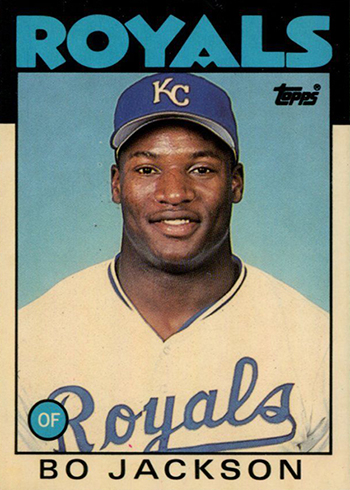 With the relatively small print runs, they also bring a hunt element to the table. You can't just walk into any card shop or local show and expect to knock out all your want lists. Even looking online, you might have to exercise some patience to find the cards you want at a price you're willing to pay.
See also:
30 Most Valuable Topps Tiffany Cards
As for high-end cards, Topps Tiffany also brings some value. This can be significant. Key cards like the 1991 Chipper Jones, 1986 Barry Bonds and 1985 Roger Clemens can bring four figures today when graded Gem Mint. Even raw, price tags can be hundreds where regular non-Tiffany versions aren't more than a few dollars.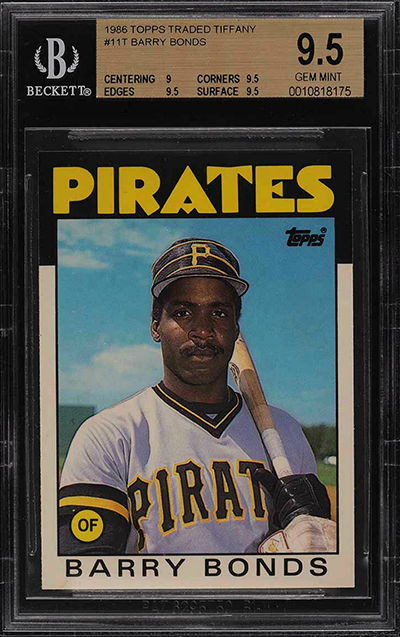 Essentially, for those looking to build a collection of high-end 1980s cards, Topps Tiffany is one of the places that must be looked at.