Donald Trump, Bernie Sanders make appearance at 2016 Industry Summit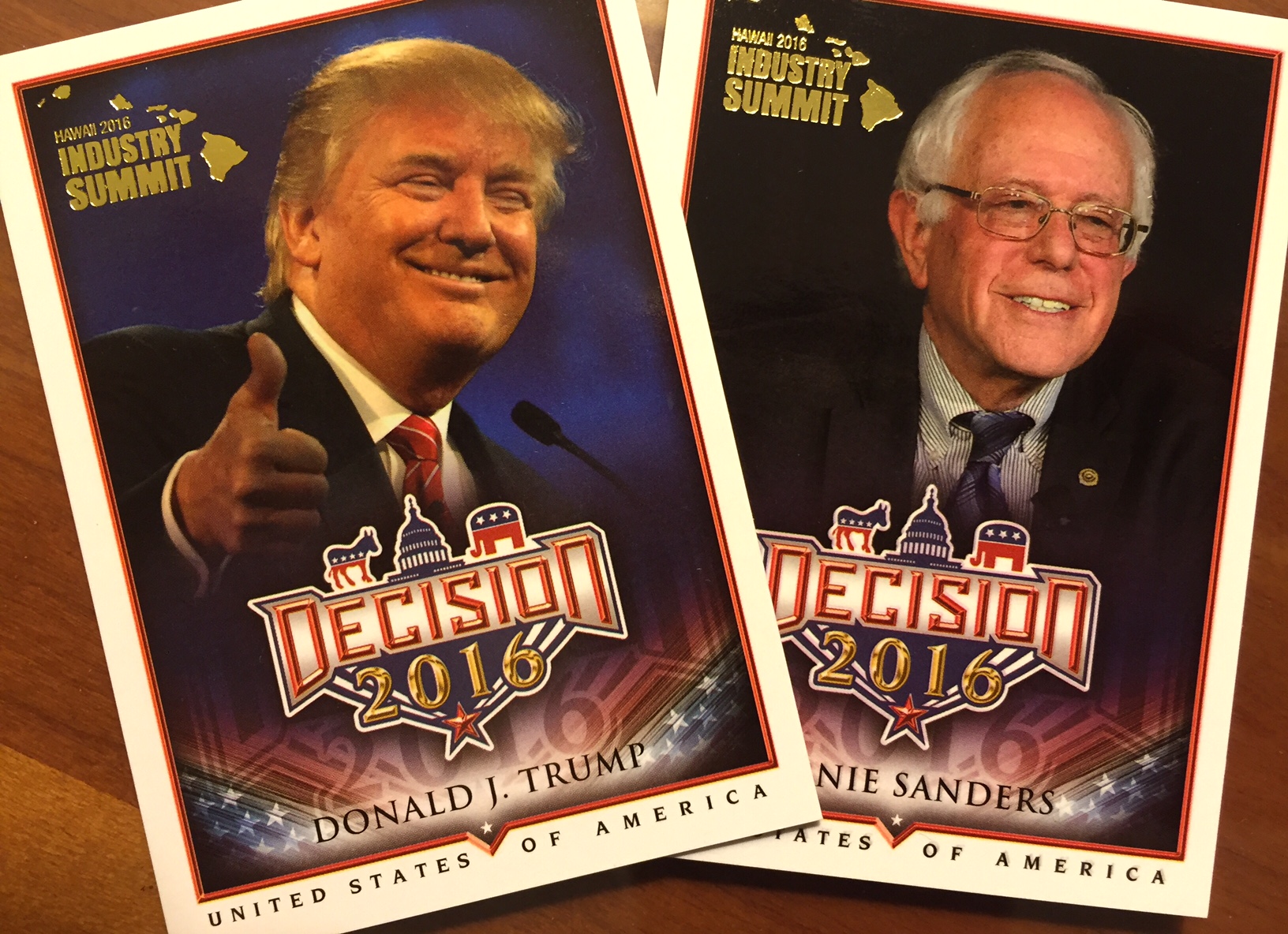 By Ryan Cracknell | Hobby Editor
Donald Trump, Bernie Sanders, Hillary Clinton and a handful of other prominent Democrats and Republicans made a brief appearance at the 2016 Industry Summit in Hawaii — as trading cards.
Those attending Leaf's presentation by Brian Gray were given a small sample of Decision 2016 Industry Summit promo cards.
The exclusive set features 18 cards, all of which are limited to less than 100 copies.
All of the cards have a gold foil Industry Summit stamp on the front noting that they're from the event.
Seventeen of the promo cards have a "P" prefix on the back. Card 13, John Kasich, was supposed to be P13 but the "P" was accidentally left off.
Leaf is not producing Decision 2016 but they are distributing it.
The full checklist of all 18 promo cards is below.
2016 Decision 2016 Industry Summit Promo Card Checklist
13 John Kasich
P1 Donald Trump
P2 Hillary Clinton
P3 Bernie Sanders
P4 Chris Christie
P5 Ted Cruz
P6 Ben Carson
P7 Republicans – Debate Moments
P8 Bernie Sanders, Hillary Clinton – Campaign Moments
P9 Melania Trump
P10 Bill Clinton
P11 Nikki Haley
P12 Marco Rubio
P14 Carly Fiorina
P15 Jeb Bush
P16 Bernie Sanders
P17 Hillary Clinton
P18 Donald Trump
Comments? Questions? Contact Ryan Cracknell on Twitter @tradercracks.