Don Larsen's perfect-game uni headed to auction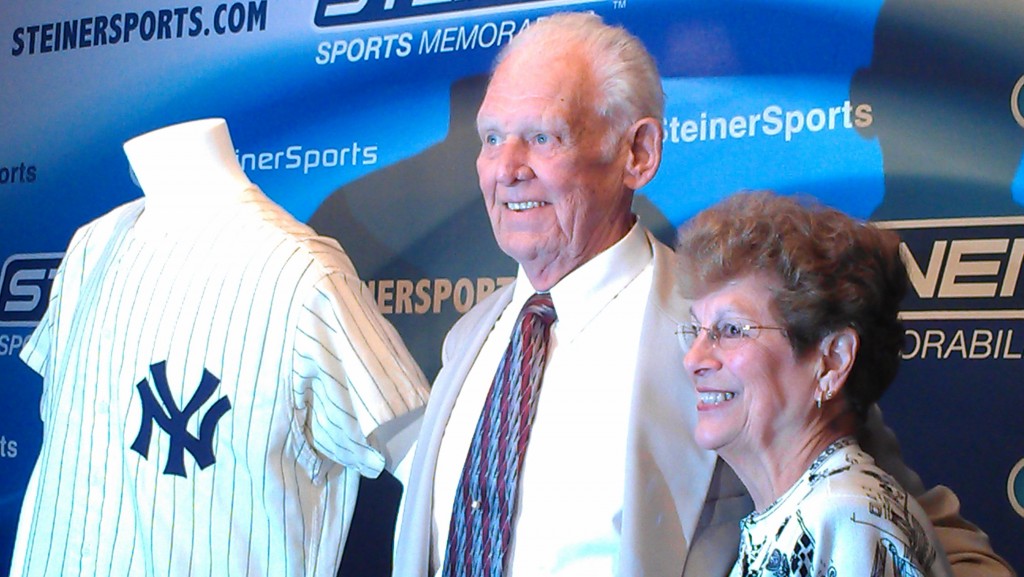 By Susan Lulgjuraj | Contributing Editor
NEW YORK – Don Larsen stood next to a mannequin draped in an old-time New York Yankees uniform, smiling for the assembled cameras with his wife, Corrine, by his side.
Flashes popped in their faces.
"That's a lot of lights, huh?" he asked, leaning over to her.
Even after throwing a perfect game in the 1956 World Series, Larsen is still a simple man reveling in the amount of attention his feat has drawn. No other pitcher has ever thrown a perfect game in the World Series, and just one no-hitter has been thrown in the playoffs after all these years.
Larsen was in front of all the cameras on Thursday to talk about the uniform he wore that day when Yogi Berra jumped in his arms. The 82-year-old is auctioning off the full uniform – jersey and pants – through Steiner Sports in part to support his two grandsons, who are 20 and 14.
"It's for them. It's for their education," Larsen said. "If there's anything left after that, maybe I'll take the family on a little trip."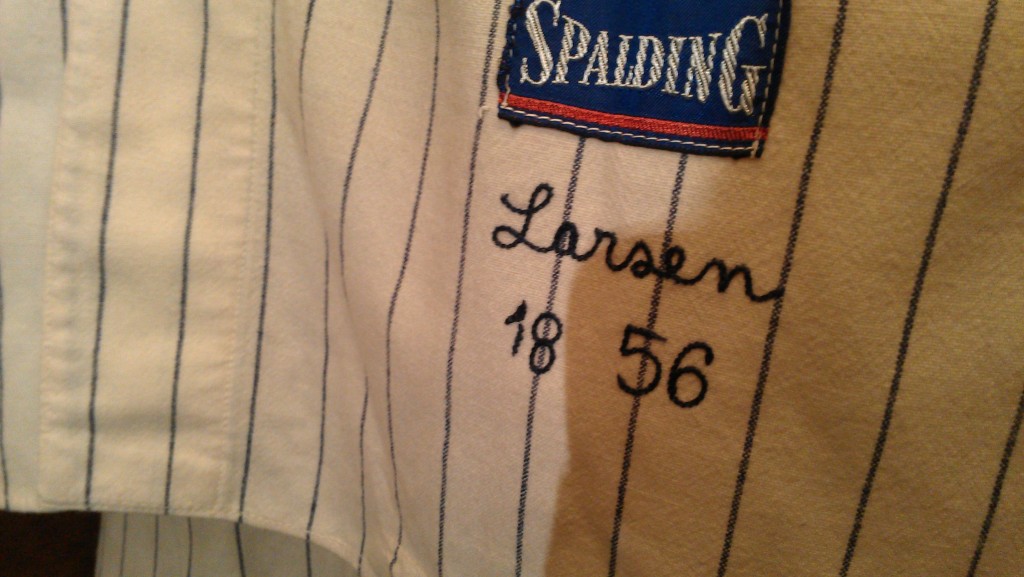 The auction will start on Oct. 8, the anniversary of his perfect game against the Brooklyn Dodgers, and run through early December.
Brandon Steiner, head of Steiner Sports, didn't give an estimate on where he thought the auction would end, but said that a buyer already offered seven figures for it, hoping to get the uniform without it going to auction.
Berra's jersey from the same day sold for nearly $565,000 in a 2010 auction by Grey Flannel.
Larsen's uniform is the keynote piece to Steiner's 25th  anniversary auction, which will include other items from Larsen's collection and numerous pieces of vintage sports memorabilia.
"There is a lot of attention on the vintage and those years," Steiner said. "People are down about what's gone on over the last 10 to 15 years. There's a premium on the old-time players. Everyone is loving that era."
Larsen thinks about the perfect game just about every day. How could he not? The game elevated him into a nearly unreachable status.
That game has sustained him since he retired in 1968. He's had paid appearances at card shows and autograph signings. Every year, around the World Series, some media entity inevitably talks about the feat.
"It's the greatest thing that ever happened in my life," Larsen said.
The memories are vivid.  Before he threw to the last batter Dale Mitchell, he turned around and faced center field.
"I said a prayer or talked to the man upstairs and said 'let me get this last one,'" Larsen said. "My legs were shaking. It was a miracle I didn't faint."
Larsen struck out Mitchell on a called third strike. The crowd's roar was deafening and Berra jumped into Larsen's arms, creating an iconic moment in baseball history.
He knew he had thrown a no-hitter, but said he didn't realize it was a perfect game until someone mentioned it in the clubhouse afterward.
"That was a good day for a lot of people," Larsen said.
Parting with the uniform from that fateful day is a little tough for Larsen, but he hasn't had possession of it since 1964. That year, he was inducted into the San Diego Hall of Champions and the uniform was on loan there until a few months ago, when Larsen drove from Idaho to San Diego to pick it up.
Corrine Larsen said her son and daughter-in-law were shocked to hear the news that the uniform would be auctioned, but are also grateful.
However, Larsen didn't give them much of a choice.
"They got nothing to do with it," Larsen said. "I'm the boss."
As much as the auction will help Larsen and his family, it also brings prominence to Steiner. The company has been around for 25 years, with its beginnings helping collectors obtain autographs.
It has turned into a huge collectibles business that has deals with the Yankees, Notre Dame and a number of other sports teams. Steiner Sports sells autographs and memorabilia and even dirt from popular parks.
But the Larsen jersey is different. Steiner has done auctions before, but this piece could elevate the company to another level in the auction market.
Susan Lulgjuraj is a contributing editor for Beckett Media. You can email Susan here. Follow her on Twitter here.