Does the hobby need an HD trading card? Yes and no …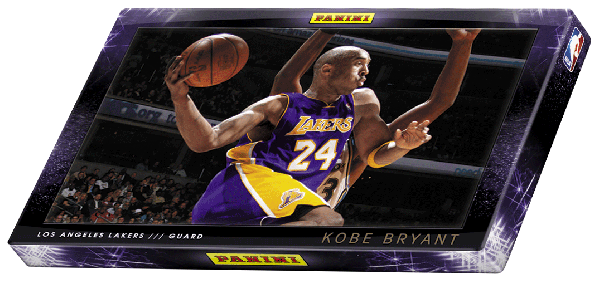 By Chris Olds | Basketball Editor | Commentary
Panini America, the lone licensee of NBA trading cards, is taking the definition of what is a trading card a new direction.
It's one that's crystal clear and clearly defined — well, we think — as it's something that's pretty well known in television circles.
It's high definition — and it's coming to a trading card soon.
The company unveiled Tuesday its Panini HD program, which will introduce the hobby to the first video trading cards. These will be autographed releases with footage that can be watched in embedded video screens in the card. The autograph subjects will be Panini exclusive players, so you can expect Kobe Bryant, Kevin Durant and John Wall to be among them.
"As you can imagine, there's no better way of authenticating an autographed card than showing you the player signing that card, showing you the player numbering that card and that footage being featured on that specific card," said Mark Warsop, Panini America's CEO. "I can't think of any way that you can authenticate a hand-signed trading card any better than that.
"These will be super high-tech cards and they will be limited in number."
A multimedia trading card isn't a new creation — Upper Deck briefly experimented with CD-ROM cards in the late 1990s — but these apparently promise to be more than that … at least as a higher-end item that can be found in products this year.
In fact, with the autograph inclusion on the card, the signing of each autograph item will be one of the videos that can be viewed. That's another piece of technology that was introduced by Upper Deck in the past with use of its PenCams on Upper Deck Authenticated items. Panini promises that the cards can be loaded with a few minutes of footage — everything from interviews to potentially highlight reels. (Let's just hope there aren't highlight reel variations…)
What will make this product different? Likely the technology. And if it's spectacular? It might be the next big thing. After all, who isn't addicted to a smartphone or other digital gadget these days? Releasing the items as autographed limited-edition products likely helps keep production lower — and might pique demand — but it might also limit the mass appeal of such an item. (Or perhaps set the stage for a wider release if the technology is popular … without the risk of a high-volume flop.)
PowerDeck was an interesting concept but didn't have long-term legs — really in some ways because of technology limitations of its time. After all, we've come a long way since then.
However, with technology, expectations today might be higher than ever, too.
Do you think this will work? Let us know what you think …
Chris Olds is the editor of Beckett Baseball. Have a comment, question or idea? Send an e-mail to him at colds@beckett.com. Follow him on Twitter by clicking here.