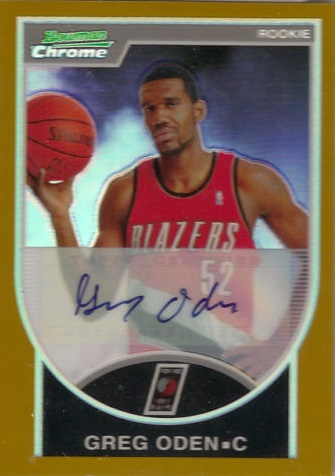 By Susan Lulgjuraj | Beckett Basketball Editor
It might be time to find those Greg Oden cards you hid in a box in the back of your closet.
Oden made his return to the NBA on Wednesday night after missing four years due to injuries (micofractures, broken knee cap) and personal problems. He scored six points in eight minutes for the Miami Heat against the Washington Wizards.
And the first time he got the ball, Oden dunked it.
The bulk of his cards haven't been made since the 2008-09 season. He's listed on 1,021 cards in the Beckett database with 33 Rookies Cards. Some of those used to be worth a good chunk of money when he was the top overall pick in 2007 by Portland.
A few cards of him with other players slipped into products such as a couple of memorabilia cards in 2011-12 Panini Preferred.
For now, you can probably keep his cards tucked away. The 25-year-old hasn't played in the NBA in four years and Heat doctors want to see how his knee responds.
But, looking at those cards for old time sakes may not be a bad idea.
Susan Lulgjuraj is an editor at Beckett Media. You can email her here with questions, comments or ideas. Follow her on Twitter here. Follow Beckett Media on Facebook and Twitter.