Do Brawls Belong on Baseball Cards?
When you click on links to various merchants on this site, like eBay, and make a purchase, this can result in this site earning a commission.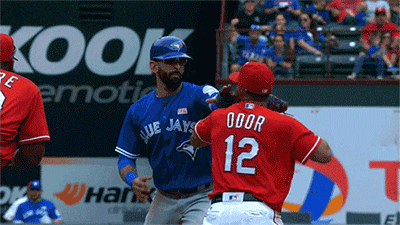 By Ryan Cracknell | Hobby Editor | Commentary
Less than 24 hours after the fact, Rougned Odor versus Jose Bautista is already one of the most famous baseball fights in history. The jury's still out on whether it will supplant Nolan Ryan teaching Robin Ventura a lesson back in 1993, but the visual of Odor's fist connecting with Bautista's face is a one that's tough to forget. Plus there's the history that comes with the backstory of the Bautista batflip against the Rangers in the 2015 postseason.
It didn't take long for people call on Topps to add the moment to their ongoing 2016 Topps Now Baseball set that creates cards the day after an event happens. I freely admit I'd buy one. And I have a hunch that I'd be far from the only one. Given the nature of the event and the buzz such a card would create, it'd stand a good chance of leaving Bartolo Colon's home run card in the dust as far as print runs go.
Instead, the Topps Now offerings for Sunday's games highlight Carlos Beltran, Danny Valencia and Kendrys Morales and their notable home runs.
Despite the obvious demand for an Odor-Bautista base-brawl card (at least in my Twitter feed), it never happened. It begs the question, should we be putting scraps and unsavory behavior on cards, no matter how in the moment they are?
Baseball isn't known for its violence. Brawls pop up every now and again, usually stemming from mysterious unwritten rules. But it's a sport that maintains an image of being family-friendly and heavy on sportsmanship. At least on the surface. Plenty of calls are argued and some dirt gets kicked every now and again. That's what makes these moments so memorable. Because they're out of character. Even when it came to guys like Billy Martin, most games he was on his best behavior.
I stand firm in believing that the best sports cards capture a moment. They're a way of immortalizing an event.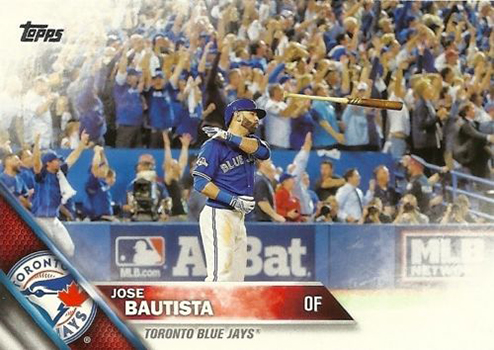 The near real-time nature of 2016 Topps Now does that like no set before it. That's why there was such clamoring to see an Odor-Bautista card happen. Because we've seen the future and we want it good, bad and ugly.
I also see baseball cards as a kind of hero worship. We chase after cards of our favorite players and teams, filling boxes and binders along the way. They not only immortalize moments but players and careers as well. Do we want to celebrate our heroes in ways that, in many eyes, make baseball look bad? Do we want to honor violence in a non-violent sport? Like I said, I'd buy the card in a heartbeat. But I also understand where other people are coming from thinking the opposite.
Major League Baseball is a billion-dollar industry. As such, there's an image that has to be maintained. I can't speak for anyone at the company, but I suspect at least some in the office would have loved such a card. And the sales it might have brought in would probably excite another portion of the office.
But Topps just can't put anything they want on a card. Everything has to be approved. Twice. Every image on every card requires the blessing of both MLB and the Player's Association. So even if one of those bodies is okay with pushing the limits on such a card, the other can still squash it.
And let's be honest, it's fair. Immortalizing a moment that resulted in several ejections and will likely lead to some fines and suspensions isn't in the best interests of baseball. No matter how much we want to cheer for these moments (like the guy in the red Rangers jersey in the background who was on his feet before Bautista's sunglasses were on the ground), when you stop to think about it at its most carnal, it's barbaric. Violence isn't something we generally promote as a society unless it's in a sanctioned forum like boxing and MMA.
That said, I fall in the same camp as the Rangers fan. I might not be getting on my feet to cheer or shake a fist in disgust but I have watched the punch over and over and over again. It led me to go back and watch Ventura-Ryan a couple of times as well. I even showed the brawl to my daughter — twice. For me to say I'm against baseball fights would probably seem a little hypocritical.
I'll say I'm not against the occasional outpouring of emotion, as long as it's not to the point where someone gets hurt.
But if MLB and the MLBPA would allow for a baseball card to happen, they'd not only be sending a statement that brawls were okay but it would undermine their rules and authority. That's not good for baseball. And what would it be for? A few thousand dollars and a short time in the graces of some baseball fans and card collectors.
If you truly are disappointed that there's no Topps Now card, the Internet didn't disappoint. They gave us a few cards to enjoy and ask, "What If?"
Made a custom of Odor vs. Bautista. Thanks for the suggestion, @cardboardhabit ! Anybody wants a copy, let me know. pic.twitter.com/AAwGOpk41y

— Breakdown Cards (@breakdowncards) May 16, 2016
Future @toppscards design, please? @RougnedOdor pic.twitter.com/javRPVr51q — Gummy Arts (@gummyarts) May 16, 2016
2016 Topps Rougned Odor @Rangers #rangers #cardoftheday @john_wallwork https://t.co/gLgSGUDP4b pic.twitter.com/aKqD9vu9dy

— Ted Strange (@tedstrange) May 16, 2016
As for the history of trading card violence, you don't have to look far. Besides numerous entertainment licenses like The Walking Dead and other movies and shows, boxing, MMA and wrestling all display violent behavior. I think the difference here is their nature. MMA is violent. Boxers punch each other in the head all the time. And I'm pretty sure I have more than a few cards featuring HBK's Superkick and Stone Cold Stunners (sorry, but I have a hard time classifying Hulk Hogan's Leg Drop of Doom as violence). But that's what these sports are about. As a result, we end up with stuff like this.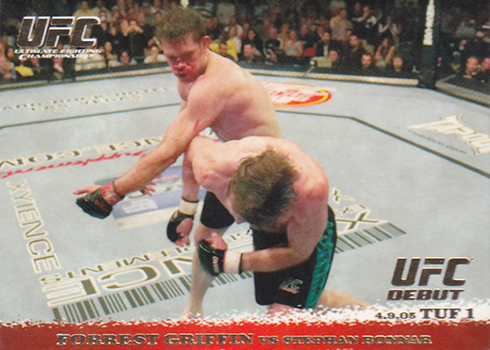 A more fair comparison would be to look to hockey cards. It's a sport that's known for its violence but it's still against the rules. A couple of years ago, In the Game released a couple of sets dedicated to Enforcers. However, these weren't licensed by the NHL or NHLPA. There have been several licensed sets with inserts for tough guys and league leader cards for players with the most penalty minutes. But actual hockey fights on an NHL card? I can only think of one and it's from 1973-74.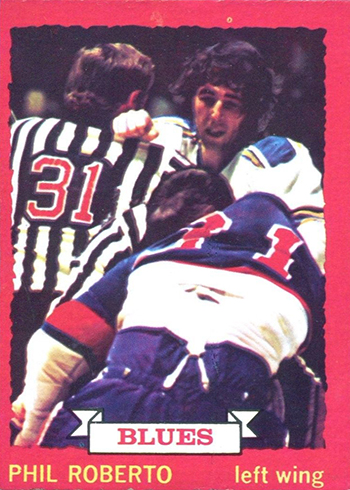 So even in a sport where a certain level of physically is accepted, that doesn't translate into trading cards. One (and maybe a couple of others) out of the thousands of hockey cards that have been made since doesn't establish a pattern of acceptability.
Am I disappointed there's no card of Jose Bautista's flying sunglasses? Selfishly, yes. Do I understand why it was never meant to be? Absolutely. Do fights belong on baseball cards? Probably not, but I don't think many would complain if one popped up every now and again, even as a discussion piece.
Comments? Questions? Contact Ryan Cracknell on Twitter @tradercracks.