10 Sets of Dinosaur Trading Cards That Give a Jurassic Fix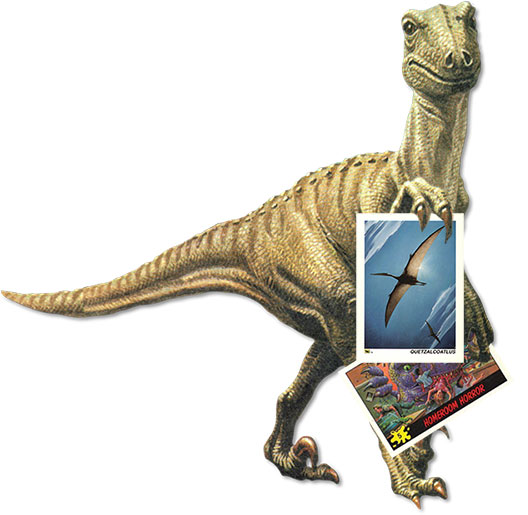 By Ryan Cracknell | Hobby Editor
Millions of years after their extinction, dinosaurs continue to excite scientists and kids alike. From museums to movies, sometimes it feels like they're everywhere. That includes dinosaur trading cards.
Collectors have no shortage of sets covering both the fact and the fiction of the prehistoric creatures. Some are considered hobby classics, some are overlooked and others are probably best served being recycled.
While not exhaustive, we've pulled together a list of ten of the most notable sets of dinosaur trading cards leading up to the release of 2015 Upper Deck Dinosaurs, a modern release with a lot of premium appeal.
50 Years of Dinosaur Trading Cards
1961 Nu-Card Dinosaur Series
1961 Nu-Card Dinosaur Series takes a scientific approach. The 80-card set is straightforward and the design is simple. The blue borders give the look of an early television set. Illustrations are in black and white with the dinosaurs and other prehistoric beasts given a bit of a tint. Backs have a brief write up on the featured creature but not a lot of info.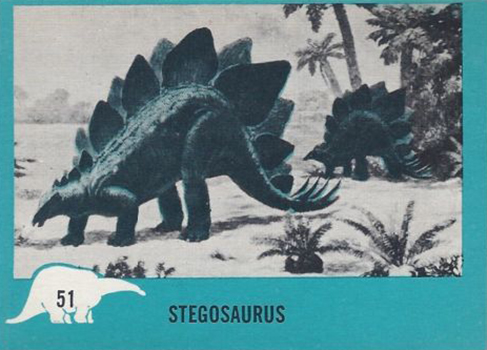 The checklist reaches beyond basic dinosaurs and into other early animals.
Given the subject matter and vintage nature of 1961 Nu-Card Dinosaur Series keeps a solid audience today. Putting together a set isn't easy as there doesn't appear to be a huge amount available on the secondary market.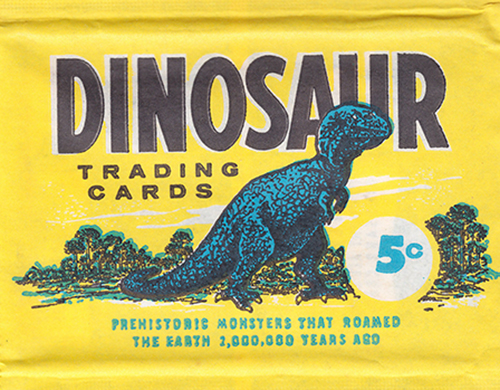 1985 Topps Baby
Just like the movie they're based on, 1985 Topps Baby is a largely forgotten set. Well, those that have leftover stock might still have it cross their mind now and again. Expectations for Baby were high heading into its release. Today, you barely hear a thing about it. The trading cards are one of the few relics that remain for the movie outside of the cheap DVD bin at Walmart.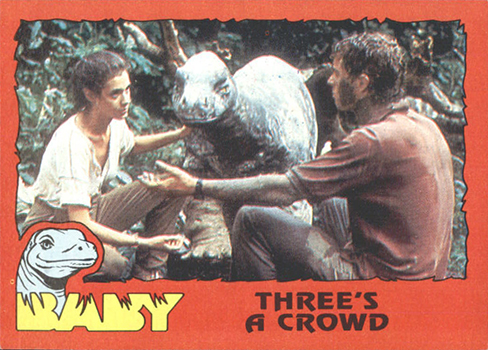 The simple set has 66 base cards and 11 stickers. If nothing else, the poor, and somewhat creepy, animatronic dinosaurs make Jurassic Park look all the better.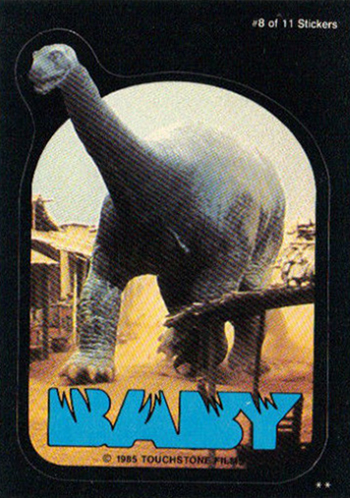 1988 Topps Dinosaurs Attacks
Replace the Martians of  Mars Attacks with some creatures from the Jurassic Age and you've got the basic gist of 1988 Topps Dinosaurs Attack. The set tells a fictional story of dinosaurs shooting forward in time and landing in the late 1980s. 1988 Topps Dinosaurs Attack is gory and over-the-top in a likely attempt to be controversial. It's also a lot of fun.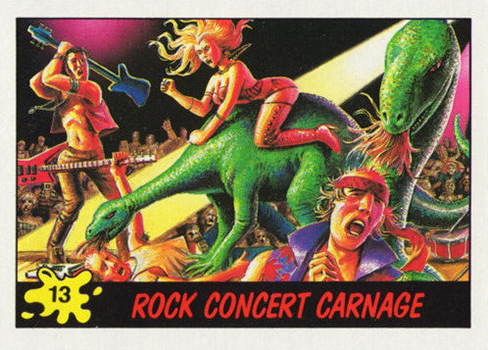 Produced in mass quantities, there is still a lot of the product out there. But for fans of dinosaurs and old-school B-movie, it might be worth the few dollars. A complete set has 55 cards and 11 stickers.
1992 DinoCardz
So you want to learn about dinosaurs? 1992 DinoCardz fit the bill. The 80-card set digs into the various types that used to roam the earth with some detailed artwork on the front and lots of information on the back.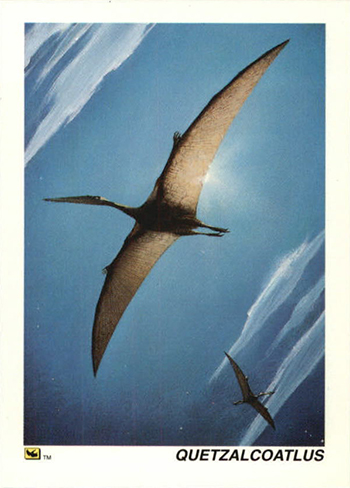 While there aren't any inserts, some were distributed with Pepsi products. These 20 cards are slightly different in that they have the Pepsi logo on the back. The card numbers are also shuffled.
1992 Pro Set Dinosaurs
Every once in a while, a line from a TV show takes on a life of its own. "You are the weakest link," "Whach you talkin' about, Willis?" and "Dy-no-mite!" are just a few. Back in the early 1990s, say "Not the mama!" and visions of frying pans and puppet dinosaurs came to mind.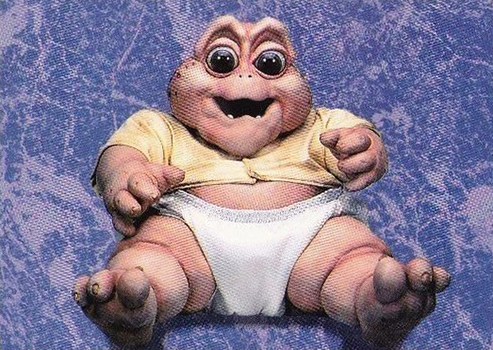 1992 Pro Set Dinosaurs is based on the show that was essentially The Honeymooners meets The Cosby Show with dinosaur puppets. You're not going to learn much about the real thing from this release but it is fun. It's also Pro Set, so it's not particularly rare.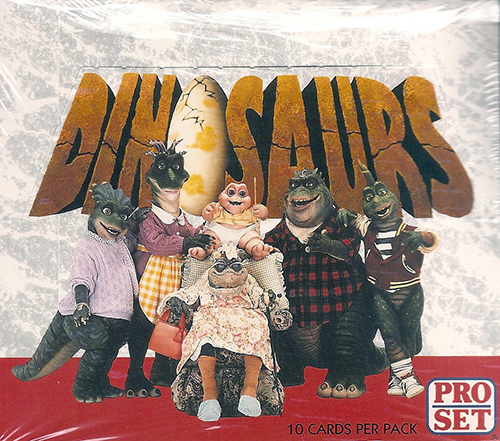 1993 Comic Images Lost Worlds by William Stout
When it comes to dinosaur art, William Stout is a legend. He has also done design work for dozens of films and television programs. 1993 Lost Worlds is a 93-card tribute to the artist.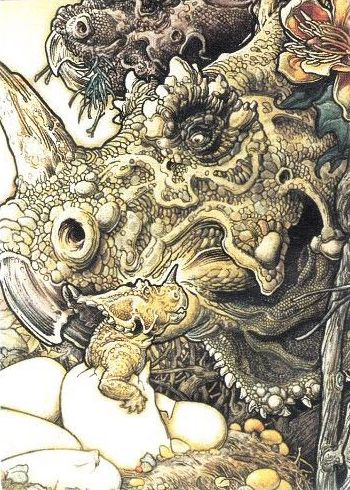 While much of the set is dedicated to his dinosaur pieces, it delves deeper into his fantasy and commercial artwork.
In addition to the base set, there are six Chromium inserts.
1993 Dynamic Escape of the Dinosaurs
1993 was a big year for dinosaur trading cards. With a certain Steven Spielberg movie stomping its way to blockbuster status, companies were looking to take advantage of the increased interest in all things Jurassic. 1993 Dynamic Escape of the Dinosaurs comes from Australia.
Similar to the DinoCardz from the previous year, this set looks more to the science and history of the distant past. Detailed artwork highlights the simple design.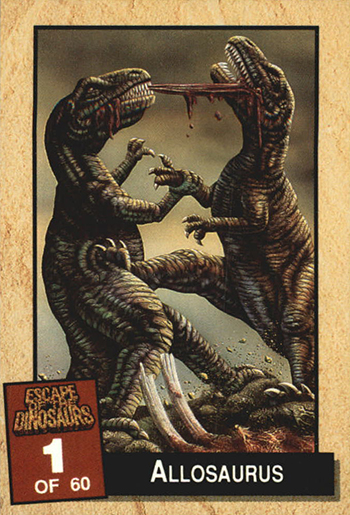 Six Chromium inserts join the 60-card base set.
1993 Topps Jurassic Park
Dino-mania hit a peak with the release of the original Jurassic Park. Topps did a few different releases for the first film. 1993 Topps Jurassic Park is broken down into two series for a total of 154 cards and 22 stickers. With the growing popularity in additional inserts, there are also four holograms. Series 1 is pretty common. However, Series 2 isn't available in any large quantity. For the most part, it's your average movie set with recaps and character profiles. There are also some cards with concept art and a look behind the camera.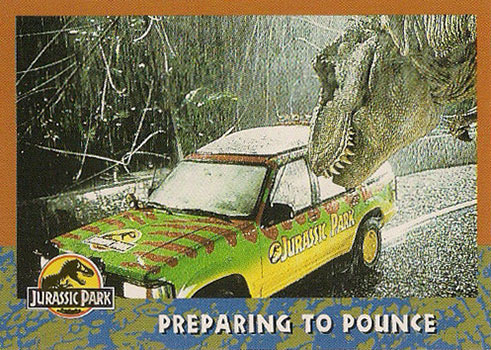 1993 Topps Jurassic Park Gold adds a more premium spin on the Series 1 checklist. The main difference is the card stock. However, there are also ten Art Cards inserts.
Topps did a set for the film's sequel, The Lost World. Inkworks took over the license for Jurassic Park III.
1995 Collect-A-Card Dinotopia
James Gurney's Dinotopia is a fantasy world in which humans and dinosaurs co-exist. We're not talking about the DNA splicing and recreation of dinos like in Jurassic Park. This is something closer to Tolkien's Middle Earth mashing up with The Flintstones.
1995 Collect-A-Card Dinotopia is based on the original books. Cards feature Gurney's work and summarize the main points of the world he created.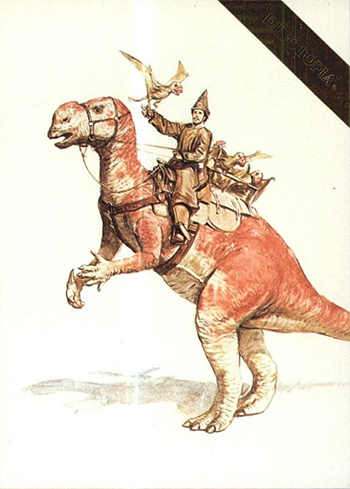 The base set has 72 cards. There is also a pair of insert sets. Ten Dino-Folds open up to show a panoramic image that expands on the scope of a regular card. Dino-Vision gives a 3-D edge.
2010 Sadlittles Damsels and Dinosaurs
2010 Sadlittles Damsels and Dinosaurs is an independent release that's all sketch cards. Limited to 1,000 packs, each has an original piece of card-sized artwork. The theme mixes pin-up art with dinosaurs. No, that doesn't mean the introduction of the Bettie Pageasaurus. Rather, dinosaurs are usually paired up with a lady.