What a Difference a Day (and a Trade to the Yankees) Makes
It's official — a lot of baseballs are going to be flying over the outfield walls at Yankee Stadium in 2018. Giancarlo Stanton is heading to New York.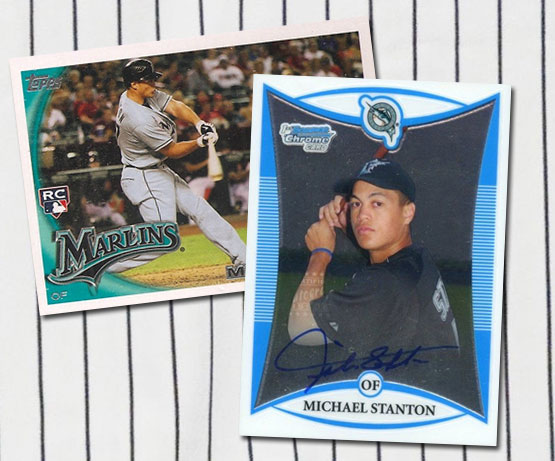 And while 59 home runs in 2017 did a lot for Stanton's key cards, becoming a member of baseball's biggest team did even more.
As word got around that the deal was done, Giancarlo Stanton cards caught fire. And it shouldn't be a surprise. He's going from one of the smallest stages in the game to the biggest. Not only is Stanton one of the game's most explosive players, but he's joining a lineup that already has the American League home run champion in Aaron Judge.
It's a scenario that's intriguing in a lot of ways, all of which are good for Giancarlo Stanton cards. Within a matter of days, they've gone from some of the most overlooked in the hobby to the hottest.
For now, that means a lot of volatility. You've got Yankees fans looking to land cards of their newest star. You've got speculators asking "What if?" and you've got the general collecting public all of a sudden remembering they have that Rookie Card or rare autograph stashed in a box some place.
Let's take a look at the short-term boost some of the key Giancarlo Stanton cards have seen on eBay since word of the Yankees trade broke.
2008 Bowman Chrome Draft Giancarlo Stanton Autograph
Just a couple of weeks ago, raw copies of, arguably, Stanton's top card were selling for about $225-$250. On December 9, a pair of ungraded copies of the base version sold on eBay via Buy It Now sales for $379 and $399.99.
Among the notable Refractor sales on December 9 were a pair of Orange Refractors (/25) for $3,500 and $4,700, $3,733 for a BGS 8.5 Gold Refractor (/50), and a pair of BGS 9.5 Refractors (/500) for $1,395 and $1,400.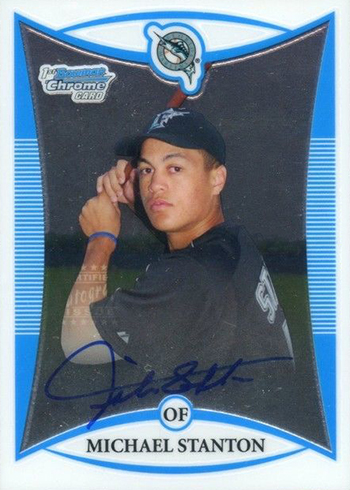 2010 Topps Update Giancarlo Staton RC
Although not the most valuable Giancarlo Stanton Rookie Card, this is one of the most widely collected. Raw versions had been going to around $10, sometimes less. Over the past couple of days, they quickly jumped to $15 then $20 with a few outliers climbing even higher. But that $15-$20 range shows plenty of activity.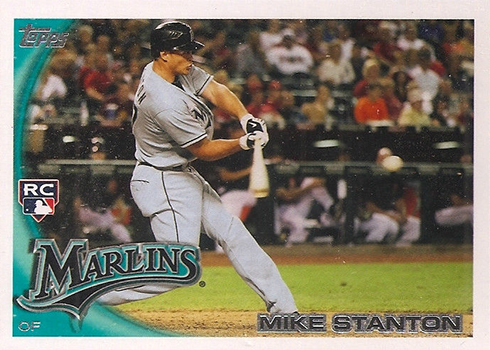 2010 Topps Chrome Giancarlo Stanton Autograph
Stanton has a couple of autographs from his rookie season, but the one in 2010 Topps Chrome is the most widely traded. From mid-November through the first week of December, these could be found for less than $100. Around $75 was the going eBay rate for a raw copy. Right now, $150 is a deal and around $175 is quickly shaping up to be the new norm.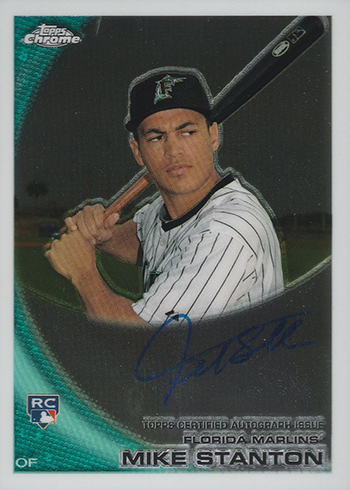 It remains to be seen where things are going to level off, even for the off-season. The excitement is fresh and the possibilities are many. If you're a seller, you're going to be happy you held off. If you're a buyer, be prepared to spend more.
Comments? Questions? Contact Ryan Cracknell on Twitter @tradercracks or by email.