Did Topps Now Predict the Year of the Position Player Pitcher? – Beckett Pricing Insider
This year has been the year of the position players pitcher. And I'm not talking about Shohei Ohtani. It's only August and we've already broken the record for the most position players to appear as pitchers in the expansion era.
If you want to cards depicting the various position players as pitchers, look no further than 2018 Topps Now. The real-time release has multiple cards highlighting these moments.
You might even say that Topps Now predicted the phenomenon before the season started. As part of their spring training cards, 2018 Topps Now produced its most popular position player as a pitcher card. Oddly, it's someone who hasn't even played in a game this year, let alone pitch in one.
While at his photo session with Topps during Spring Training, Blue Jays shortstop Troy Tulowitzki decided to pose as a pitcher. Topps played along with it and created a card for the 2018 Topps Now Spring Training set.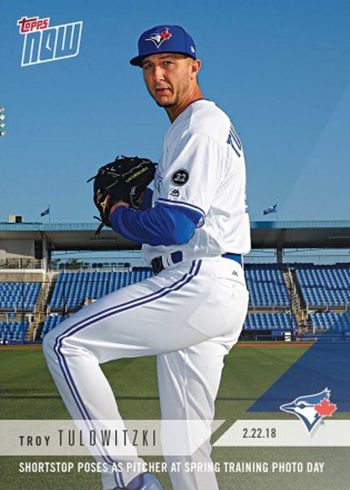 The card has a print run of 1,374. Initially available for $9.99 from the Topps website, the price tag remains about the same on the secondary market.
Topps also pused an image of Tulowitzki pitching on his 2018 Blue Jays Topps Now Road to Opening Day card. This card which could be purchased only with the full team set has a lower print run of just 148. It's also a lower profile card. The Topps Now Road to Opening Day card is available for about the same price as the viral moment captured on cardboard.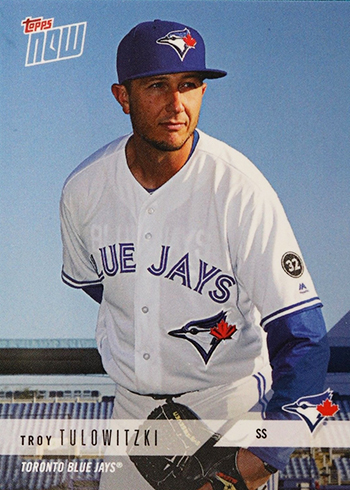 It will be interesting to see the total number of position players who pitched at the end of the year. I'd expect the number to slow down once we get to September and rosters expand to 40 players. But with teams nowadays focusing more on having specialist relievers that come in for one or two hitters and fewer mop-up guys who can come in and pitch multiple innings, the utility men are needed more for some situations. We might just be entering an era with more hybrid utility players who have experience both pitching and in the field.
This edition of the Beckett Pricing Insider is sponsored by MVP Sports Collectibles.