Devon Still's jerseys still selling strong
–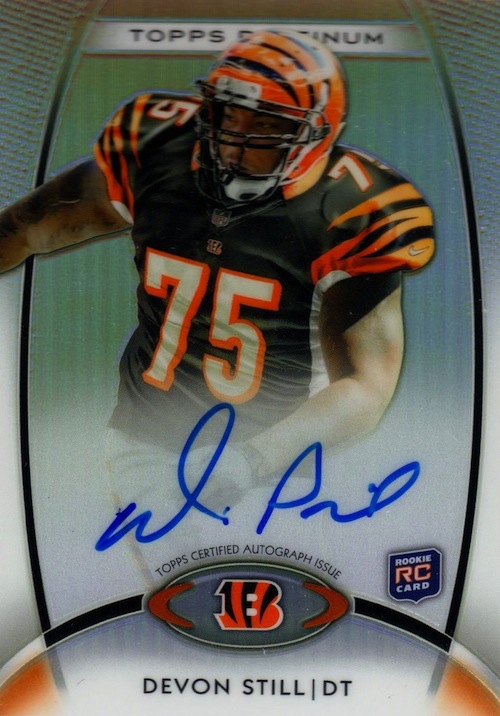 By Chris Olds | Beckett Sports Card Monthly Editor | Commentary
He's a 6-foot-5, 305-pound defensive tackle for the Cincinnati Bengals, a product of Penn State and a dad.
And it's that last part that's why Devon Still's No. 75 jersey is among the top sellers in the NFL right now.
He has started just seven games in three seasons but his jersey ranks 11th in overall sales. Why? The Cincinnati Bengals donated all proceeds from the sales of his jerseys last month — a cancer awareness month in the NFL — to the Cincinnati Children's Hospital and pediatric cancer research.
Why? Still's 4-year-old daughter Leah is battling cancer.
Tonight, the Bengals will present a check for more than $1.3 million to Leah and other cancer patients during an on-field ceremony during the team's game with the Cleveland Browns. According to an ESPN story, Saints coach Sean Payton bought 100 jerseys — and the New England Patriots cheerleaders wore jerseys on the field when playing against Cincinnati. Those jerseys were then signed by the cheerleaders and sold for $250 apiece on eBay to benefit cancer research.
Naturally, all this attention also has prompted some interest in Still's football cards — he has 324 cards in the Beckett database valued at more than $2,100 excluding rarities — and he has 170 certified autographs. They're not often top-dollar cards but they're collecting interest with more than 220 completed eBay sales in recent days. Some of his National Treasures rarities selling for as much as $100 while other autographed cards have been regularly fetching anywhere between $6 to $25.
Consider that he's a defensive lineman — they're not often hobby-favorites — and you can see that card collectors have taken notice. Heck, I was one of them recently when I picked off a 2012 Topps Platinum autograph like the one above for a few bucks. Why? It's a reflection of this season — something he'll always be remembered for no matter how his career goes from here forward.
That's the kind of card I'd want in my collection.
Chris Olds is the editor of Beckett Baseball and Beckett Sports Card Monthly magazines. Have a comment, question or idea? Send an email to him at colds@beckett.com. Follow him on Twitter by clicking here.