Details on 2013 Topps Heritage variations emerge as packs are ripped, cards hit eBay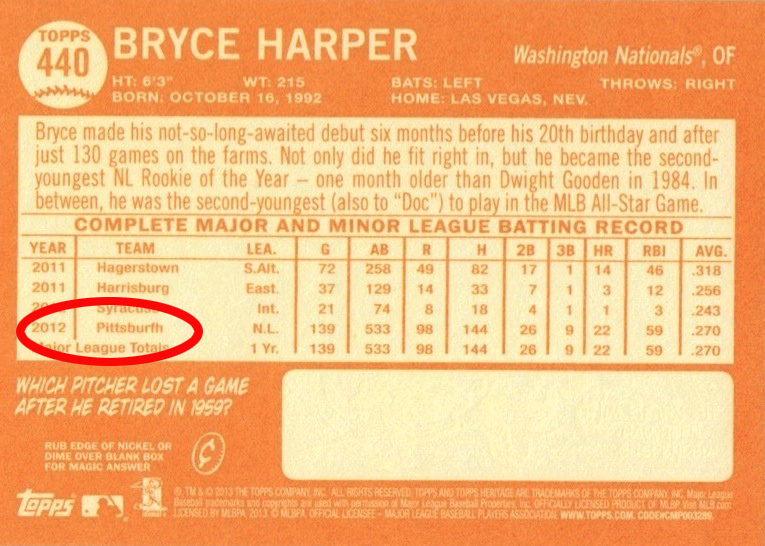 By Chris Olds | Beckett Baseball Editor
Hey, Washington Nationals fans … we bet you didn't know Bryce Harper played in "Pittsburfh" last season.
That's the case according to the rare short-printed error variation of the reigning National League Rookie of the Year in 2013 Topps Heritage, which officially arrived on Wednesday.
It's one of six cards with error-related variations — each nods to uncorrected errors in the 1964 Topps set that Heritage emulates this year.  How much did the first one sell for on eBay? A modest amount.
Other variations that have been confirmed via pulls from collectors and eBay are below and include:
4 — American League Pitching Leaders: An errant apostrophe after "PITCHING" on top back.
125 — Yu Darvish: Rarer version incorrectly lists his birth year as 1942.
325 — Rafael Betancourt: Rarer version incorrectly lists his birth year as 1932.
335 — Jonny Venters: Rarer version incorrectly lists his birth year as 1930.
355 — Chris Tillman: Rarer version incorrectly lists his birth year as 1931.
—
Click here for a look at the checklist      |    Click here to see the latest Heritage auctions on eBay
—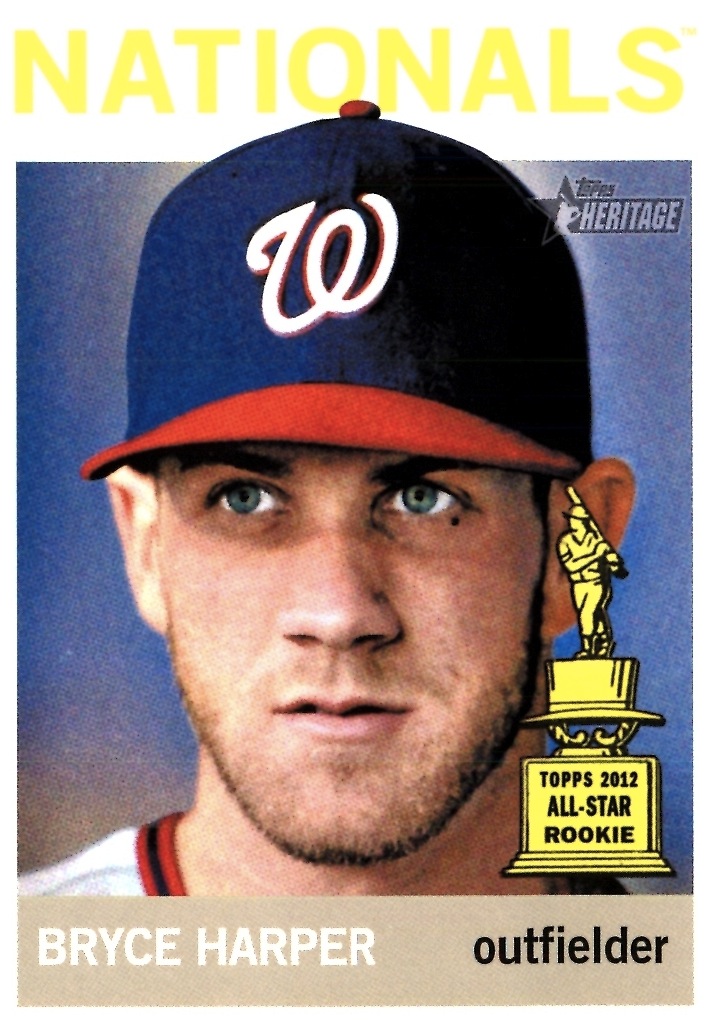 Color swap variations
These are a simple one to tell. Each card has the same color type up top and the tan bar at the bottom. (See the list of who has these cards on the checklist link above.)
—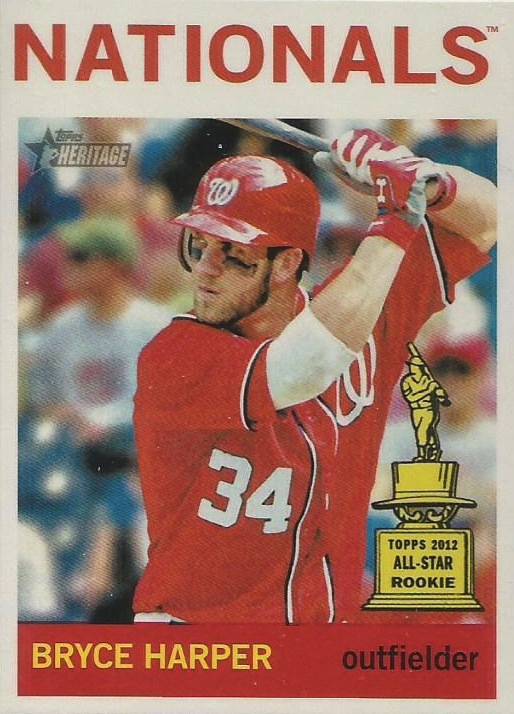 Image swap variations
These are also simple to spot once you know the list of players (link above) and once you have spotted the standard cards. This is Harper's action card, which avoids the mug used on his regular card, the "Pittsburfh" and color variations.
—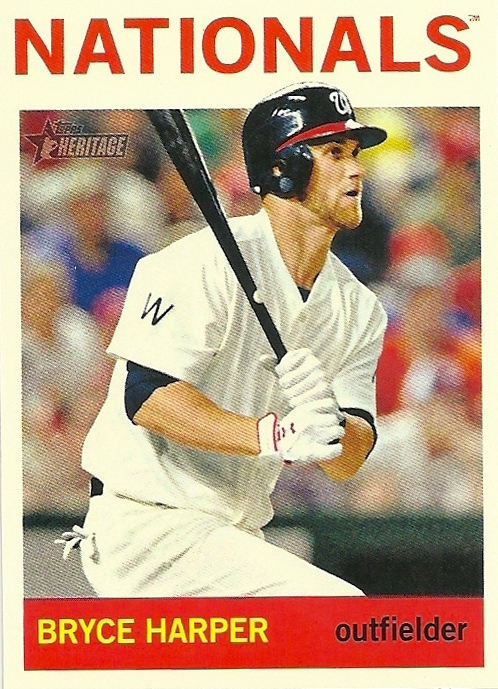 Senators variations
These cards, which could be confused for action variations, show four members of the Nationals — including Harper — in throwback Washington Nationals uniforms. The Ryan Zimmerman was a big sale on eBay already going for $999 — that's not a typo. Harper should be the biggest seller of the bunch, of course, while the other two are Ian Desmond and Ross Detwiler. Asking price on the first Harper to hit eBay? Even steeper.
—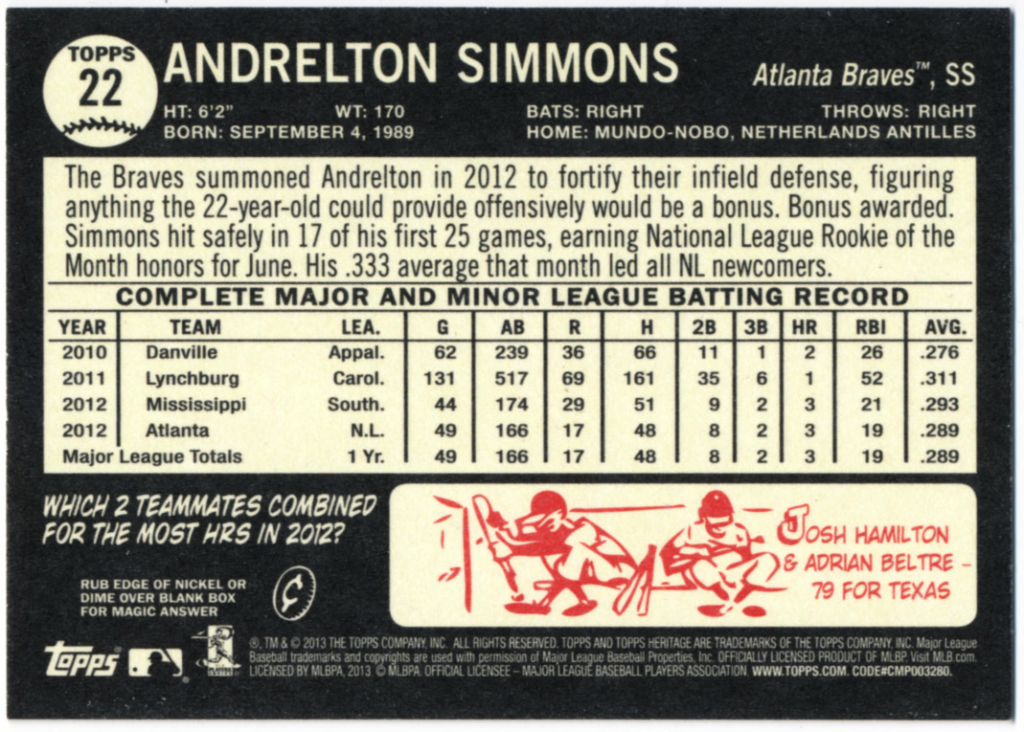 A note on Venezuelan parallels
According to one big breaker, it appears that the black-backed Venezuelan parallels have been made for all 500 cards including some short-printed variations as well. That's a bit of a surprising move that will make the tough-to-pull set even tougher to build to completion. Confirmed so far are action variations with Venezuelan backs.
Chris Olds is the editor of Beckett Baseball magazine. Have a comment, question or idea? Send an email to him at colds@beckett.com. Follow him on Twitter by clicking here.