Despite injury, Mariano Rivera's RC remains hot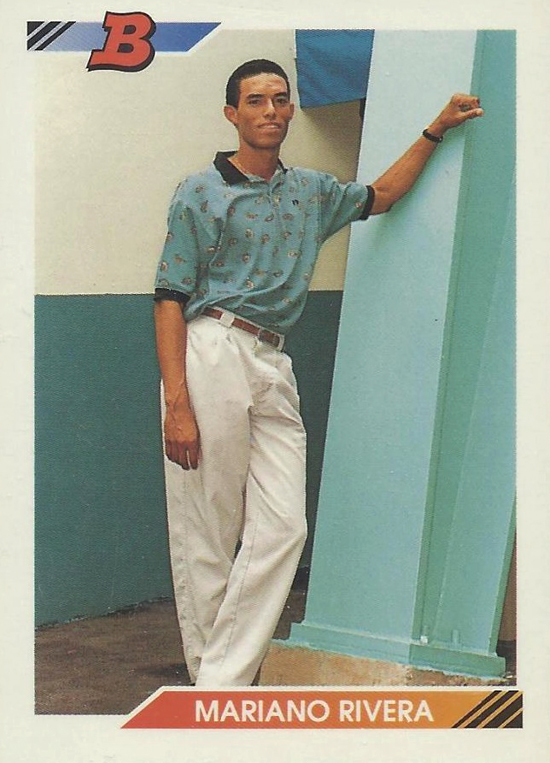 By Chris Olds | Beckett Baseball Editor | Commentary
It may not look like much, but the baseball card seen here is the most-valuable release in one of the most-important sets of the 1990s.
And it might be a bit of a lesson in card manufacturing — or at least supply and demand.
New York Yankees closer Mariano Rivera has been in the news lately as he has a blood clot in his right calf, a complication of tearing his ACL and injuring his knee during a fluke accident while shagging fly balls before a game in Kansas City earlier this month. It's a career-threatening injury for the 42-year-old career saves leader, but he has vowed to return to pitch one more time not ready for his record 608 saves to be his final mark.
Despite all of this negative attention for what has been a first-ballot Hall of Fame-caliber career, Rivera's 1992 Bowman Rookie Card has done the unthinkable of late.
It's actually gone up in value. (Need a Rivera checklist or OPG? Click here.)
[youtube]http://www.youtube.com/watch?v=Ha3qN9t4chs[/youtube]
Rivera's RC is the only one of its kind — he appeared on just one card in 1992 — and it checks in at No. 8 on the Hot List of the next issue of Beckett Baseball at $60, a full $10 higher than the previous issue.
You see, through the years, that revamped, game-changing Bowman set has had its share of superstars emerge — Mike Piazza, Manny Ramirez, Carlos Delgado and many more forgotten by the cold streaks of time gone by. But it's this card, one that shows a young Panama product in his street clothes for a portrait leaning against a stadium pillar painted in that oddly memorable shade of older Yankee Stadium blue, that's the most-valuable card in the set.
A relief pitcher. In street clothes. Without a single logo on the front of the card.
And it's the best card in the set.
Sure, he is one of the Core Four Yankees responsible for many a World Series ring for the game's most-successful franchise. Sure, he's a player with a spotless public image. Sure, he's had a groundswell of support since his injury, including a pretty entertaining video encouraging him to come back (above). And, sure, he's a sure first-ballot Hall of Famer, too.
But consider that relief pitchers just don't get love in the hobby — or in Cooperstown. Only five other closers are in the Hall — Dennis Eckersley, Rollie Fingers, Goose Gossage, Bruce Sutter and Hoyt Wilhelm — and only one has an RC more valuable than Rivera, despite being much, much older. (It's Wilhelm's high-number card in the landmark 1952 Topps set, checking in at a whopping $1,000.) None of the other legends come close on cardboard — and they already have made their final trips into baseball lore.
Sure, it's easy to cast off the anomaly that is this card as "He's a Yankee" — and that might be right. But when's the last time a relief pitcher truly made a mark on the baseball card landscape? It's been a while — and it probably took an Earth-defying beard, a World Series ring and a whole lot of eccentric behavior to do it. (Right, Brian Wilson?)
But could all this interest in Rivera's RC be because Rivera has just a single Rookie Card to his name? Could it be that less is more — and less means more dollars focused on one single release when it comes time to get The Card to Have?
Might work.
In an era of baseball cards where a player can have hundreds of cards before an "official" Rookie Card appears, perhaps Rivera's Rookie Card is a throwback lesson on how the hobby might perhaps be better off with fewer cards for us all to amass in a player's march to hopeful immortality.
Or, maybe, just maybe, it's a sign that Rivera truly is there already.
Chris Olds is the editor of Beckett Baseball magazine. Have a comment, question or idea? Send an email to him at colds@beckett.com. Follow him on Twitter by clicking here.