Derrick Henry Is a Real Titan – Beckett Pricing Insider
In a two-week span, Derrick Henry rushed for 408 yards and six touchdowns. He also led the NFL in rushing both weeks. Henry ran for 278 yards and four touchdowns against the Jaguars, following it up with 170 yards and a pair of TDs against the Giants. In the process, Henry has made a lot of fantasy football owners really happy. Through Week 15, Henry has rushed for 882 yards and 11 touchdowns.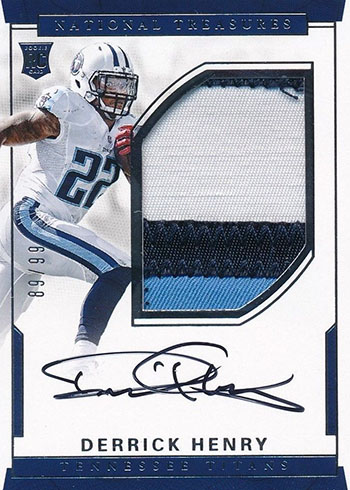 The Tennessee Titans are still in the playoff hunt. Making it as a wild card team is the most likely scenario, but there is an outside chance they could win their division. They just need the rest of their team to step up the way Derrick Henry has.
Currently there are over 2,800 Derrick Henry cards in the Beckett Online Price Guide. His Rookie Cards have been strong sellers on the secondary market. Understandably, over the last few weeks his cards have sold towards the higher end of book value. There are even some cards that have been raised, with collectors seeing some potential for the running back.
His most popular cards are his autographs, and there are plenty of them to collect with 962 in the database. Among his best cards are 2016 Panini National Treasures and 2016 Donruss Optic.