Denis Brodeur's hockey impact extends far beyond his famous son
By Dan Good | Contributing Writer
The hockey world lost somebody special Thursday.
Denis Brodeur passed away at the age of 82.
He's best known because of his famous son, Devils goalie Martin Brodeur. But his impacts on the game – and card collecting – extend far beyond his lineage. A lifelong photographer, Denis Brodeur captured decades of hockey moments.
If you're a hockey fan, you've probably seen his photos and didn't even realize it. Wayne Gretzky. Mark Messier. Patrick Roy. Gordie Howe. Stanley Cup victories. The winning goal in the 1972 Summit Series. He was there, snapping away, a witness to history.
He captured many of his photos as the longtime photographer for the Montreal Canadiens (he was also a photographer for baseball's Montreal Expos).
Later in his life, he sold his hockey images to the NHL.
Card companies rely heavily on the league's archives for photographs of retired players. So after the 2006 sale, Brodeur's photos started regularly appearing on hockey cards produced by Upper Deck and Panini.
The images are crisp and timeless, revealing a generation's worth of icons and memories.
Hockey is a difficult sport to photograph because of the speed and surface and lighting. Use the wrong camera settings, and your photographs will turn out blue. Or look dark. Or washed out.
Brodeur's photos stand out because of his ability to isolate powerful compositions. One image shows Guy Lafleur skating down the ice, looking near the camera for the puck, his hair flowing. The fans across the ice are also watching the puck – all but two of them, scoreboard-watchers momentarily distracted.
Nearly 40 years removed and the image graced the front of an Upper Deck trading card, presenting Lafleur to a new generation of hockey fans.
It helps to understand your photograph subject, and Brodeur certainly understood hockey. The Montreal native fell in love with the sport as a boy and bounced between senior-level teams during his early 20s.
The netminder was offered a contract with the AHL's Cleveland Barons in 1955, but it would have cost him his Olympic status.
Brodeur chose the Olympics. In the 1956 games in Cortina D'Ampezzo, Italy, his Canadian team earned the bronze medal.
He never made it to the NHL as a player. He left his impact on the league in other ways.
Denis Brodeur appears on three different cards as a player.
Two of them are from his early days – 1951-52 and 1952-53 Bas Du Fleuve, regional sets featuring Senior Hockey League players. The cards show black-and-white photos.
He waited 52 years to appear on his next card. Due to the NHL lockout in 2004-05, Upper Deck got creative with its "Young Guns" Rookie Cards, adding "Legend" cards to fill the checklist. Card number 196 shows a young Brodeur in the net, ready with his stick and glove, covered in bulky padding.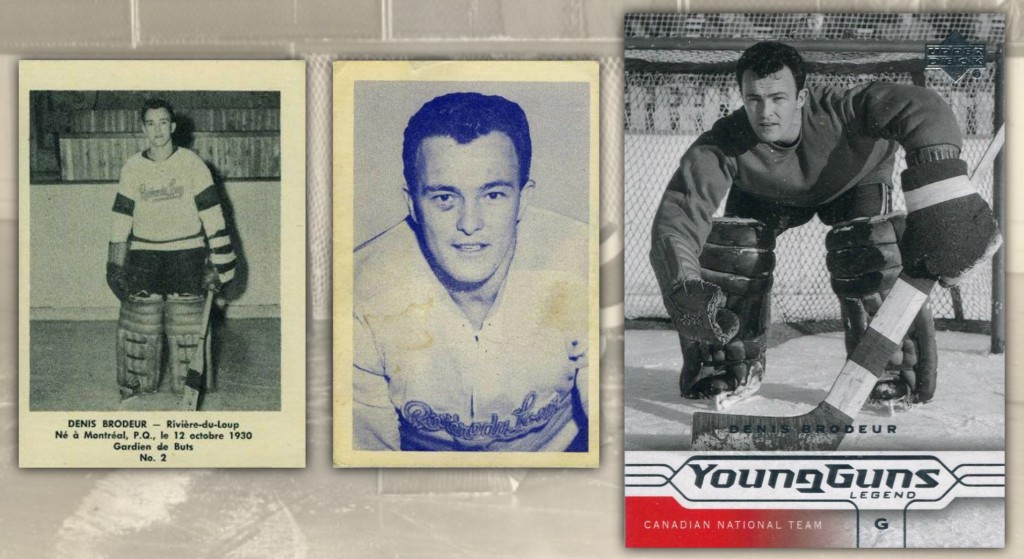 Brodeur's family and the hockey community were struck by his passing.
The loss adds melancholy to his son Martin's final season. Martin Brodeur has authored maybe the finest career of any goalie in NHL history – 23 seasons, the all-time leader for wins and shutouts, three Stanley Cups. Denis was there for many of his son's special moments, a smile and camera omnipresent. Fathers should be proud of their sons, NHL legends or not, and Denis was certainly that.
Brodeur's oldest son (and Martin's brother) Denis Jr. addressed the loss on Twitter.
Sad sad day! My hero is gone .. rest in peace dad. You were the greatest dad ever… i love you xx
Martin's son Anthony, a Devils draft pick this summer, also reflected on the passing.
Sad, sad day. Miss you so much already Grandpapa. Rest In Peace. Je T'aime ❤
NHL Commissioner Gary Bettman released a statement as well: "Denis Brodeur's images brought the action, the drama and the passion of the game sharply into focus for generations of fans around the world.
"Some of the greatest teams and greatest players in hockey history – including his son, Martin – are preserved forever by his grand body of work. Memorialized, as well, is Denis' deep love of what he did and the sport he covered. The National Hockey League sends heartfelt condolences to Denis' family and friends."
Denis Brodeur lived a rich life. His legacy endures through his family and photographs.
He spent a lifetime capturing moments – and his love of the game continues to emerge, one card at a time.

Powered by Cincopa Media Platform for your website and Cincopa MediaSend for file transfer.