Dead End: The Walking Dead Will Live On Through Trading Cards
When you click on links to various merchants on this site, like eBay, and make a purchase, this can result in this site earning a commission.
The dead will walk no more, at least not in TV's continuing horror story, The Walking Dead. After 11 seasons, the dead have finally shuffled off to an unhappy repose in the grave of eternal syndication. What won't end, though, is the persistent fascination for Walking Dead trading cards. After all, the zombies are not really dying, as they will live on in, at current count, six spinoff series. Yep, the dead still have a lot of walking to do!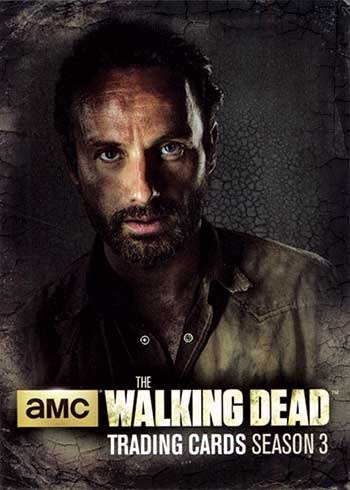 Walk Don't Run
When the original series began, appropriately enough on October 31, 2010, nobody was too sure the show would become the runaway hit that it ultimately became. As a result, the studio cautiously produced only six episodes for the first season. Even this small amount was enough for trading card manufacturer Cryptozoic Entertainment to seize the moment by producing The Walking Dead Season 1 in 2011. With 81 storytelling base cards, five Promo Cards (with P4 & P5 being limited), nine Duplex Behind the Scenes Cards and Walkers Gold Foil Cards, success was virtually assured. What really grabbed collectors attention were the autograph cards (1:24 packs), sketch cards (1:288 packs) and wardrobe cards (1:12 packs) seeded randomly.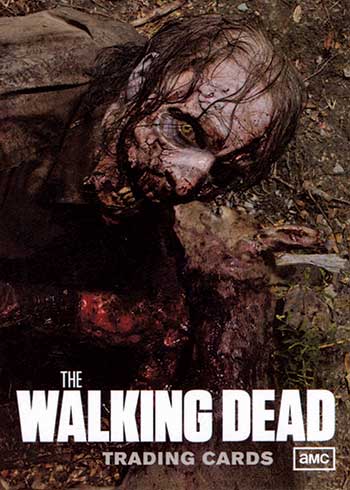 Autograph cards were numbered A1-A18, with two cards dedicated to each cast member. A3 and A4, which were reserved for series lead Andrew Lincoln (Rick Grimes), were not issued as Lincoln didn't sign for this series. The hole was eventually filled by Laurie Holden (Andrea Harri- son), who's A3 and A4 were issued with Season 2 cards as a way for collectors to backfill.
The most popular autograph cards in Season 1 are A17 and A18, which feature series favorite, Norman Reedus (Daryl Dixon). These cards can often be found in the $200 range each. Other auto numbers vary in price but generally cost less than Reedus'.
Eighteen wardrobe cards were supported by three really-hard-to-get additional ones—Lincoln's (Rick) Badge Patch (1/18), Rick's Full Badge (1/1 oversized by redemption) and John Bernthal's (Shane Walsh) T-Shirt Badge (1/1 oversized by redemption).
Most of the sketch cards were particularly bloody and were supplied by at least 26 different talented artists. Sketchers included the likes of Dan Gorman, Patrick Hamill, Ingrid Hardy, Gary Kezele, Brian Kong, and Scott Rorie and were available at the truly scarce rate of 1/288 packs.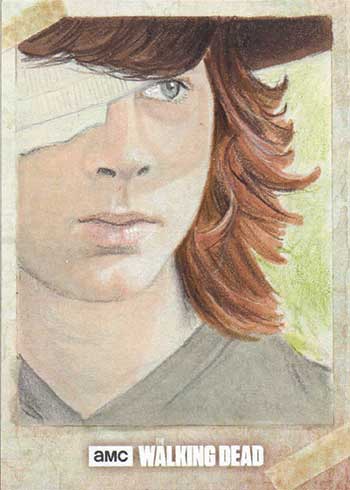 CZE continued to walk the walk in 2012 with Season 2 cards, followed by additional sets in seasonal succession. With both Seasons 3 and 4, the company opted to split each season in two, issuing a Part 1 and Part 2 series, thereby maximizing their sales potential.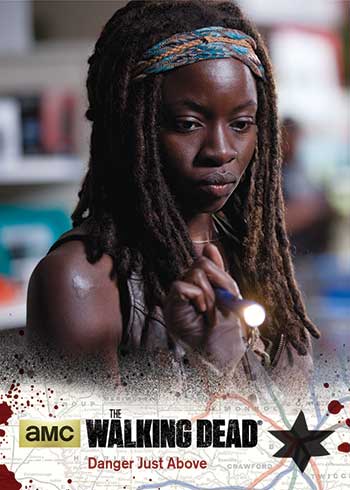 For Season 5 the property changed hands, with the dead shambling over to Topps. The base set contained 100 story cards, with inserts consisting of Character Profiles Cards, Location Cards and Walkers Cards. Higher value inserts included Autographs, Dual Autographs (# to 99), Triple Autographs (# to 10), Relic Cards, and Printing Plates (1/1). Parallels came in Base, Rust (# to 99), Mud (# to 50), Mold (# to 25), Sepia (# to 10), and the ever-popular Blood (# 1/1).
Season 6 followed in similar fashion, adding insert variations like Chop Cards, In-Memoriam Cards (Target exclusive), and Ties That Bind Cards (Walmart). In an attempt to offer really special chases that pretty much cover all bases, collectors could hunt for Autographed Costume Relic Cards.
Dead Stop
The brutality of the deaths in the Season 7 opener marked a turning point, and the beginnings of a ratings decline for the show. The graphic depiction of beloved characters Glenn Rhee and Abraham Ford's head-smashing by Negan's barbwire- wrapped baseball bat was simply too much for some fans to take.
This scene even received complaints from the FCC and the Parents Television Council for its violent depictions. Topps honored the two heroes with special in-memoriam cards but at that point the damage had already begun.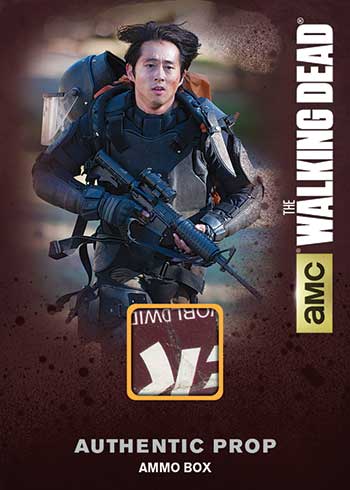 For Season 8 Topps decided to take the CZE approach and split the season into two sets. However, with ratings continuing to decline coupled with the unpopular walker bite/suicide death of Carl Grimes, The Walking Dead Season 8 Part One signaled the death rattle for Topps TWD series.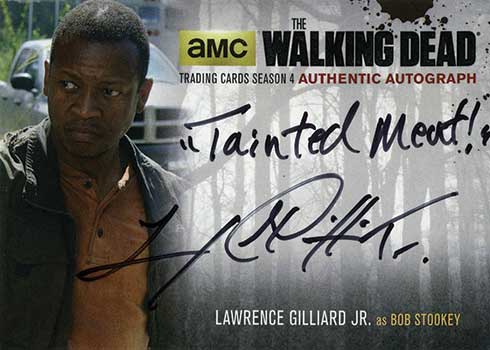 With all said and done, TWD aired 177 episodes and four multi-part webisodes. As a TV show and as a trading card series, The Walking Dead phenomenon is something that, in the minds of fans and collectors, will remain as a topic that will never truly die.