Inside the Panini NBA Rookie Photo Shoot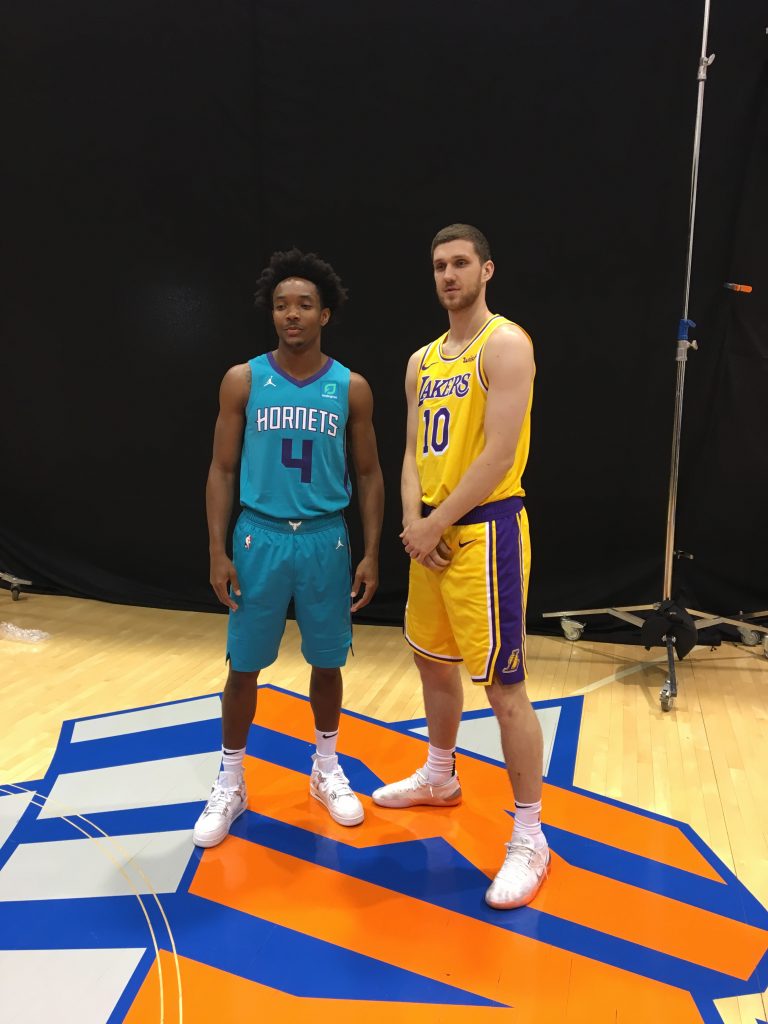 The 2018 NBA Rookie Photo Shoot in Tarrytown, NY featured some of the NBA's best young talent from this year's draft. Panini used cutting-edge technology and photography to create some fantastic cards for the upcoming season.
"IG, everybody is trying to get their Instagram poppin'. Get some good angles. It's funny," said Jerome Robinson, the 13th overall pick of the Los Angeles Clippers.
There were a few notable teammates, like the Los Angeles Clippers pair of Shai Gilgeous-Alexander (11th overall) and Robinson who were traveling around the circuits together. The Chicago Bulls had a duo in Wendell Carter Jr. (7th overall) and Chandler Hutchison (22nd overall). Phoenix Suns teammates Mikal Bridges and DeAndre Ayton were an interesting twosome as well.
"We get to goof around. Everybody is taking videos of each other. It's a good time," said Robinson. "We're all going through this experience together."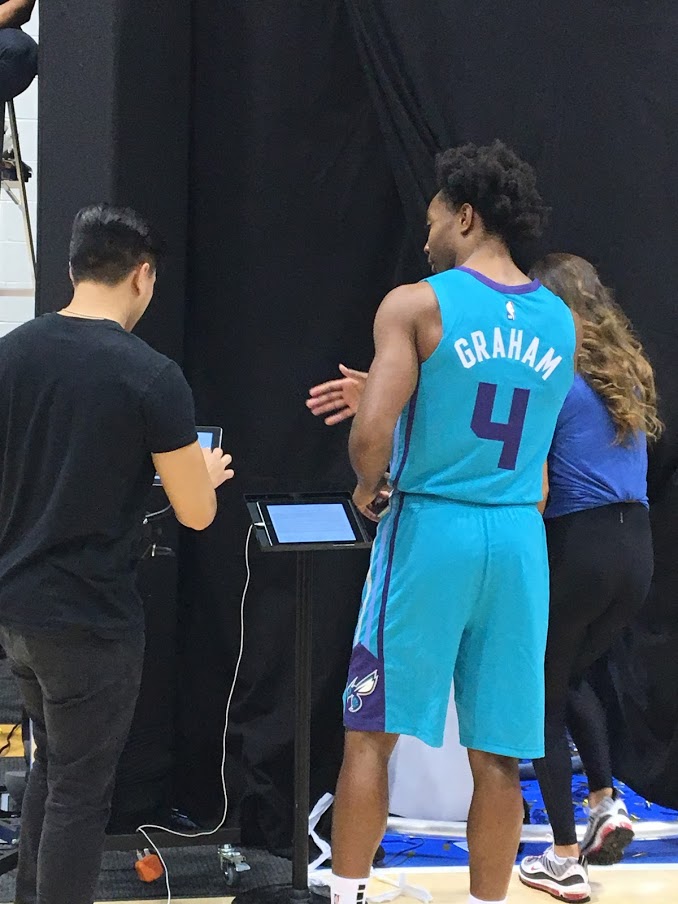 There's always a lot of secrecy about what Panini might be doing with the photo shoot. This year there was a 360-degree booth that players stepped into for their photos. Later they looked at their photos on an iPad. Confetti was dropped on them from above as the photos were taken. These shots will prove to be very interesting. Players couldn't stop talking about them, they were crowding around to look at the shots and some may have gone in more than once. That's saying a lot considering how many stations there are for these prospects to get through.
Mohamed Bamba (6th overall to the Orlando Magic) was the tallest player in the group. He's 7-foot-1 and has a wingspan of 7-foot-10 inches. He talked about being in the Panini chamber.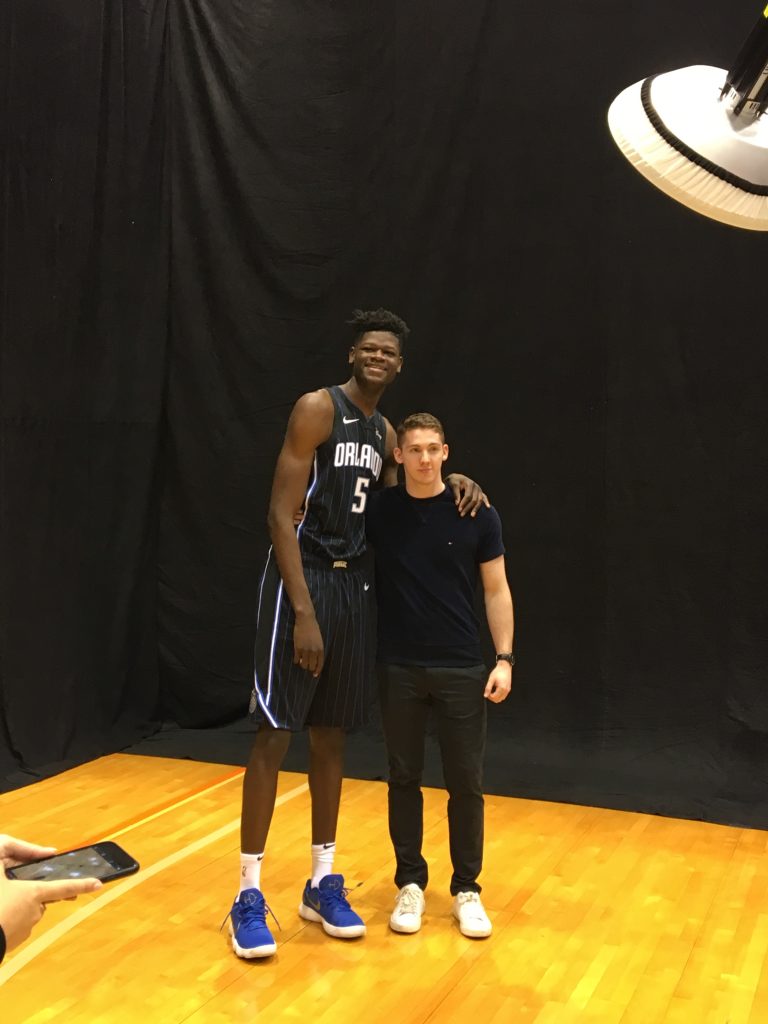 "It was pretty cool. I'd never been in anything like that before," the Harlem, New York native admitted. "All the hard work and all the blood, sweat, and tears is finally working out. This has been fun. It's all guys I grew up with. I have lofty goals and a lot of those are directly correlated with winning."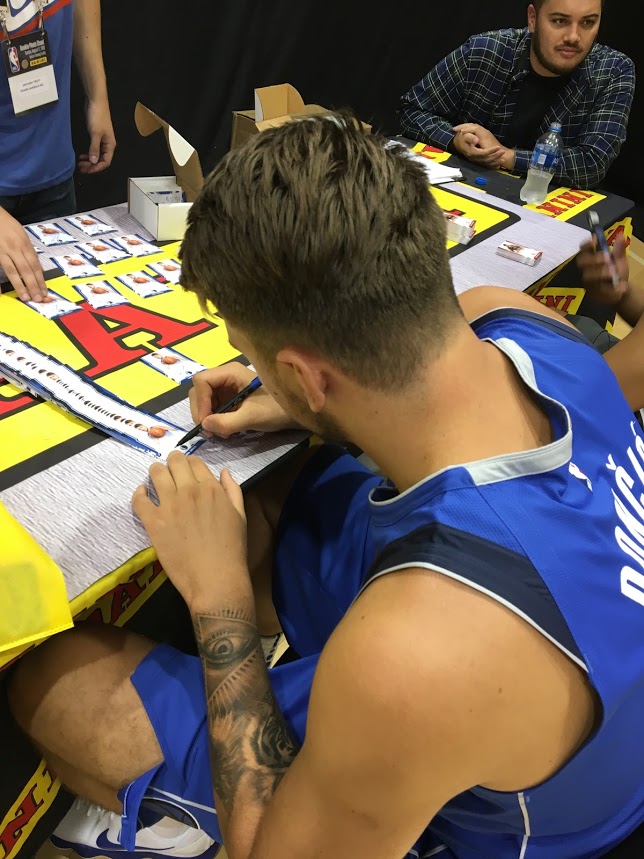 Players signed a lot of cards. I saw almost exclusively on-card signatures. That's what most collectors want most, so they'll be happy when they start pulling these out of packs.
Players were signing loads of cards every minute. It's tough work, but they were doing their best and having fun with it. The photo shoot will go down as a great memory for the players and collectors around the world will benefit from their efforts.