Future stars get spotlight during Day 1 of Panini Spring Training Road Trip
When you click on links to various merchants on this site, like eBay, and make a purchase, this can result in this site earning a commission.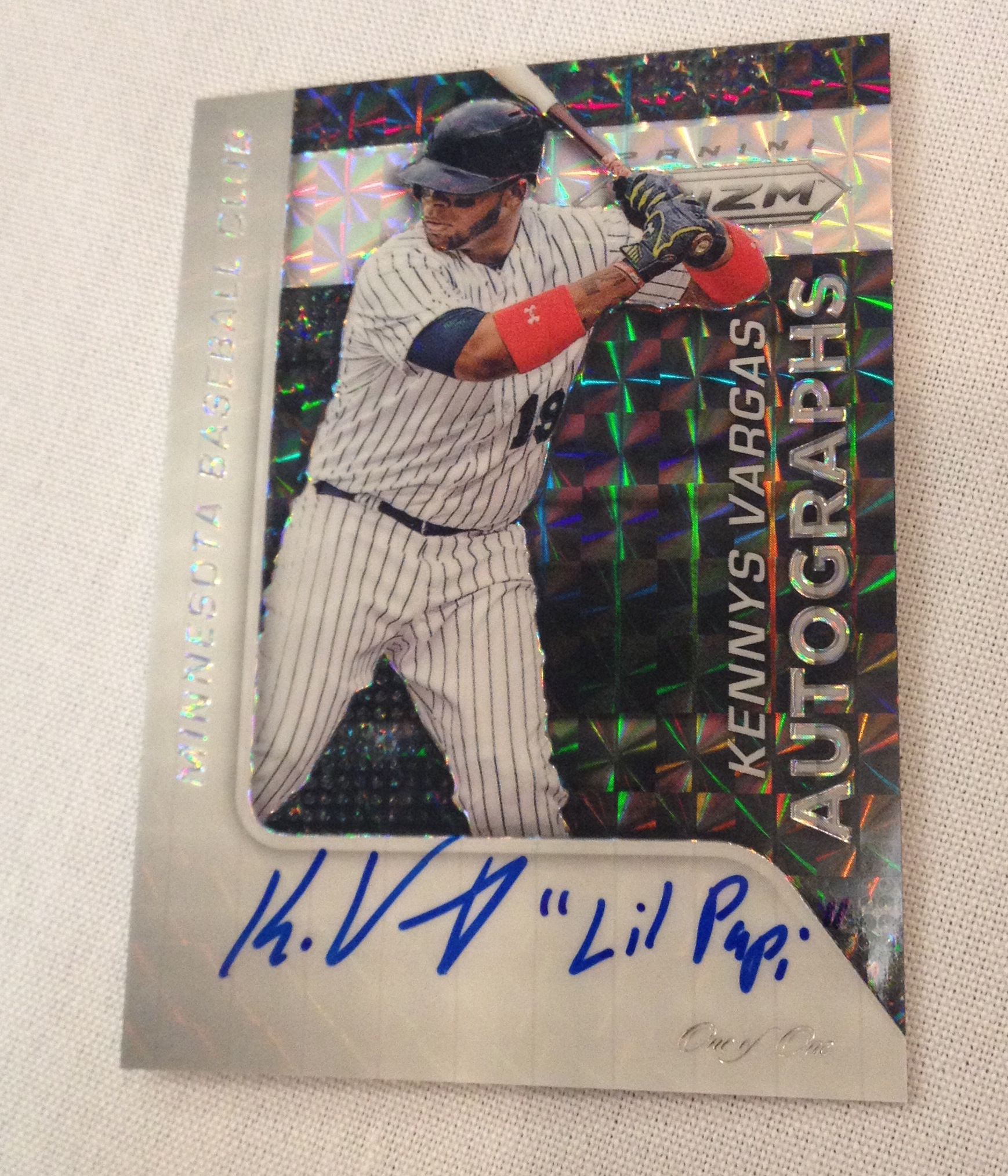 By Chris Olds | Beckett Baseball Editor | Commentary
FORT MYERS, Fla. | Day 1 of this year's Panini Spring Training Road Trip may have started with a 9:25 a.m. flight out of Dallas and ended with an inscribed 1/1 card of a future star some 14 hours later, but there's one reality about the baseball card industry's biggest attempt at a rookie photo shoot/autograph session.
It was months in the making.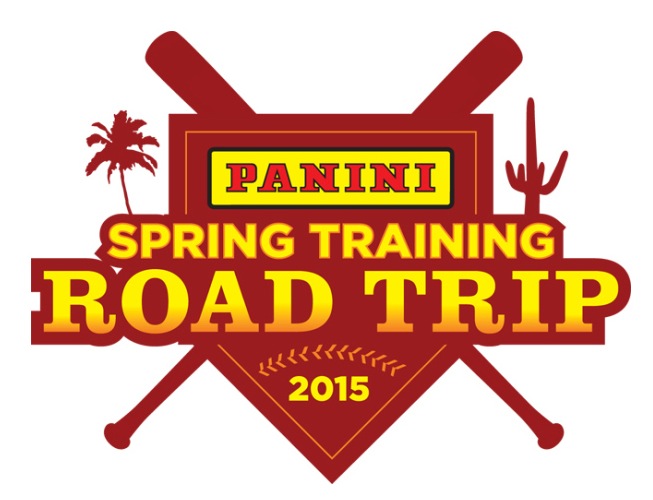 Thousands of autographs were signed by about a dozen players during a four-hour evening session here in the home of the Minnesota Twins and Boston Red Sox with top prospects and rookies such as Byron Buxton, Kennys Vargas and Mookie Betts alongside guys that Panini thinks might be on the cusp of big-league greatness. The product of the moment was 2015 Panini Prizm, a prospect-loaded brand in its fourth season of packing ink and reflective-chromium rainbows into wax boxes — this year with some new inclusions — and Day 1 of the event was the culmination of some serious planning. Five members of the Panini America crew juggled all the work of unpacking a crate of signage, cards to be signed, jerseys to be worn for photo shoots and wax boxes and Panini shirts for players who wanted them. At least one, Betts, even arrived with boxes of cards in hand from previous products that he had signed — all ready for collectors awaiting them.
Vargas, the final signer of the evening, was asked about his favorite player while working through his cardboard. He answered without hesitation but with a big smile as his wife sat nearby, helping speed along the assembly line process of signing while he occasionally marveled at the different colors and textures of the Prizm rainbow.
"Big Papi," he said.
Later, the Twins slugger from Puerto Rico who hit nine homers in 53 games as a rookie last season was asked about his favorite ballparks from last season — then which ones he wants to see.
"I want to play in Fenway Park," he said with another big smile, noting that he likes the big crowds more than smaller ones found in some American League cities.
So it wasn't a surprise, after posing for photos and about three hours of signing, to see what he wrote alongside his name on his 1/1 Black Finite Prizm card.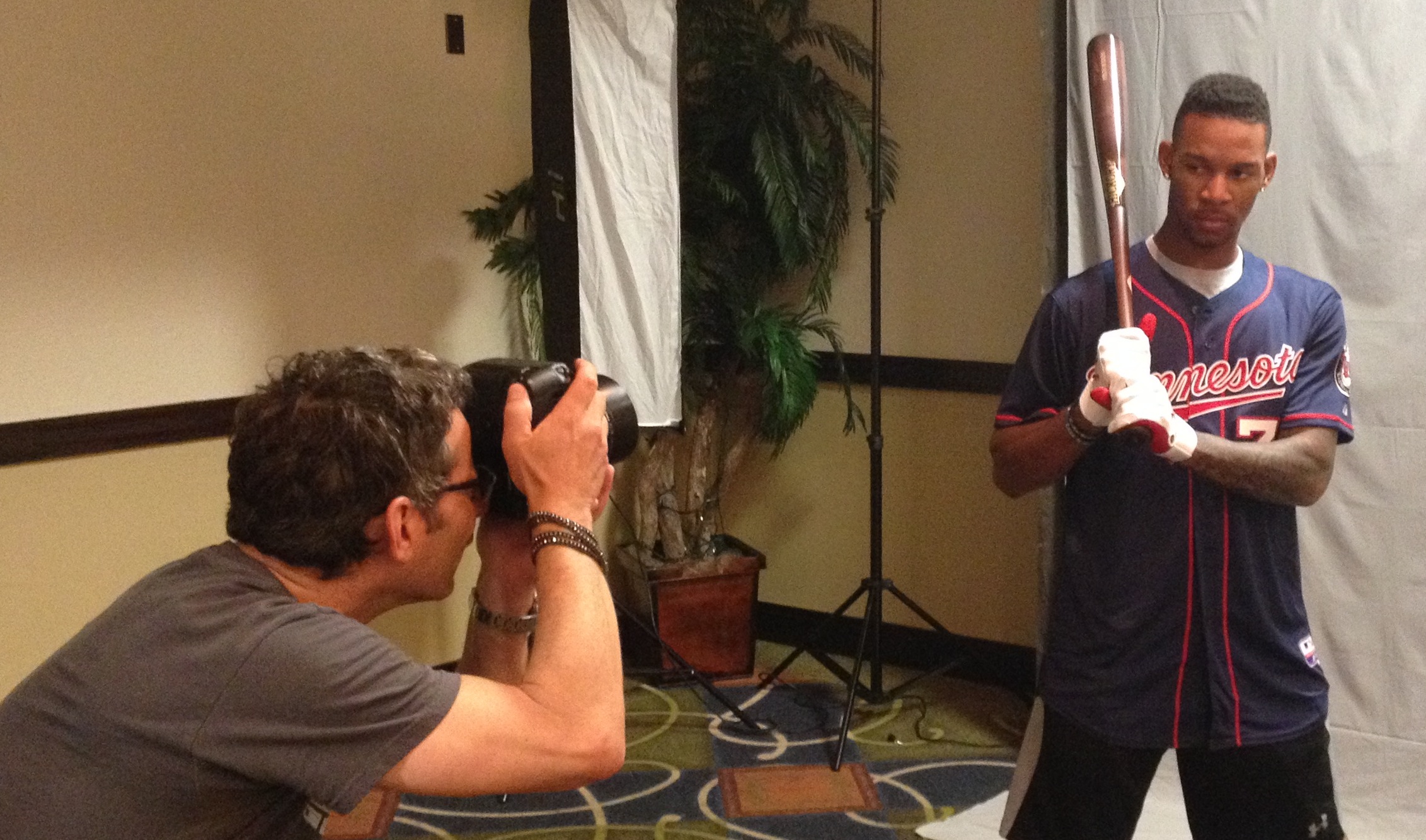 A single card with a little extra added to it was the end of a day where every piece that had been packed in labeled white boxes for every station got its moment with the player who arrived. It was the work of designers, editors, printers and plenty of others — everything done before single autograph hits cardboard and all done long before a single pack hits a single collector's hands.
It's the kind of stuff that we collectors often simply don't think about.
In one corner of a massive room at the Crowne Plaza hotel, players posed for photos in their MLB jerseys. In another, a chef stood by with a spread worthy of big-league recognition — though most players waited until all of their work was finished. On a big screen before them all — and on a few small screens, too — was the NCAA Tournament as two players per table signed away with Panini staffers helping the process along and collecting the newly signed cardboard. All of it was to be packed back up into a crate that it had arrived in for a return trip to Dallas.
Some players simply had stickers to sign along with their photo shoot needs. Most had Prizms — a brand that includes new Tie-dyed parallels that caught the eye of a few players as they added their autographs. Two players, Twins pitcher Trevor May and Red Sox pitcher Matt Barnes, were more studious signers and they had  a "battle" of sorts brewing as they signed their cards to see who would finish last of the early arrivals. May finished first, slapping down his blue Staedtler pen that he had been holding for a few hours, and he turned for a plate of cheesecake that had been sitting behind him.
"I deserve this," he said to those around him.
Among the other players who signed on the first day of the five-day trek in Florida that will be followed by even more stops later this month in Arizona included Adam Brett Walker (Twins), Devin Marrero (Red Sox), Edwin Escobar (Red Sox), Daniel Robertson (Rays), Jose Berrios (Twins), Miguel Sano (Twins), Manuel Margot (Red Sox) and Willy Adames (Rays).
The next stop on the Tour is Tampa on Saturday where players who may be signing (schedules always subject to change due to team needs) include Chris Davis, Gregory Polanco, Josh Donaldson, Luis Severino, J.P. Crawford, Marcus Stroman, Starling Marte and more than a dozen additional players.
Chris Olds is the editor of Beckett Baseball and Beckett Sports Card Monthly magazines. Have a comment, question or idea? Send an email to him at colds@beckett.com. Follow him on Twitter @chrisolds2009.