David Ayres Gets Hockey Card from Upper Deck, Young Guns RC on the Way
It'd be an understatement to say that it has been a wild week for David Ayres. Seven days ago he was your average 42-year-old who worked as an operations manager in Toronto. Part of his job was driving a zamboni. But through a series of circumstances, he's now one of hockey's top feel-good stories — and the biggest story in sports to close out the month. And now Ayres has a hockey card to help cement his moment in history — and more are on the way.
After injuries to both James Reimer and Petr Mrazek, the Carolina Hurricanes needed someone to play in net. Ayres entered the team's February 22 game against the Toronto Maple Leafs in the second period as an emergency backup and proceeded to help the Hurricanes to an improbable win.
Not only was it a win for the Hurricanes, but it was one for the everyman. Ayres did what so many sports fans dream of. It was also a no-brainer for a hockey card.
But it wasn't that easy.
As an emergency back-up, Ayres isn't a member of the NHL Players' Association. That meant Upper Deck couldn't just produce a card. A special deal needed to be reached between Ayres and the card maker. Upper Deck made it happen and now, six days after his big moment, Ayres has his first hockey card.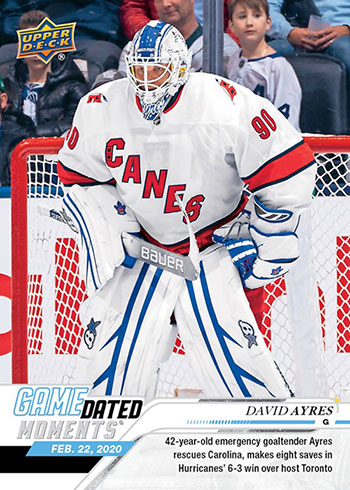 It's part of 2019-20 Upper Deck Game Dated Moments Hockey, a product that tells the story of the season as it plays out. Available only on their e-Pack platform, collectors have to first buy a qualifying NHL pack on the site. This unlocks the Ayres card as well as the week's other cards. Each Game Dated Moments card is only offered for one week.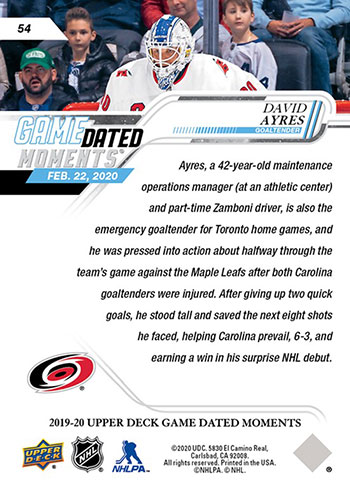 More David Ayres Hockey Cards On the Way
Collectors will have other opportunities to chase other David Ayres cards from Upper Deck.
The company has confirmed that he'll have a Young Guns Rookie Card as part of the Upper Deck Updates found in 2019-20 SP Authentic Hockey. That set is due out in May.
Along with the base Young Guns RC, Ayres will also have Exclusives (/100) and High Gloss (/10) parallels.
Upper Deck also suggested they'll have more from the goaltender in the future as well.