Little League card is a big deal for one Mom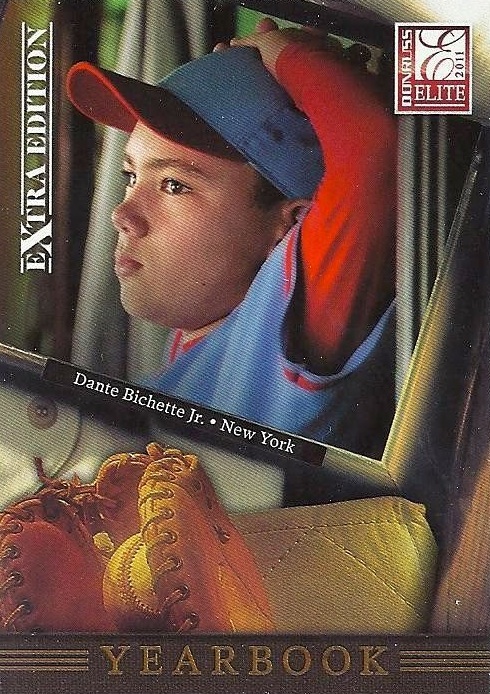 By Chris Olds | Beckett Baseball Editor
For some collectors, a find like this Yearbook card from 2011 Donruss Elite Extra Edition might be something they skip right over as they tear through pack after pack in search of autographs.
But for one mom, though, it's something quite special.
"We will love that card forever," said Mariana Bichette from her home in Orlando, Fla. "That is precious to a parent, are you kidding?  His dad will agree with me.  That Little League World Series year is going to be hard to beat."
You might recognize the name, but probably not the face of the 12-year-old shown on the Panini America baseball card. He's all grown up now and last summer Dante Bichette Jr. was the 51st overall selection in the MLB draft and hand-picked by the New York Yankees. Oh, and if you didn't recognize the name, the now-18-year-old is the son of former Colorado Rockies slugger Dante Bichette — one of the famed Blake Street Bombers and a guy who led the National League with 40 homers back in 1995.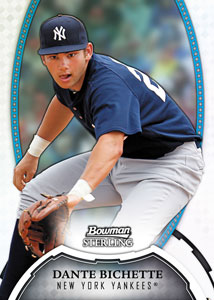 This card takes us all back to 2005, when Dante Jr. was a pitcher for the Maitland, Fla., Little League team — a squad that made it all the way to the LLWS. Meanwhile, the former big-leaguer was a coach for the team and, of course, Dad. Now, that moment in their lives is captured on a baseball card — and it's one that's pretty memorable to Mom.
"There's something about wide-eyed dreams without the cynicism and reality of pro ball that can't be beat," she said of the card. "And that was truly the culmination of a family dream, so that's gonna be a favorite."
But there are a few other favorites around the Bichette household these days as the first baseball cards of "D" — that's Junior's nickname — have been produced by Topps and Panini America.
Mariana admitted seeing her son in his Yankees uniform is special — even though she's seen her husband on countless baseball cards through the years. In fact, don't tell the retired big-league star who hit 274 homers over 14 big-league seasons who the must-have cards are in the house right now — it's the guy who has yet to make his big-league debut. He's a hot commodity among friends and relatives who are contacting her to find his cards.
"I am looking at boxes of Dante Sr.'s cards that my friend Terri organized for me a couple of years ago," she said. "I have no idea what to do with them.  Other than that, we aren't really into that aspect of baseball fandom. But you can bet on the fact that I will have all my kids' cards that are ever made."
Dante Jr. already appears on 37 different cards between parallels and printing plates in three brands — 2011 Bowman Draft, 2011 Bowman Sterling and Elite Extra Edition.
He's also already done something that his dad didn't do as a big-leaguer despite appearing on nearly 1,300 cards in his career. He's signed his first certified autographs this past weekend — cards that are found as redemptions in Elite.
Mariana Bichette had no idea that there were that many baseball cards — of either Dante.
" [I expected] easily way fewer," she said. "And its sort of daunting, the number of cards.  Especially of D.  What the heck?  I better get on it if I am going to keep up!"
So, was it a surprise seeing her son on a baseball card for the first time?
"I don't know how to say this right. I sort of always expected that he would have baseball cards," she said. " So, its more of an 'Aww look how cute' thing than an 'Oh my gosh I can't believe this!' thing.  Still, when I saw the first one I am sure I screamed for five minutes for everyone to come see.
"And then I promptly posted it on Facebook."
While a collecting challenge is ahead of her — D's cards are brisk sellers assuring the fact that he'll have more (and being a Yankee doesn't hurt) — it's the Little League World Series card that seems to resonate quite well for now.
"The best ever," Mariana said when asked to offer her reactions to the card.  "If you only knew what that kid gave that summer, and what I learned about him by watching him.  I remember that picture in the paper. I just didn't know he would give so much to that effort — literally everything his little 12-year-old self had.  I love that picture.
"It was taken during a loss by the way," she said of the image by Carolyn Kaster of The Associated Press. "That is when you find out what you have in a competitor."
We'll have more on the Bichettes and their cardboard in the April issue of Beckett Baseball.
Chris Olds is the editor of Beckett Baseball magazine. Have a comment, question or idea? Send an email to him at colds@beckett.com. Follow him on Twitter by clicking here.