Dante Bichette Finally Gets an MLB Autograph Card
It could be argued that Dante Bichette is one of the forgotten stars of the '90s. In an MLB career spanning 14 seasons, he knocked 274 home runs, hit a very respectable .299, led the National League in hits twice, was a four-time All-Star and finished second in 1995 NL MVP voting.
Maybe it's not Cooperstown-worthy but Bichette was definitely very good. Some might even say great.
And yet, Dante Bichette has never had an autograph card in an MLB-licensed set. Until now. Almost.
2020 Topps Archives Baseball is the first MLB baseball card set to include a Dante Bichette autographs on its checklist.
The outfielder is one of 49 different Fan Favorites Autographs in 2020 Topps Archives, a line that's traditionally reserved for good players who aren't legends but don't always have a lot of autographs. Bichette fills all the criteria.
Although most of the cards appear to be redemptions, live copies are in packs, too. It uses the 2001 Topps Baseball design, which was also the slugger's final season.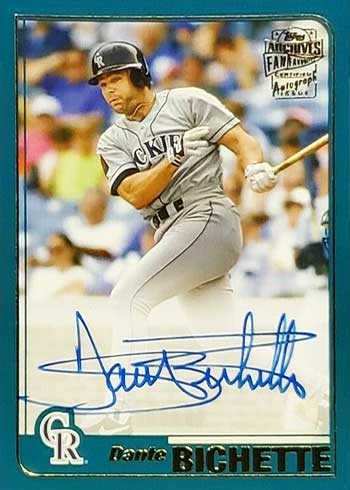 So if you've been waiting for Bichette's signature on a Rockies card, there's the proverbial light at the end of the tunnel. It might be a few weeks or even months away but when you compare that to the 25 years it has been since his best season, it's like holding your breath through a prime time commercial break.
Bichette's signature has appeared in a handful of Panini's 2013 and 2015 MLBPA products. But even including parallels, it was less than 20 different cards prior to Archives.
By comparison, his son, Bo Bichette had more than 620 different autographs at the time of Archives' release. And he's only in his second season with the Blue Jays.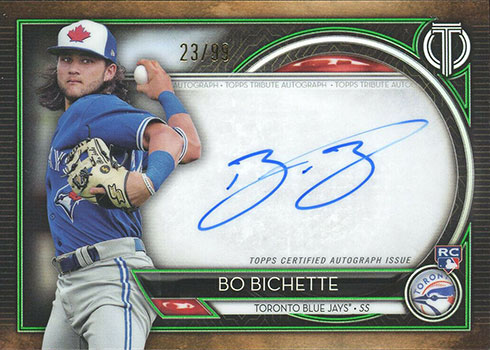 Even Dante Bichette Jr., his older son who never made it past Double-A has around 30 different autograph cards in Topps and Panini products.
What If More Bichette Happens?
With the proverbial bread broken between Dante Bichette and Topps broken, could father-son dual autographs with Bo be in the works?
Maybe some books with the Bichettes alongside Vladimir Guerrero and Vladimir Guerrero Jr? How about something with all three of Toronto's second-generation stars including Cavan Biggio and their big league dads? It's a possibility.
But for now, let's see those redemptions fulfilled so that we can definitively take Dante Bichette off the list of stars without MLB autograph cards.