Dansby Swanson, Brendan Rodgers lead 2015 Bowman Draft autograph signers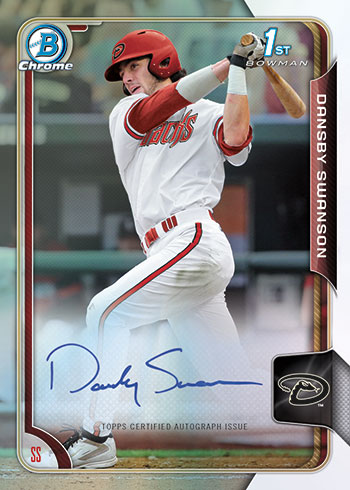 By Ryan Cracknell | Hobby Editor
Topps has named the first couple of signers for 2015 Bowman Draft Baseball, and they're some biggies.
Dansby Swanson and Brendan Rodgers will have Chrome Prospect Autographs in the product releases on December 9. Both were among the top picks in the 2015 MLB Draft this past June.Swanson was the first overall selection. Taken by the Arizona Diamondbacks, the shortstop already tops Baseball America's list of top prospects for the team. In his first 22 games of pro ball, he hit .289 with one home run. He's already shown a knack for winning, helping Vanderbilt capture the 2014 College World Series. Swanson was named the series MVP.
In 2015, he was a finalist for the Golden Spikes Award, which is given to the top college player each year.
Rodgers was the third pick in the 2015 draft by the Colorado Rockies. Like Swanson, Rodgers is a shortstop. He's shown some strong pop with his bat and played well in the field. He's still just 19 so there's plenty of time for him to develop as well.
The final 2015 Bowman Draft Baseball checklist will have lots more autographs of 2015 draft picks announced in the lead-up to the set's release. It's also worth noting that the product has no redemptions. All autographs are available in packs.